Understanding the Implications of the Digital Generation on Business Education
Attitudes and Usage Study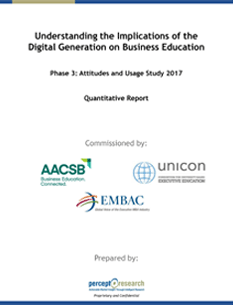 ---
In 2017, AACSB International, the Executive MBA Council (EMBAC), and UNICON conducted a joint study focusing on the evolving expectations and experiences of the up-and-coming generations of professionals spanning Generation Z and millennials, known as the "digital generations." The research study sought insights into:
Evolving expectations and experiences of the digital generation as they relate to the broad range of management learning and development alternatives that will be available to them.

The opportunities that these generations present for business schools in both degree-based education and non-degree "executive" education spaces.

How business schools can better align their education models and adopt more effective strategies to meet the needs of the digital generations throughout their careers.
The views expressed by contributors to AACSB Insights do not represent an official position of AACSB, unless clearly stated.