VR Takes Soft-Skills Training to the Next Level
Virtual reality offers a rich, immersive, and versatile platform to help students significantly enhance their interpersonal skills.
As artificial intelligence becomes more capable of completing "hard-skills" tasks, employers increasingly will need workers with strong soft skills that set them apart from AI.
In the pre-COVID era, RMIT University deployed an in-person simulation to help students hone their interpersonal skills, but now has developed virtual reality immersions that can enhance students' learning experiences.
As VR and AI technologies grow more advanced, employers will increasingly use virtual reality to offer employees soft-skills training, making it critical for business schools to do the same.
In the digital era, employers have expressed the need for workers with strong interpersonal skills. As artificial intelligence grows more advanced and capable of completing a range of hard skills, the importance of soft skills in the workplace is likely only to intensify.
It's no surprise that the Graduate Management Admission Council's Corporate Recruiters Survey consistently ranks teamwork and interpersonal skills among the competencies most in-demand. In the future, employers will need workers who have talents that set them apart from robots, such as the ability to communicate, empathize, and collaborate. To prepare students for what will likely be multi-career paths after graduation, business schools must integrate soft-skills training into their curricula.
One of the best ways that students can hone their soft skills is typically through active learning methods such as role-playing within simulations. That's why, in 2018, the College of Business and Law at RMIT University (also known as the Royal Melbourne Institute of Technology) in Melbourne, Australia, introduced an in-person simulation in which students in Financial Analytics and Managerial Decisions, an accounting course in our MBA program, played the role of junior analysts interviewing a client. The design of the simulation was informed by the experiential learning theory developed by American psychologist and professor David Kolb. He describes his theory in his book Experiential Learning: Experience as the Source of Learning and Development.
However, advancements in virtual reality (VR) technology have made new types of simulations possible, and VR likely will become a common training tool in the workplace. Recognizing VR's growing utility for education, we recently replaced our in-person simulation with two VR modules that immerse students in simulated scenarios. As a result, we not only provide an enhanced learning experience for our students—we also have a teaching tool that will only grow more robust and versatile in the years to come.
Building Interpersonal Skills Through Role-Play
To prepare students for the simulation experience, whether delivered in the classroom or via VR, we first expose them to the I-D-P-F training effectiveness framework developed by Wendy Bedwell, Stephen Fiore, and Eduardo Salas. Within this framework, we present students with information, demonstration, practice, and feedback relevant to the skills they will be honing during the simulation.
We focus on two dimensions of interpersonal skills specifically: communication and relationship-building. We embed in the exercise appropriate learning objectives using an assessment rubric that is based on the work of Cameron Klein, Renee DeRouin, and Salas. Then, before the role-play begins, faculty explain the foundations of each skill to students; they also provide students with a dedicated Canvas module that includes step-by-step guidelines and materials, as well as access to detailed instructions and video demonstrations on interview skills.
We have replaced our in-person simulation with two VR modules that immerse students in simulated scenarios to provide an enhanced learning experience.
Then, students are ready to begin the simulation. Working in teams of three, students conduct a one-hour interview process that consists of three steps. First, the teams meet with the "senior executive" to plan the interview. Next, they interview the "client" while the senior executive observes. Each senior executive is played by an industry expert, who is there to observe students' role-play.
Finally, students self-reflect and receive feedback on their performance from the industry experts. This just-in-time feedback greatly benefits students' career preparation.
COVID's Impact on Our Simulations
When the COVID-19 pandemic prompted teaching and assessments to shift online, RMIT University had to find alternative ways to foster soft skills. Because conducting the role-play in person was not feasible, we attempted to conduct the exercise virtually using platforms such as Microsoft Teams. While this approach served as a temporary solution, its drawback was that it did not allow effective observation of participants' body language.
But while the pandemic made it more challenging to deliver this training, the crisis also further reinforced to us how important soft skills will be to students' careers. In an April 2021 survey on reskilling the workforce, McKinsey & Company emphasizes that, following the COVID-19 pandemic, employers will direct more training toward developing "softer" and advanced cognitive skills.
For instance, now that most businesses conduct more meetings online, effective communication and collaboration has become even more crucial. Because participants tend to have shorter attention spans when interacting online, they must demonstrate interpersonal skills such as empathy, trust-building, and active listening to make the most of their meeting time.
Using VR to Accelerate Soft-Skills Development
The accelerated adoption of online technology is not the only trend that affected how we deliver our simulations. As mentioned earlier, the growing sophistication of VR technology also shifted our focus. Because VR experiences are so effective at tapping into learners' real-life cognition, more big companies are using this emerging technology to train employees.
With this in mind, RMIT University recently collaborated with our external partner Talespin to develop two soft skills modules in VR formats. One module focuses on teamwork and interpersonal skills, replacing the previous in-person role-play exercise in Financial Analytics and Managerial Decisions. The other focuses on negotiation skills and is now used in a second course, Management of Technology and Innovation. Both modules were introduced to students in August 2022.
RMIT University designed the role-play scenarios and soft-skills scoring metrics for both modules. Talespin then transformed this information into VR digital artefacts. During the resulting simulations, which each last approximately 30 minutes, students wear VR headsets to interact with an emotionally realistic virtual teammate or client, and they have multiple chances to enhance underdeveloped interpersonal abilities. Because the simulation's scoring system includes built-in feedback, industry experts now act as mentors to students, rather than as participants and observers.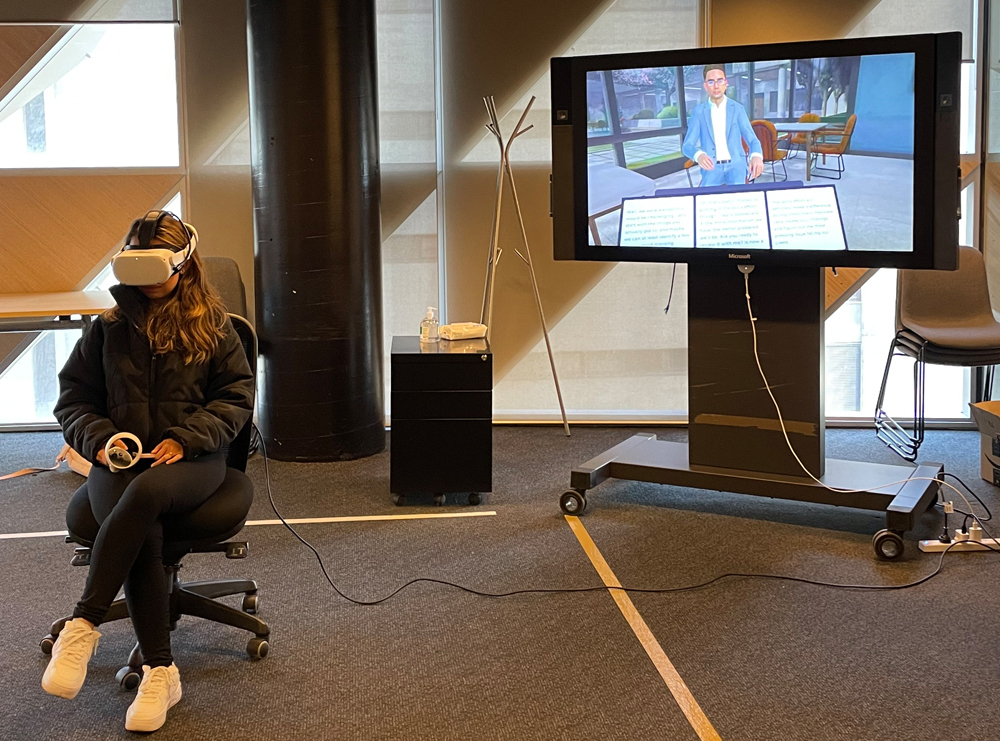 A student at RMIT University uses a virtual reality headset to interact with a simulated client.
In the teamwork and interpersonal skills module simulation, each student must manage a teammate who did not complete the assigned work. This scenario tests students' teamwork skills in various dimensions as defined by the framework developed by Salas and co-authors Dana Sims and C. Shawn Burke. These dimensions include team leadership, mutual performance monitoring, backup behavior, adaptability, team orientation, shared mental models, mutual trust, and closed-loop communication. Students and their simulated teammates proceed to interview virtual clients, just as they did during the in-person role-play experience.
In the negotiation skills module, each student takes on the role of a technology consultant who must engage with an executive client. In Part 1 of the simulation, the student and consultant must evaluate a new technology product. In Part 2, the student must negotiate with a technology vendor to clarify the project scope and develop a plan based on the client's needs. The objective is for students to effectively communicate implementation plans and negotiate development strategies that they will then report back to their organizations.
This second module enhances students' distributive, integrative, and adaptable negotiation skills, which are integrated into the VR simulation's decision paths. After the simulation, students instantly obtain scores on their performance and receive feedback on each dimension of the skills. They also write reflections to promote deeper learning.
The Advantages (and Challenges) of VR
Our VR role-plays have had several advantages over our previous in-person simulation. First, students experience the VR modules in a flexible, safe, and controlled environment. Second, VR scenarios are easier than in-person simulations to scale up, and they are available to our online students. Finally, students can repeat each simulation as many times as they like, reflecting on and continually improving their skills.
However, we also have had to manage the limitations of VR role-play. For example, VR requires us to procure dedicated headsets—we use Meta Quest 2 headsets for our simulations. We also must acclimate students to the new technology. For that purpose, RMIT University opened a dedicated VR lab in August 2022, and the university also has professional and IT staff who can ensure that students have seamless and enjoyable virtual experiences.
To help students properly use the headsets, we have incorporated detailed instructions into the simulation experience. These instructions also address health and safety considerations, particularly those related to the potential for motion sickness. (This possibility is discussed in a 2022 paper that focuses on the use of VR to train medical clinicians in de-escalation techniques.)
To minimize movement and discomfort, students conduct the simulation while seated. Moreover, professional staff help students measure their interpupillary distance, or IPD, and adjust the lens spacing of the headsets to ensure high image quality and optimal comfort. We also made a streaming version of the simulation available to students with pre-existing motion sickness issues. This accommodation allows these students to practice soft skills in a less immersive but more accessible environment.
Welcome to the Era of "V-Learning"
The conversations in our current modules have pre-designed decision paths. But we expect that recent advancements in AI technology such as GPT-4 will allow students to engage in more free-flowing conversations with virtual clients.
But students already indicate that our new VR role-playing simulations have helped them significantly improve their soft skills across most dimensions. Moreover, learning analytics indicate that students demonstrate enhanced skills in their subsequent attempts in the simulation compared to their initial ones.
In response to a recent survey, one of RMIT's edutech experts noted that the simulation format is particularly useful because "the immersive simulation can be used across multiple courses/modes within graduate programs, emulating common scenarios found in a professional workplace. Students can try out conversations without having to hurt someone's feelings."
We expect that advancements in AI technology such as GPT-4 will allow students to engage in more free-flowing conversations with virtual clients.
One student reflected that "I learned to build trust with team members and improve interpersonal skills to achieve the highest productivity." Another wrote that the methods taught in the simulation "made me more confident with interviewing a client in my current workplace. I plan to consistently employ [these] techniques in all interactions and engagement in my workplace."
In a 2022 report, accounting firm PwC dubbed this new era of VR-based education "V-learning." In the report, the company predicts that VR will revolutionize enterprise training and education by providing a cost-effective, immersive, and efficient solution for developing soft skills.
That does not mean that in-person simulations will not continue to have their place in business education. However, the scalability and accessibility of immersive VR simulations make it likely that the technology will become the next big tool for soft-skills development.

And as VR and AI become more advanced, these tools will likely accelerate demand for soft-skills training among employers in the post-COVID era. These technologies almost certainly will transform the way business schools train students in these increasingly critical skills.
The views expressed by contributors to AACSB Insights do not represent an official position of AACSB, unless clearly stated.