Staff Compensation and Demographics Survey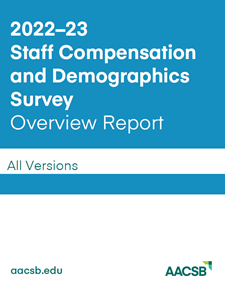 This report provides detailed, global statistical information on business school faculty and administrative salaries by rank/position, field, accreditation status, and institutional control. The best way to leverage the data from the Staff Compensation & Demographics Survey is through the benchmarking tools available within DataDirect. If your school participated in the survey, or you are a sustaining business member, you may request access to these benchmarking tools from your institution's primary contact.

Participants (Free)


Non-Participants and Non-Members (350 USD)

The views expressed by contributors to AACSB Insights do not represent an official position of AACSB, unless clearly stated.