People and Places: May 18, 2021
Six schools announce new deans, two construct new facilities, and the University of Minnesota launches a 50 million USD scholarship program.
Transitions

Rama Yelkur has been tapped to be the next dean of the Texas Woman's University College of Business in Denton. Yelkur comes to TWU after previously serving as the dean of the School of Business at St. John Fisher College in New York and of the Carmona College of Business and Management at Saginaw Valley State University in Michigan. She also has served as the director of the Stevens Center for Family Business at Saginaw Valley State, director of international business programs at the University of Wisconsin–Eau Claire, and assistant professor of marketing at Texas A&M International University in Laredo. Yelkur brings to the position three decades of consulting experience with organizations such as Kimberly-Clark, NBC Universal, and the National Football League in the U.S. She begins her new role on June 1, taking over for the current dean of the College of Business, James Lumpkin, who is retiring on May 31.
---

Wagner College in Staten Island, New York, has named Aarti S. Ivanic as the new dean of its Nicolais School of Business. Ivanic comes from the University of San Diego (USD) School of Business, where she is the academic director of MBA programs. She has been an associate professor of marketing at USD since 2017. She also has served as chair of USD's University Senate and faculty director of the Ashoka Changemaker Faculty Fellows Program, and she participated in two strategic planning groups for the USD School of Business, championing the inclusion of business analytics as a key strategic priority and identifying faculty performance metrics.
---

Iona College in New Rochelle, New York, has appointed Lynne Richardson as dean of the LaPenta School of Business. Richardson joins Iona from the University of Mary Washington in Fredericksburg, Virginia, where she has served as dean of the College of Business since 2011. In addition, Richardson served as chief financial officer from 2017–2018 at the request of the university's president. Previously, she had been dean of the business schools at Mississippi State University and Ball State University. Richardson replaces Richard Highfield, who has served as interim dean since July 2019.
---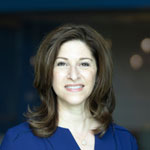 Holly J. Raider has been named dean of the School of Business at Quinnipiac University in Hamden, Connecticut. Raider comes to Quinnipiac from the Kellogg School of Management at Northwestern University in Evanston, Illinois, where she is managing director of executive education and clinical professor of management. Before her time at Northwestern, she was in executive education at the University of Chicago's Booth School of Business. She begins her tenure on July 1, succeeding Matthew O'Connor, who will return to the finance faculty after serving as dean for 12 years. (Photo by Erin [email protected])
---

In July, Susan Christoffersen becomes the new dean of the University of Toronto's Rotman School of Management in Ontario. Christoffersen currently holds the William A. Downe BMO Chair in Finance and is co-academic director of the TD Management Data and Analytics Lab at the Rotman School. She previously served as vice dean of undergraduate and specialized programs at the school, and in that role she helped revamp undergraduate education programs and launch three pre-experience specialized programs. She also founded and contributed to the growth of the TD Management Data Analytics Lab. She joined the Rotman School in 2010 after spending more than a decade as a faculty member at Desautels Faculty of Management at McGill University in Montreal.
---

Effective on May 8, William Hardin became the interim dean of the College of Business at Florida International University (FIU) in Miami. Hardin most recently was associate dean of the Chapman Graduate School of Business, Knight Ridder Eminent Scholar, and the Tibor and Sheila Hollo Fellow and Eminent Scholar at the Tibor and Sheila Hollo School of Real Estate at FIU. Hardin joined the FIU Business faculty in 2006 as director of real estate programs and the Jerome Bain Real Estate Institute. Previously, he held the Robert W. Warren Chair of Real Estate at Mississippi State University.

Hardin takes the position after the college's dean, Joanne Li, was appointed as the next chancellor of the University of Nebraska at Omaha (UNO). Li had been at the helm of FIU Business since May 2017. During her term, she oversaw the launch of new graduate programs, including a DBA program. Li, who will start her new role on July 1, will become the first woman of color to serve as UNO's chancellor and the first Asian American to hold an executive leadership role at the university. Li will succeed Jeffrey P. Gold, who will become the executive vice president and provost of the University of Nebraska system.
---
New Programs
In the fall 2021 semester, the Lubar School of Business at the University of Wisconsin–Milwaukee will launch an accelerated online MBA that students can complete in as little as one year. The 33-credit program will run primarily in eight-week blocks and will be complemented by professional development through a graduate student mentoring program, graduate career services, and an optional residency. Students can specialize their degrees by adding online certificates or elective work in business analytics, finance, healthcare management, marketing, supply chain management, or enterprise resource planning.
---
The Stevens Institute of Technology in Hoboken, New Jersey, is collaborating with online learning network Noodle to add three online master's degrees. Two of those new programs—the Analytics MBA and the Master of Science in Business Intelligence and Analytics—will be offered through the School of Business. The new programs expand the partnership between Stevens and Noodle, which began in 2020 with the revision of several existing online programs that are delivered through StevensOnline and cover a variety of disciplines.
---
Imperial College Business School in London has announced an executive education program aimed at helping senior executives maximize market penetration, increase revenue, and enhance brand awareness for their organizations. The Strategic Brand Transformation Imperial Virtual Programme will help participants engineer sustained growth, cut wasteful spending, and bring positive change to their companies. Modules in the virtual program include sessions on understanding brain science, analyzing decision making and buying behavior, and overcoming barriers between consumers and brands. Participants who complete the program will be awarded digital certificates of participation.
---
The Economist, a global news-gathering organization, has launched The Economist Executive Education, an online program designed for senior leaders across a range of industries. Created by Economist journalists, the courses will cover business, finance, technology, professional services, and public policy. Content will be delivered through videos, podcasts, and guest lectures. The first course, held in May, covered changes in politics, business, and technology around the world; the second one, on writing for business, is slated for later in the year. The program has been created in collaboration with GetSmarter, a brand owned by global education company 2U.
---
New Centers and Facilities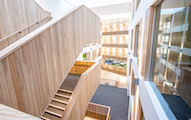 Lancaster University Management School (LUMS) in the U.K. has opened the West Pavilion, a 24 million GBP (33.7 million USD) extension to the school. The five-story contemporary building houses three lecture theaters, two executive teaching suites, three floors of work space, and an atrium and reception area that link the new building with existing LUMS facilities. The 5,667-square-meter (18,590-square-foot) building was designed by Feilden Clegg Bradley Studios. The second phase of LUMS' redevelopment—a refurbishment of the existing building that will bring it in line with the style of the West Pavilion—is expected to start in 2022.
---
EM Normandie Business School, with multiple locations in Europe, is constructing a new campus in Paris. The 10-story building will offer close to 14,000 square meters of space (nearly 46,000 square feet) for work, meetings, and services, complemented by nearly 2,000 square meters of planted terraces and indoor gardens. Features include high-tech modular classrooms, an auditorium, co-working and co-living areas, social spaces, food courts, and a FabLab. The building also will host an executive education center, an alumni house, and a student incubator. The school is aiming to earn sustainability credentials such as the HQE Bâtiment Durable, Breeam International New Construction 2016, and Well Conception Gold certifications. The campus is expected to welcome its first students in January 2022 and will reach its maximum capacity of 3,000 people in 2024.
---
Grants and Donations
A new 50 million USD endowed scholarship fund will provide scholarship packages and stipends to new students at the University of Minnesota's Carlson School of Management in Minneapolis. Through the Carlson Centennial Scholars Program, named in honor of the school's 100th anniversary, undergraduates will receive scholarships that are renewable over their four years of study and graduate students will receive scholarships for the duration of their programs. The Centennial Scholars also will receive stipends to complete the school's required international study experience and elective specialized programming.
Of the 33 Centennial Scholars who have already enrolled, nearly three quarters identify as female and almost 40 percent are students of color. Eventually, the program will support a minimum of 75 new Centennial Scholars per year. The scholarships have been funded by 15 donors, including both named and anonymous donors; three foundations; and two companies, 3M and Best Buy.
---
Other News
The Center for Advanced Financial Education (CAFE) at the Gabelli School of Business at Roger Williams University in Bristol, Rhode Island, has created two new student investment funds. More than half of the alumni of the CAFE program contributed to the establishment of the two new funds. One is dedicated to ESG (environmental, social, and corporate governance) issues. The other—named for CAFE's founding director, professor of finance Michael Melton—is tied to the concept of "best ideas" investing, which allows students to make investment decisions that might not fit the objectives of other funds. The school now has a total of four funds available to student investors.
---
NEOMA Business School in France now hosts an escape game in Spanish to help non-Spanish-speaking students improve their language skills. "Including gamification in the courses was a way for me to motivate the students and to offer them a format that reinforces cohesion and team spirit," explains Antonio Diaz, teacher at the NEOMA Language Centre. Because the game can be played virtually, students say it helps connect them with the school and each other even when they are physically distanced from the classroom. The 140 students who took part in the original escape game provided enough positive feedback that Diaz plans to offer it again at the start of the 2021–2022 school year.
---
If you have news of interest to share with the business education community, please send press releases, relevant images, or other information to AACSB Insights at [email protected].