Our Commitment to Diversity, Equity, Inclusion, and Belonging
Thought Paper
2021
Free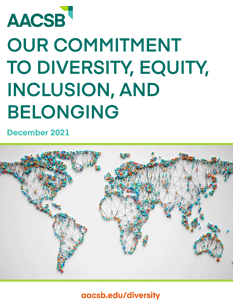 This positioning paper reinforces AACSB's global perspective on diversity, equity, inclusion, and belonging and our commitment to action in this area. The paper underscores the important role that AACSB and our members play in embracing DEIB within our organizations and the communities we serve.
Subscribe to LINK, AACSB's weekly newsletter!
AACSB LINK—Leading Insights, News, and Knowledge—is an email newsletter that brings members and subscribers the newest, most relevant information in global business education.