Our Schools Can Be Catalysts for Innovation
To generate societal impact, business schools must view themselves not as pipelines for talent, but as drivers of innovation in their communities.

The University of Dayton's innovation hub drives economic growth in the community and acts as a model for generating societal impact.
The new space has fostered organic connections among students and businesses and revitalized the entrepreneurial ecosystem of the city of Dayton.
To serve its community, the university had to find committed partners, give those partners ownership of the project, and align the effort with its mission and strengths.
Business schools are often viewed as pipelines that connect talented students and employers. However, the methods that business schools use to move students through their pipelines (such as faculty lectures, academic projects, and internships) represent educational archetypes that have been unchanged for decades—centuries, even.
Business schools can significantly amplify their effect on students and society, but only if they stop thinking of themselves as pipelines. Instead, they should view themselves as parts of an interconnected network—of an ecosystem.
In such ecosystems, students can take classes where entrepreneurs work, and schools can create spaces in the community that offer centralized resources for businesses. Schools also can go beyond educational archetypes to design new programs and experiential learning opportunities that promote economic and social improvement.
This is what officials at the University of Dayton (UD) in Ohio had in mind when they created the new Hub Powered by PNC, which embeds students in the business community. Opened in 2021, the 100,000-square-foot innovation hub has become a model for driving societal impact by fostering interrelationships throughout the education, business, and nonprofit sectors, all within the sphere of entrepreneurship.
Bringing Everyone to the Table
University officials first began developing the idea for the Hub in 2015. Because they wanted to promote community engagement, they knew they would need to lease a space off campus. They were immediately interested in the growing effort to redevelop The Arcade, a major landmark in downtown Dayton that had been vacant and deteriorating for three decades.
To establish the Hub, UD entered into a joint venture with The Entrepreneurs' Center, a regional tech incubator and Ohio's Small Business Development Center. The partners' announcement of their plans to open the space in downtown Dayton jump-started the revitalization of The Arcade.
The developers for the project were responsible for raising the 98 million USD for the renovation. They did so primarily through federal and state historic tax credits, as well as direct support from the state of Ohio and the county and city of Dayton.
Once the project began, an ongoing challenge was keeping everyone at the table and engaged for years of planning and collaboration. Project partners included faculty from the departments of engineering, art and design, creativity, and entrepreneurship; as well as administrators from essentially every administrative function across campus, including facilities, accounting, human resources, real estate, and media relations.
All partners were given ownership in the planning process. Departments negotiated with each other about how to use the space in ways that balanced each group's needs.
The key to keeping all partners involved was giving them ownership in the planning process. For example, the different departments negotiated with each other about how to use the space in ways that balanced each group's needs.
Everyone also worked together to solve problems as they arose. For example, when cost estimates for the renovation went over budget, representatives from all four departments sat with designers to discuss every detail, including the aesthetics in every space, strategies to serve the unique needs of each stakeholder, and methods to get costs under control.
A Wide-Ranging Joint Venture
The university owns 75 percent of the joint venture, which is now a standalone nonprofit with its own board of directors comprising UD administrators and representatives from our community partners. The joint venture leases the space from the developers.
The space features studios for art and design; flexible space for UD's Institute of Applied Creativity; and classrooms for engineering, business, and microcredential courses. It is also home to the GEM (which stands for "Growth, Education, Mindset"), a dedicated collaboration space. To make the Hub a community destination point, the space features an art gallery, a bistro managed by our student-run corporation, and event space for community and university purposes.
Operational costs for the space are offset in a few ways. The university helps cover the cost of leasing the space from the developers; it also pays the initial costs for furniture, fixtures, and equipment. The Hub is further supported by rental income—around 130 businesses are now renting either coworking space (which includes meeting rooms, open working areas, and dedicated storage), dedicated desk spaces, or private offices. Entrepreneurs can sign month-to-month leases, or they can sign an annual lease with the ability to opt out with 60 days' notice.
PNC, which provided initial financial support to the project, awards grant funds through the university's new venture competition. The company also sends its executives to attend Hub events and provides education to students and entrepreneurs.
Making Organic Connections
The Hub benefits our community in two important ways. First, it presents valuable educational opportunities to our students. Each academic term, more than 400 undergraduates from all majors travel the mile-and-a-half from campus to take classes at the Hub.
Many connections among students, faculty, and the more than 1,100 businesses served by the Hub happen organically. For example, a payroll company with an office at the Hub might need an intern; a CEO attending a networking event might drop in to speak to an engineering class; or veterans interested in commercializing technology might run into researchers from the Air Force Research Lab.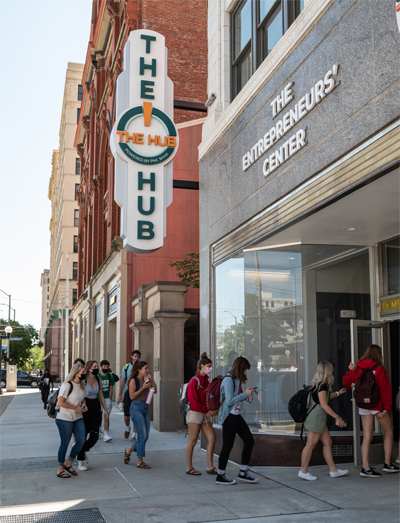 Students enter The Hub Powered by PNC, an innovation space in downtown Dayton that is a joint venture of the University of Dayton and The Entrepreneurs' Center.
Other connections happen through intentional programs. For instance, UD holds monthly social events with Hub businesses and students, such as chili cook-offs and networking breakfasts. Hub members speak in classes or engage in other organized events such as Entrepreneurs-At-The-Table, a networking breakfast that focuses on creating deeper engagement. Last year, more than 40 entrepreneurs met with around 100 students during these activities.
The most significant initiative is the Stitt Scholars program, launched during the 2021–22 academic year. Each year, up to 16 Stitt Scholars from engineering, business, and design programs are selected through an essay and interview process, based on project needs and students' skills. These students are paid to work with businesses to solve problems. So far, students have worked on projects such as testing the absorbency of a new nursing bra headed to market and rendering a design for an arch support device for children with flat feet.
Re-Energizing the Community
The second benefit of the Hub is that it creates connections throughout the Dayton community. The space has benefited the larger community in three integral ways:
It has spurred economic development in downtown Dayton. Most people had given up hope that the historic Arcade, once even offered for sale on eBay, was destined for anything but a wrecking ball. UD's commitment drove public confidence that the renovation would finally happen, building momentum behind the project. The completed renovation has had a positive ripple effect on downtown business and housing development.
It has fostered a more inclusive startup community. UD has worked to make the Hub's business resources equitably accessible through its Greater West Dayton Incubator, which was created to support Black, female, and other underrepresented entrepreneurs. One of AACSB's 2022 Innovations that Inspire, the incubator gets Hub resources into Dayton's neighborhoods, helps entrepreneurs know that these resources are available, and offers discounted coworking and office space fellowships.
Students and local experts also consult with minority entrepreneurs on small business challenges, such as creating marketing and social media plans, conducting market validation of new products, and writing business plans. Students also help nonprofits develop their donor bases.
It has re-energized entrepreneurship in Dayton. Funded through private donors, local organizations, and state and federal budgets, the incubator supports initiatives such as a student-run microloan program, which in its first year awarded 50,000 USD to seven entrepreneurs.
The incubator also runs a six-week boot camp that kicks off its Urban Elevation Accelerator program. This program helps small businesses move from the startup phase to long-term stability, and eventually out of the Hub. Because both are part of UD's Crotty Center for Entrepreneurial Leadership, the incubator and Hub can easily work hand-in-hand to support entrepreneurs.
Aligning With Mission and Local Needs
UD is part of growing group of schools that are amplifying their societal impact by aligning their efforts with both their missions and the needs of their communities. For example, Pennsylvania State University, a land-grant research university in State College, drives economic development, job creation, and student success with its Invent Penn State initiative.
Through this initiative, the university offers 21 innovation spaces across the state, making innovation services accessible within 30 miles of 96 percent of Pennsylvania's residents. While all the spaces offer resources like free coworking space and legal advice, many also have specialized services tailored for their region.
The University of Dayton

's

Hub drives student and faculty engagement, leverages community resources, and brings organizations together to have a greater effect than they could have on their own.
Then there is the University of Cincinnati's 1819 Innovation Hub, which is at capacity and expanding. Its growth demonstrates how a university initiative with local impact can serve as a national model connecting industry with talent. UC's 1819 space is now part of the Cincinnati Innovation District (CID). A growing ecosystem that includes Cincinnati Children's Hospital and numerous Fortune 500 companies, the CID connects corporate partners to talent, accelerating more than 200 startups and providing access to major regional startup funds.
To achieve this kind of societal impact, universities need to become catalysts in their local ecosystems. The University of Dayton's Hub makes this possible by linking the university directly to the community. The space drives student and faculty engagement, leverages community resources, and brings organizations together to have a greater effect than they could have on their own.
Connect, Solve, Develop, Create, Inspire
In its Connected for Better report, AACSB instructs schools "to look beyond themselves" if they hope to achieve the "five actions for societal impact." These actions include connecting to deliver results, solving problems, developing leaders, creating "hubs for lifelong learning," and inspiring innovations "with the power to change the world."
In this regard, we can learn important lessons from Invent Penn State, the 1819 Innovation Hub, the Hub Powered by PNC, and other similar efforts. If your school would like to create a similar space designed to engage with the community and achieve societal impact, here are a few good first steps:
Find your partners. Business schools cannot impact society and prepare for the future of work alone. For example, to create the Hub, the University of Dayton had to form close relationships with The Entrepreneurs' Center, the project developers, and the city. It had to secure financial and programming support from PNC Bank and other organizations. It had to find more than 100 entrepreneurs and small businesses willing to rent offices, as well as dozens of others who wanted to join as members (coworking memberships start at 150 USD per month). Finally, UD had to work across academic silos to bring students and faculty from art and design, engineering, business, and other fields into the space.
Stay true to your mission. Like many universities, UD is an anchor institution in its city. Its investment in and contributions to this project align with that role and support the university's Catholic and Marianist mission to advance the common good. The Hub is home not only to our entrepreneurship center, but also to several multidisciplinary academic programs, which stays true to UD's focus on educating the whole person. Moreover, its partnerships with businesses, resource providers, and community groups help the university become a catalyst in the startup ecosystem.
Leverage your strengths—but don't try to do it all. To create a successful innovation space, we leveraged what we're good at, such as talent development, experiential learning, and research. But we also sought out partners that could do work that universities typically do not do, such as venture capital infusion.
Our work has had a positive impact on our region—and in a very short time. In its first calendar year of operation, the Hub has resulted in the creation of 200 new full-time jobs, and the businesses it supports have generated 73 million USD in product sales. It has created opportunities for our students to build their professional networks and have experiences that will encourage them to stay in Dayton beyond graduation.
Most important, by achieving these outcomes, our university has lifted our local economy and contributed to the vibrancy of our community.