The Importance of Culturally Responsive Teaching
Professor and PhD Project alum Kelly Richmond Pope shares why she thinks faculty should focus less on teaching topics and more on telling stories.

Teaching is far different now than it was two decades ago. Not only are we battling a global health crisis, but we're also seeing cultural shifts as conversations about inclusion, freedom, and justice take center stage in society. Students are relying on webcams and laptops to access many of their lectures. Some are studying while also taking care of sick family members, while those who are part of underrepresented groups are coping with emotional trauma amid the push for social equity.
What's going on in the world is having a significant impact on students and how they learn. Educators must acknowledge this new reality and teach with compassion.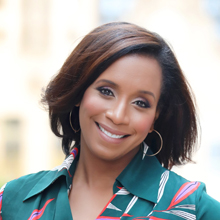 Dr. Kelly Richmond Pope
Amid this rapid change, professors can adopt culturally responsive teaching methods to better connect with students—and, ultimately, to contribute to building a stronger, more diverse workforce. Dr. Kelly Richmond Pope—a member of The PhD Project and a professor in the School of Accountancy and Management Information Systems at DePaul University in Chicago—is a prime example of a faculty member who has embraced this concept. As a certified public accountant, Pope teaches financial, managerial, and forensic accounting, as well as ethical leadership. She also is a TED speaker, an author, and an award-winning filmmaker best known for creating and directing Crossing the Line: Ordinary People Committing Extraordinary Crime, a documentary about white-collar crime, and All the Queen's Horses, which chronicles the largest municipal fraud in U.S. history.
As she brings her varied experience to the classroom, Pope is dedicated to helping other faculty understand how to integrate greater cultural understanding into higher education settings. I recently spoke with her on this topic and share some of her key insights below.
Why is it important for educators to think about the cultural content they introduce in class?
I recently came across a tweet that said: "Here is your annual reminder that this year's incoming freshman class was born in 2003. They do not have a working knowledge of 9/11, Hurricane Katrina, the U.S. car companies or housing market going under, YouTube's launch, the London bombings, or Pluto not being a planet anymore." That's the generation we're teaching today. Their context and perspectives are very different.
It's our job as educators to make sure our content is adaptable enough to address what's going on in the world. Oftentimes, we're so focused on our specific disciplines—in accounting, for instance, we want to teach our students about auditing techniques and make sure they understand debits and credits. But at the end of the day, students also need to operate in the world. I believe, as educators, we have a responsibility to integrate some of the world into our teaching.
What do you consider when you're facilitating tough conversations about diversity, equity, and inclusion in the classroom?
These conversations aren't just meant for one group. Everyone can benefit from dialogue about diversity, equity, and inclusion, not just our students of color. Unfortunately, having discussions about race and racism can be dangerous in academia. That's why it's important to consider several factors before you begin these exchanges, including your academic rank, age, unconscious bias, university culture, and department mission. For example, at DePaul University, we have a very giving culture, and we're mission-driven. I feel comfortable having conversations about equality in the classroom because I know I am supported by my department, college, and university.
What is the invisible labor clause? How does it affect students of color, and how can educators help?
In her book, You Don't Look Like a Lawyer: Black Women and Systemic Gendered Racism, Tsedale M. Melaku talks about the concept of the invisible labor clause. It refers to the idea that there's added "invisible labor" that marginalized groups are required to perform to navigate their daily existence within social and professional spaces. As educators, we must recognize that we may be teaching students who are carrying this burden with them every day.
Content has an impact. We need to be more deliberate about what textbooks we're using in our classrooms and what we're showing our students.
One of the ways we can help is by reviewing our course content. Research shows that by some estimates, Harvard Business School's case studies account for 80 percent of the cases taught at business schools around the world. Yet at one time, less than 1 percent of these studies featured a Black executive protagonist or central decision-making figure, even though according to the United States Census, about 9 percent of U.S. companies are Black-owned. This means some of our students may not be seeing themselves in their coursework. [Editor's note: As part of a larger diversity initiative, Harvard Business School now offers more than 70 cases featuring Black or African protagonists and has at least 50 more in process.]
Have you ever flipped through the textbooks you use in class? Think about who they're focused on, who they show, and the impact that has on your students. In their landmark 1995 study, Stanford University social psychologist Claude Steele and Joshua Aronson, then of the University of Texas–Austin, suggest that when groups are exposed to positive examples of work by underrepresented populations, those groups perform better than they otherwise would. Content has an impact. We need to be more deliberate about what textbooks we're using in our classrooms and what we're showing our students.
Tell us about your film All the Queen's Horses and how it enables you to be a culturally responsive teacher.
All the Queen's Horses was a life-changing project for me. It tells the story of Rita Crundwell, a Dixon, Illinois, comptroller who stole 53 million USD of public funds over the course of 20 years, making her the perpetrator of the largest case of municipal fraud in American history.
The creative process of putting this film together greatly enhanced the way I teach and approach education. I show All the Queen's Horses in all my classes—it's "edutainment," as opposed to just entertainment. During class, my students discuss the demographics of the residents in Dixon, the amount of money Crundwell stole, and her sentencing. A lot of students of color have said, "If this was me, I wouldn't be sentenced to 19 years and seven months in federal prison. I probably would have been sentenced to life."
How do you think the film might change the way students view themselves and the world around them?
To me, it speaks to the power of storytelling. When we hear a story, we often place ourselves within that story and imagine, "What if this happened to me?" When I show this kind of content in the classroom, it stimulates profound conversations that go beyond what comes from our traditional textbooks or case studies.
Instead of finding a boring example to illustrate a concept, I look for content that has character and builds tension—something that ignites an emotional connection.
How can educators incorporate culturally responsive teaching into their curricula?
In my teaching, I search for resources that have a rich story. Finding the topic is easy, but finding variables around the topic makes for a more meaningful experience. Instead of finding a boring example to illustrate a concept, I look for content that has character and builds tension—something that ignites an emotional connection.
Our textbooks are designed to teach broad topics, and yet the most interesting parts are those little stories on the pages that we often skip. I like to reverse that—if we focus on stories and then weave in our principles and theories, then we can create a different experience for our students. For so long, we've developed our courses around topics, but we should think about developing them around content.
How do students benefit from culturally responsive teaching in business education?
In higher education, I believe that we have the responsibility to give our students a safe space to try to help them talk about and process ethical issues before they walk into their internships or full-time jobs. They need these types of interactions to function in the world—our diverse world. When we can give our students rich content and put them in situations where they can flex different muscles before they begin working, they'll be stronger and more competitive individuals, as well as better teammates, managers, and leaders.