Designed for 21st-Century Learning
Two new buildings bring sustainability, technology, and collaborative spaces to the business classroom.
Today's business schools must navigate a constantly evolving landscape of business needs, societal demands, and student interests. This means they must be prepared to respond to challenges that range from incorporating artificial intelligence into the classroom to reducing their carbon footprints.
A number of schools are finding they can't meet these challenges with their existing facilities so they're commissioning new buildings that offer high-impact technology, multipurpose collaborative spaces, and sustainable features. Here, we take a look at two new buildings designed to deliver a 21st-century business education that will prepare students to succeed in a constantly changing world.
Combining Art, Business, and Sustainability
By Matt Hughes
At Bucknell University in Lewisburg, Pennsylvania, the new Holmes Hall symbolizes the university's goal of enabling liberal arts and professional programs to interact with and redefine each other. Because the building is now the home for both the Freeman College of Management and the Department of Art and Art History, visitors can experience juxtapositions such as a stock ticker that plays out near a commissioned painting of the business school's namesake, Ken Freeman.
University trustee Steve Holmes—who committed significant funding to the new building along with his wife, Bonnie Bencsko Holmes—embodies that interdisciplinary intersection. An accounting major and art history buff, Holmes made his mark in the travel industry, ultimately holding top posts at Wyndham Worldwide. A building that brings together two such disparate courses of study helps produce broad thinkers, he says, and "the world needs more broad thinkers."
The 78,500-square-foot facility opened in August after being under construction since 2019. In addition to nearly 20 new classrooms, labs, and studios, Holmes Hall includes a spacious auditorium, large central atrium, ground- and third-floor patios, and a management deans suite. As part of its attention to the liberal arts, the design also includes several arts exhibition spaces. The parts of the building that contain the business school incorporate these additional elements:
A focus on entrepreneurship. The Elfers Family Management 101 Classroom is a large, reconfigurable collaborative space wrapped in whiteboard walls. It's used for an introductory management course that challenges first-year students to build entrepreneurial mindsets by forming their own companies; the income they earn supports an accompanying service project. Case classrooms and attached "rally rooms" allow students to prepare for pitch meetings and presentations, while a studio for the college's markets, innovation, and design program provides students with movable collaboration stations and space dedicated to proposing and critiquing new ideas and designs.
State-of-the-art technology. The analytics classroom—housing the Freeman College's new major in business analytics—includes a wall-spanning touchscreen smartboard and multiple projectors connected to student work pods. The combination studio-classroom "allows students to ideate, model, and tweak on their own at their group pods, but also to come together as a class and work through problems or data sets together with the instructor," says Mihai Banciu, professor of analytics and operations management and associate dean of faculty for the Freeman College. "Our philosophy is that analytics is both an art and a science, and the classroom space should reflect that duality."
---

The building maximizes passive lighting, heating, and cooling through an abundance of natural light, while four rain gardens capture runoff from nearby buildings.


---
Sustainability. The building was constructed to meet or exceed LEED (Leadership in Energy and Environmental Design) Gold, the global standard for sustainable building design and construction. The building maximizes passive lighting, heating, and cooling through an abundance of natural light, while four rain gardens capture runoff from Holmes Hall and nearby buildings. It utilizes chilled beam cooling, a highly efficient HVAC system in which warm air passes over water pipes in the ceiling, causing the colder air to drop and be replaced by warmer air rising from below. Holmes Hall also offers a touch-screen monitoring system that allows users to view the building's energy usage in near-real time.
The sustainability measures combine with the high-tech classrooms and interdisciplinary outlook to make the new building the ideal reflection of the school's mission. Says Raquel Alexander, dean and Kenneth W. Freeman Professor, the new facility "highlights the connections and collaborations across disciplines" in an effort to expand students' critical thinking abilities through the intersection of art in business.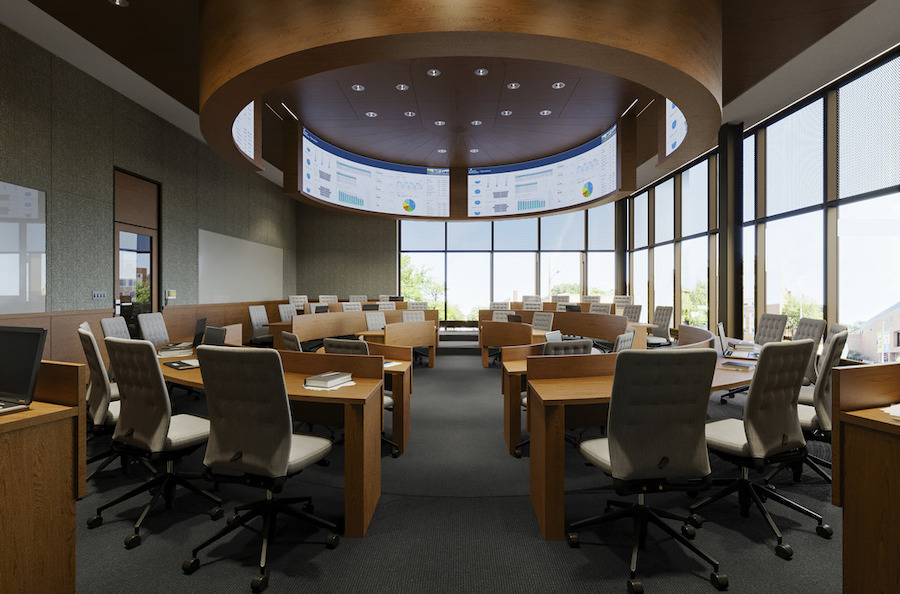 A classroom in the round will enable Lehigh University business students to lead town hall discussions and present business pitches in a hybrid format. (Rendering by Voith & Mactavish Architects LLP)
Creating Forward Momentum
By Meaghan Finney
After 30 years of operating out of the Rauch Business Center at Lehigh University in Bethlehem, Pennsylvania, the College of Business had begun to outgrow its space. In 2015, Georgette Chapman Phillips, dean of the college, began working on plans to revamp the school's facilities to accommodate its expanding list of programs and its enrollment growth of more than 40 percent.
Voith & Mactavish Architects (VMA) was commissioned to design a new marquee building that would be diagonally adjacent to Rauch. Focus groups of students and faculty provided input into the new design, while alumni, business leaders, and parents also supplied their opinions.
In June 2021, the school formally broke ground on the new facility, which is scheduled for completion in the fall of 2022. The heart of the 74,000-square-foot building will be a multipurpose atrium overlooked by a mezzanine. Beyond the atrium will be a variety of classrooms that range from a large auditorium to small seminar rooms, as well as program offices and breakout rooms. The new building will offer other key features:
Spaces for collaboration. A series of casual seating areas will be found throughout public areas, encouraging spontaneous interactions between people lingering after class. A conference center will allow the school to host events that bring together students, faculty, and alumni.
Flexible design. Most spaces will be easy to change or update. For instance, in any classes with tiered seating, the tiers will be removable to allow for new configurations. In the "dinner theater" classroom, all the seats will face forward to focus on the teaching wall, but certain rows can turn around to face the rows behind them to enable students to form breakout groups.
The AV and IT systems will be in easily accessible locations so they can be quickly removed and replaced. These systems, designed to enable both in-person and remote learning, will include multiple large screens for instructor use and have individual monitors for student use installed at specialized group tables.
Real-world settings. Students will get firsthand exposure to current business trends in the Bosland Financial Services Lab, data analytics rooms, a media production studio, a behavior lab, and a small-business incubator. Each of these spaces will be designed with a full range of activities in mind—the behavior lab, for instance, will include a kitchenette to make it easier to perform market testing of food and beverage items.
---

The Financial Services Lab, data analytics rooms, media production studio, behavior lab, and small-business incubator will be designed with a full range of activities in mind.


---
A classroom in the round will feature a series of large-format curved LED screens above a speaking well surrounded by rows of seating. It is intended to help students develop essential skills such as leading town hall discussions or presenting business pitches in a hybrid format.
Specialty spaces. The new building also will include a dedicated home for the Vistex Institute for Executive Learning & Research, a relatively new program for working professionals. The institute will have its own suite of hybrid classrooms, a reception room, a lounge, a kitchenette, a catering kitchen, and breakout spaces with a more corporate aesthetic.
"The beauty of the building is not in the limestone and mortar—although it is gorgeous," Phillips said at the formal groundbreaking ceremony. "It is in its interactivity, in its capacity for motion and momentum, and in what it means for our students as they are embarking on their business educations and discovering their careers."