Educators

Businesses
International Conference and Annual Meeting
Pathways to Impact
Location
Chicago, Illinois, USA

Join
1,300 peers
representing many of the
top institutions
from around the world in a three-day event offering over
40 hours of engaging sessions and
networking community meetings
. Business educators and thought leaders will highlight the various
pathways to impact
their organizations are taking to generate positive change.
Society is demanding that we update the ways we are educating tomorrow's leaders, and business educators have responded with new models for generating positive societal impact in their communities, regions, and at a global scale.
Connect with peers and engage with speakers who are eager to share their insights in areas such as:
Learning methods and delivery that adapt with learner needs
Demystifying assurance of learning
Partnering for impact
Building a culture of purpose for students
Climate consciousness
Who Should Attend?
Corporate representatives, deans, associate/assistant deans, international directors, program directors, department chairs, and faculty.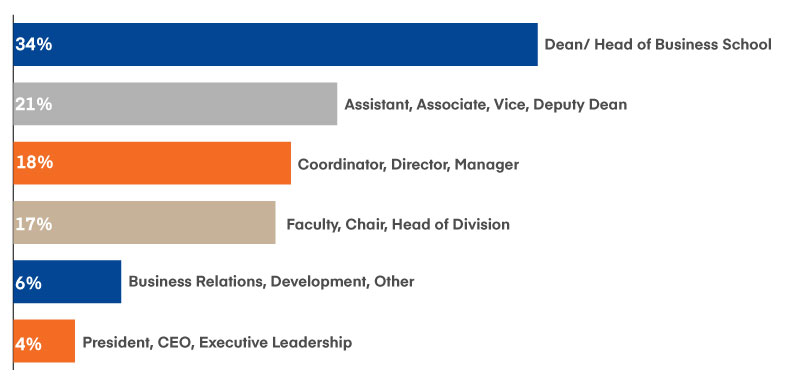 Source: ICAM 2022 attendee roster
Connect With Us
Use #ICAM23 to share your conference-related feedback, thoughts, and photos. For more information, please contact [email protected].
Guest Receptions
Bring a guest to the Welcome Reception on Sunday, April 23 and/or the Evening Reception on Monday, April 24. The cost is 100 USD per reception. Email [email protected] with the name of your guest. Please also indicate which reception(s) you wish to purchase for your guest. The AACSB Registration Team will process the request and send you an invoice.
Special Pricing Offer
Register now and save 150 USD for the Societal Impact Seminar (April 22) and ICAM taking place in Chicago, Illinois. The cost of the bundle is 1,940 USD. No transfers or substitutions allowed.
---
Pricing (USD)
Member Pricing 1st and 2nd
On or after March 24
$1,595
Member Pricing 3rd and subsequent
On or after March 24
$1,495
Non-Member Pricing
On or after March 24
$1,795