Educators
Deans Conference
Meet in-person for the first time since 2020 at this interactive, workshop-style conference in San Antonio, Texas, USA.
Date(s)
February 8​ – 10​
Location
San Antonio, Texas, USA
Event Type

Conferences
Hotel and Travel
Event and Hotel Location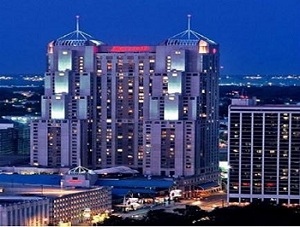 San Antonio Marriott Rivercenter
101 Bowie Street
San Antonio, TX 78205
Tel. +210 223 1000
Hotel Reservations
AACSB group block is sold out. Please view nearby options below.
Guestroom changes: Any guestroom changes, cancellations, etc., are the delegate's responsibility and must be made directly with the hotel according to the guidelines below in order to avoid financial penalty.
Cancelation: All reservations must be guaranteed by a credit card, money order or deposit check. Individuals with guaranteed reservations must cancel their reservation 48 hours prior to the scheduled day of arrival to avoid a one-night cancelation charge. When making arrangements through travel websites or an agent, the negotiated AACSB rates may not always be available.
Travel agents: Please request your travel agent to book your room in the AACSB-negotiated room block for the event.
Third-Party Companies: We have been made aware that third-party companies, Exhibitor Housing Services (EHS), Global Expo Travel, Exhibitor Travel Bureau, and Business Travel Management, are contacting our attendees, introducing themselves as the official 'housing bureau' for the event. This is not the case. If you booked through these companies, we believe that your information may be compromised and we would strongly recommend that you do not give any personal information, including credit card details to any unknown vendor. If you receive an e-mail from these companies, please forward to it to

[email protected]

.
Alternative hotel options:
Marriott River Walk
~.2 miles from conference hotel/~2 minute walk
Current rate (subject to change): $504 per night
Springhill Suites San Antonio Alamo Plaza/Convention Center
~.2 miles from conference hotel/~5 minute walk
By Taxi/Uber: ~.8 miles / ~5 minute ride
Current Rate (subject to change): $282 per night
Hampton Inn San Antonio Downtown (River Walk)
~.3 miles from conference hotel/~5 minute walk
Bay Taxi/Uber:~ .8 miles / ~5 minute ride
Current Rate (subject to change): $285 per night
Thompson San Antonio River Walk (a Hyatt Luxury Boutique Hotel)
~.7 mile from conference hotel/~ 15 minute walk or ~5 minute ride
Current Rate (subject to change): $470 per night
Local Guides
AACSB's Health and Safety Commitment and Guidelines
AACSB's top priority is the health and safety of our event attendees and staff. We are working with our partners and vendors to develop protocols that will continue to evolve to reflect the current state of the pandemic response and ensure the safety for everyone in attendance. We will continue to monitor and follow mandates required by federal, state, and local jurisdictions, as well as the guidance from the Centers for Disease Control and Prevention, and World Health Organization.
Plan Ahead

Get vaccinated: We strongly encourage you to get your vaccine as soon as it is available to you. We recommend that you are fully vaccinated (14 days after your vaccine shot) prior to traveling to the event.

Know your local travel protocols:

Please make sure you fully understand your local government travel restrictions and return protocols
Onsite Safety Protocols
Masks are optional: While masks are now optional, we will still have some disposable masks for any attendees who may wish to wear one.
Hand sanitizing stations provided:

We recommend that attendees utilize hand sanitizing as often as possible throughout the event. We also encourage you to wash your hands frequently with soap and water for at least 20 seconds and avoid touching your eyes, nose, and mouth with unwashed hands.

Enhanced cleaning and sanitization: Meeting rooms will be thoroughly cleaned between each session according to the hotel's comprehensive cleanliness standards. Here is more information on the hotel's Covid-19 Property Details
Visa Invitation Letters
AACSB International's policy requires attendees be registered and paid in full to receive a visa invitation letter. If you have an invitation letter request, please email [email protected]. Please allow up to 2–3 business days for a response.