Educators
Micro Plans and Societal Impact Strategic Planning Seminar (AP/EMEA Level 3)
This seminar will introduce you first to the concept of creating a micro plan and identify and illustrate areas within your business school where micro planning can be highly effective.
Event Type

Seminars
Each day 9:00 a.m. – 1:00 p.m. CET | 3:00 – 7:00 p.m. SST
What is a micro plan?
A micro plan is a "plan-within-a-plan," where a specific element of a larger plan is nuanced enough to require its own process. A micro plan is developed through "micro planning," which is the process of identifying objectives and action plans related to a specific element or component of a more comprehensive "macro" plan.
When done well, a school's strategic plan provides an excellent overall roadmap for implementation of the school's mission and vision. However, there are a variety of complex issues for which a deep dive strategy should be developed in a particular area. It can be overwhelming to know where to start with these types of complex issues; this is where micro planning comes in. Micro planning focuses on a particular complex issue and helps you create a strategy, an action plan, and key performance indicators that support the overall macro plan.
Seminar Overview
This seminar will introduce you first to the concept of creating a micro plan and identify and illustrate areas within your business school where micro planning can be highly effective.
Through facilitated discussions, a cohort of business school leaders will focus on an area of societal impact to apply a micro plan. Participants will learn how to create an integrated strategy around societal impact as required by the new standards, including identifying your area of intended emphasis, embedding that area within curriculum (Standard 4), research (Standard 8), and engagement (Standard 9), identifying key resources needed, and developing key performance indicators to measure progress towards achievement of your goals for societal impact.
Learning Objectives
Understand what a micro plan is and how it fits within a broader strategic plan
Identify key areas where a micro plan would be effective for your school
Learn the methodology for creating a micro plan and understand how to extend the methodology to any number of areas of your school's strategic plan or operations
Gain a thorough understanding of what the 2020 standards expect with respect to societal impact for an accredited school
Apply the micro planning methodology to the area of societal impact
Facilitators

Tim Mescon, AACSB International
Timothy S. Mescon is executive vice president and chief officer for Europe, the Middle East and Africa for AACSB International. He is president emeritus of Columbus State University (Georgia) where he served from 2008-2014. Previously, he served as dean and Dinos Eminent Scholar Chair for 18 years at the Michael J. Coles College of Business at Kennesaw State University in Georgia. Mescon gained extensive experience as an AACSB peer review team member, chair, and committee member for 25 years before joining AACSB. He is the author of more than 200 articles and case studies, and he has co-authored four books, his latest "Entrepreneurship: Venture Initiation, Management and Development" 2nd edition (Routledge/M.E. Sharpe). Mescon received his PhD from the Terry College at The University of Georgia, MBA from the Cox School at Southern Methodist University and BA from Tulane University.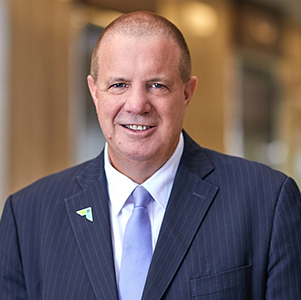 Geoff Perry, AACSB International
Geoff Perry is executive vice president overseeing global membership. With senior management experience in the university sector, having served as business school dean, pro vice chancellor, and deputy vice chancellor at Auckland University of Technology—a 28,000 student, research-intensive university—he has strong strategic, financial, and people management capabilities. He has mentored, advised, and evaluated many higher education business schools across the Asia Pacific region and North America. Recently he co-chaired the Business Accreditation Task Force, which was mandated by AACSB's board of directors to work with the association's community to develop the 2020 business accreditation standards. Perry has a significant portfolio of peer-reviewed journal articles, commissioned reports, and presentations. He has academic and private sector experience and has worked, consulted, and researched in his home country of New Zealand as well as more broadly in the Asia Pacific region. Perry holds degrees in the arts and the humanities and has a PhD in economics with a focus on labor and international economics.
Who Should Attend
This seminar is taught at an intermediate level. Participants are expected to have an understanding of foundational concepts of strategic planning. Participants who have taken AACSB's Overview of Strategic Planning seminar or Agile Strategic Planning seminar are well prepared, as well as others with prior experience in strategic planning. The seminar will be live and interactive and designed as an immersive virtual classroom experience. Individuals who play a leading role with mission-based strategic initiatives, who are new to administration and academic strategic management, or who are responsible for accreditation activities and/or from schools preparing to launch a strategic plan and/or new mission will benefit from this seminar.
Delivery
Gain actionable insights in one, four-hour live lesson with a cohort of your peers and facilitators. Pre-and post-work will allow you to maximize your time in the classroom. This course will be delivered via AACSB's Brightspace learning platform and Zoom. You will have access to the event for 90 days from the seminar date.
Contact Us
For more information, please contact [email protected].
Special Pricing Offer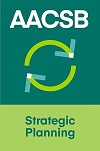 Attendees who complete all three seminars and meet participation criteria will be awarded a strategic planning badge, indicating achievement in this important area of business school management. This promotional package includes the Overview of Strategic Planning (Level 1) (March 21), Creating an Agile Strategic Plan (Level 2) (April 13), and Micro Plans and Societal Impact Strategic Planning (Level 3) (May 9).
Click here to take advantage of this special offer.
No substitutions or transfers allowed. Promotional package prices no longer apply if one or more of packaged events are cancelled by the attendee.
Pricing (USD)
Member Pricing 1st and 2nd
On or after April 26
$695
Member Pricing 3rd and subsequent
On or after April 26
$595
Non-Member Pricing
On or after April 26
$845