Sasin School of Management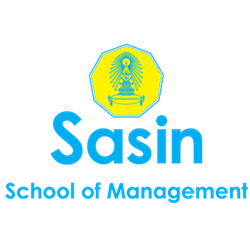 Building a Sustainability and Startup Ecosystem
With a strategic focus on sustainability and initiatives such as accelerators and incubators, Sasin aims to shape how entrepreneurship is activated in the region and to mainstream sustainability in the startup world.
Call to Action:
Sasin School of Management sees sustainability as entwined with entrepreneurship. The impact of sustainability on entrepreneurship can be traced in the evolution of the Bangkok Business Challenge, founded in 2002. By 2011, sustainability was a key judging criterion throughout the competition. In 2015, we established the HRH Princess Maha Chakri Sirindhorn's Sustainability Award.
Successful businesses must implement sustainable business practices while they grow and maintain profitability. This will demand an entrepreneurial mindset. Business leaders will need to find new solutions—new ways to apply existing resources—just as entrepreneurs do. Accordingly, in 2018 Sasin completed the merger of the Sasin Entrepreneurship Center with the Sasin Center for Sustainability Management to become the Sustainability and Entrepreneurship Center (SEC).
Sasin focuses on sustainable business practices, reflecting a deeply held belief among stakeholders that sustainability is an existential imperative. Anyone living or working in Southeast Asia (and throughout Asia) is very conscious of the potential adverse effects of business "success" on the environment and society. We see sustainable business practices as encompassing environmental, societal, and financial elements. We must develop managers who realize the balance of financial gain, environmental impact, and societal development.
At the same time, as a school, we are firmly committed to the role of an entrepreneurial mindset, with entrepreneurial thinking deeply ingrained in our mission. If managers are to achieve the financial returns they deserve, while maintaining environmental and societal integrity, we need to deploy our resources in ways never before imagined—to think entrepreneurially.
Innovation Description:
Our strategic focus on sustainability and entrepreneurship is an effort to shape how entrepreneurship is done in Thailand and the region, and to mainstream sustainability in the startup world—to convince entrepreneurs to have a purpose and a positive impact on society that goes beyond profit.
These efforts would not be possible without the support and input of corporate leaders and entrepreneurs. They are a vital component of activities such as the SPRINT™ Accelerator program, Thailand's first specialized accelerator for science and technology, which was co-founded by SCG Chemicals, Sasin School of Management, Thailand Center of Excellence for Life Sciences (TCELS), Houston Technology Center Asia, and KX Knowledge Exchange Center, as a free three-month acceleration program focused on business strategy, marketing strategy, financial aptitude, intellectual property knowledge, and pitching skills. It aims to support Thailand's innovation ventures, especially in deep-tech startups (such as artificial intelligence and augmented and virtual reality) to be able to develop into new corporations with speed and effectiveness.
To actively help build the skills capacity of the startup ecosystem within Thai academic institutions, SEC, sponsored by the Stock Exchange of Thailand (SET), launched a startup incubator program called Sasin Start-up Incubator by SET (SSI). And the Sasin Start-up Incubator: Impact Ventures is a three-month incubation program sponsored by the National Science Technology and Innovation Policy Office under the Ministry of Science and Technology for startups or SMEs that will have a positive impact on society or the environment.
Innovation Impact:
The first SPRINT Accelerator program launched with 17 startups in September 2017. Thirteen of the 17 startups graduated and had their Demo Day in February 2018. They learned and shared how to build a successful business from case studies and experienced speakers, and received one-on-one mentoring to help them solve problems, improve their pitching skills, and reach their business goals.
The Sasin Start-up Incubator by SET, SSI: Facilitator Training Day included the training of nearly 50 professors from 20 universities across Thailand to give them the tools and confidence to advise or mentor startups at their own institutions. The program also included a weekend boot camp to help refine startups' business models and pitching acumen, as well as a mentorship program where each startup team was paired one-on-one with Sasin alumni mentors who had experience in startups and startups competitions. The mentorship program lasted three months which, will led to the SCG Bangkok Business Challenge @ Sasin (BBC).
Siam Cement Group (SCG) partners with Sasin to present the BBC. Born from the suggestion and active involvement of Sasin alumni, the BBC has grown to attract entries from leading business schools in 47 countries on six continents and has produced operating and successful businesses. With a growing international reputation, this annual competition attracts business and non-business students from around the world. In 2019, 71 teams from 19 countries and 40 institutions entered the competition, including 14 teams from 10 schools in Thailand.
Reference Links: