The University of Oklahoma, Michael F. Price College of Business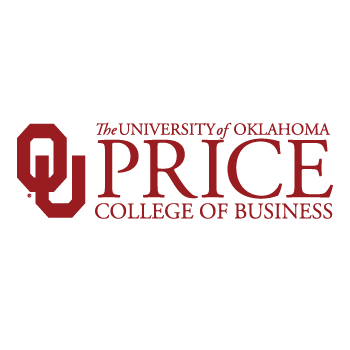 Location: Norman, Oklahoma, United States
Accreditation Status: Business and Accounting
Innovation Statement
As a component to restructuring its associate dean and executive staff into three dedicated areas, the University of Oklahoma incorporated the Office of Economic Development into the Price College of Business.
Call to Action
Price College recognized that, to maintain an effective educational environment, it must take a holistic approach to education by tackling big issues, generating business insights, and preparing leaders. To further this goal, Price College restructured its executive staff into three dedicated areas with three corresponding associate deans: (1) economic development and impact, (2) faculty research and innovation, and (2) academic programs and engagement.
Innovation Description
The dean appointed three associate deans to oversee three dedicated areas of the college: (1) economic development and impact, (2) faculty research and innovation, and (3) economic development and business-research impact. A unique aspect of the restructuring includes incorporating the Office of Economic Development into Price College. The addition of this office, combined with separating the entrepreneurial program into its own full-time division with 10 adjuncts, four new tenure and tenure-track faculty, and 20 professional staff, provides significant co-curricular learning opportunities through a Center for Entrepreneurship. The center contains the Sooner Launch Pad—a student business accelerator program with seed funds, the Center for the Creation of Economic Wealth—designed to further new venture developments, the Office of Technology Development—which licenses university intellectual property created by professors, a division of Public/Private Partnerships—which works to attain and retain businesses and provides an experiential learning platform, and the Center for Economic & Management Research—establishing economic policy and advocacy.
Impact
Improvements to major-specific advising, professional development integration, and increased student qualifications combined with the experiential learning, research innovations of faculty, and economic development with community partners led Price College to increase in US News and World Report rankings to No. 61, climb to No. 6 in LendEdu rankings for entrepreneurship programs, and earn an A in the U.S. Department of Education's College Scorecard. For full-time master's students, Price College improved in Bloomberg BusinessWeek rankings from No. 80 to No. 52 (No. 63 in US News and World Report), and for professional master's students the college ranked No. 46 in Bloomberg BusinessWeek rankings (No. 58 in US News and World Report, up from No. 94). Additional evidence of the positive impact of these changes, even with the increase in qualification standards, includes Price College business programs' continued increase in demand as a major at the University of Oklahoma.
URLs: