Lisa Rojas Bacus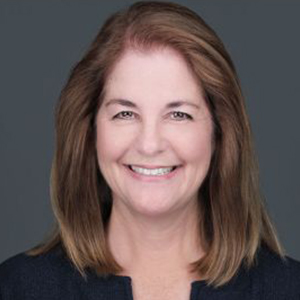 President and CEO, Oro Vista Ventures
and EVP and Global Chief Marketing Officer,
Cigna (Retired)
Alma Mater:
Northern Arizona University
The W. A. Franke College of Business
United States
Area of Impact:
Marketing or Communications
Lisa Bacus creates a positive impact in her community and society as a champion for diversity and equity, and in her generous giving of time and resources. In addition to receiving many leadership and civic awards, she was named as one of the Most Powerful and Influential Women in Corporate America by Diversity Magazine and has served as Cigna's executive sponsor for the Hispanic/Latino Colleague Resource Group, enhancing diversity within the company. She also runs the Bacus Family Foundation, providing scholarship support to Hispanic youth.
Bacus has used her business education to lead and innovate within her industry in multiple ways. Her distinguished corporate career has included titles from manager to executive vice president in fields such as marketing, communications, service operations, and sales in U.S, and global markets. She has applied her education and skills, acquired at The W.A. Franke College of Business at Northern Arizona University (NAU), in strategic leadership and market research to her corporate positions in companies including Cigna, Ford Motor Company, and American Family Insurance. She also uses her business education in her role as director on several corporate boards, including Teradata, Selective Insurance, Douglas Dynamics, and Culver's.
In the field of marketing, Bacus has received widespread recognition, including four Effie awards. She was selected as one of the Wall Street Journal's 50 Most Influential Chief Marketing Officers in 2019, and in 2018 she was chosen by Brand Innovators as one of the Top 100 Women in Brand Marketing.
After retiring from corporate roles, Bacus returned to her home state of Arizona and began Oro Vista Ranch, an equine therapy business. As a long-term supporter of The W.A. Franke College of Business at NAU, she has funded an endowed scholarship, serves on the college's National Advisory Board, is a 2003 inductee into the college's Hall of Fame, and served on the NAU Foundation Board.
Her philanthropy and volunteerism are not limited to NAU; Bacus is a dedicated community servant. She is a member of the board of trustees for PetSmart Charities and 2020 Mom, an organization that promotes awareness of and support for maternal mental health care.
Bacus is a committed champion of education in general, and business education specifically, with a scholarship to support Hispanic students in The W. A. Franke College of Business. In addition, Bacus serves as a Business Leadership Program mentor, teaches as an adjunct faculty member, and is a frequent guest speaker at the college. Moreover, her extensive business network allows her to bring successful business executives to campus for inspiring dialogue with students. For example, she assisted the college in bringing Craig Culver, co-founder of Culver's Franchising System, Inc., to campus for an inspiring dialogue with business and hospitality students.