Hiba Shabrouq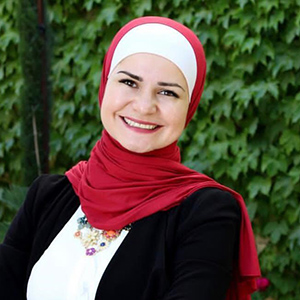 Co-Founder, Ozwah
Alma Mater:
Princess Sumaya University for Technology
King Talal School of Business Technology
Jordan
Area of Impact:
Diversity and Inclusion
In addition to her successful career in telecommunications and product marketing, Hiba Shabrouq is a co-founder of the Ozwah initiative. Meaning "the supportive family" in Arabic, the organization was created to help orphaned Jordanian girls become independent and active members of their society. Ozwah offers mentoring and tailored capacity-building programs to meet the specific needs of its clients.
Ozwah was the only Arab initiative among the 21 projects to win socioeconomic seed grant funds at the TechWomen 2017 program, a mentorship and exchange program sponsored by the U.S. Department of State.As an emerging leader with TechWomen, Shabrouq received a product management mentorship at LinkedIn's headquarters in Sunnyvale, California. Her mentors recalled, "She inspired and motivated us on a daily basis."
Building on her bachelor's degree in telecommunications engineering and master's in entrepreneurship from Princess Sumaya University for Technology (PSUT), Shabrouq has excelled in the telecommunication industry, specifically in technical applications, business solutions consultation, and product management. She initiated and worked on different projects that were launched for the first time in Jordan, bringing creative solutions to fill the market gap while increasing revenue and the customer base of the segment she was leading. For her achievements in 2017–18, Shabrouq was awarded the Silver Stevie Award as an employee of the year and as a woman in business in the telecommunications category.
Shabrouq is also president of the New Horizons Toastmasters club in Jordan. She uses her managerial and public speaking skills to lead the club's members and guests. Furthermore, under her guidance, the club received multiple awards in 2018 and 2019.
She was recognized by Her Majesty Queen Rania Al Abdullah and selected with 14 other young professionals to meet with His Majesty King Abdullah II to discuss the challenges faced by young Jordanians and potential ways to overcome those challenges.
Shabrouq never misses an opportunity to volunteer. She has been an active mentor at INJAZ, a Jordanian nonprofit designed to help students meet the changing requirements of the labor market. She mentors students on the financial skills they must develop to fulfill their needs.
Shabrouq has been a motivational speaker at a variety of local and international events, speaking to students in schools and universities and to employees in different industries about the evolution of her career. She shares her journey from the technical to the business field and discusses the lessons she has learned along the way.
Shabrouq has spoken on the TEDx PSUT stage and at LinkedIn corporate headquarters. She has presented to groups such as IEEE Women in Engineering, Microsoft Ignite The Tour, and the Liferay Digital Solutions Forum. She has also inspired students at PSUT, Al- Balqa' Applied University, The Ahliyyah School for Girls, Prince Sultan University, and many more.