Carlos Salazar-Lomelín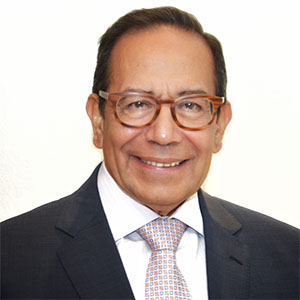 President, Business Coordinating
Council of Mexico (CCE)
Alma Mater:
Tecnológico de Monterrey
EGADE Business School
Mexico
Area of Impact:
Manufacturing or Commercial Services
Carlos Salazar-Lomelín is an extraordinary Mexican business, academic, and civic leader. During his 46-year career at Fomento Economico Mexicano SAB de CV (FEMSA), he led many of the company's operations, including FEMSA Cervesa and Coca-Cola, ultimately serving as CEO for the FEMSA Group.
Salazar's career is distinguished by constant innovation and his deep commitment to social development. He was instrumental in transforming FEMSA into the innovation-driven, global beverage and retail leader that it is today. During his tenure, the company grew to have 300,000 collaborators across 11 countries. FEMSA's strategic sustainability framework, developed under his leadership, is an industry standard, based on a multi stakeholder commitment to best practice in corporate culture and values, water management, energy use and recycling, sustainable sourcing, healthy lifestyles, and community development. Salazar has been consistently recognized as an innovative and influential leader, appearing in the Mexican 300 Leaders edition in 2020.
In 2019 Salazar was elected president of the Business Coordinating Council-CCE, the principal nonprofit umbrella organization representing 12 major Mexican business groups integrated by hundreds of multinational and Mexican corporations. The CCE identifies strategic solutions for economic growth, innovation, and competitiveness of both companies and the country, and promotes a responsible market economy that contributes to a more equal, inclusive, and prosperous Mexico.
Salazar is committed to preparing future leaders who care about transforming Mexico and the world. He is deeply engaged with Tecnológico de Monterrey (TEC), his alma mater, where he earned his bachelor's degree in economics and his MBA at EGADE Business School. He has taught pro bono as a professor of economics at TEC for over 40 years, and he continues to mentor and inspire young leaders in the classroom and in the TEC entrepreneurship ecosystem.
Salazar is a driving force at TEC's flagship social impact program, Lideres del Mañana (Tomorrow's Leaders), which provides full tuition scholarships to extremely talented young Mexican leaders who may not otherwise have a chance to study at TEC. The program promotes a meritocracy culture and breaks economic and social barriers while stimulating social mobility for young professionals with strong cognitive and socio-emotional skills and social empathy. Salazar has designated a perpetual scholarship to the Lideres de Mañana fund. He is also a recurrent donor to the Tec de Monterrey Philanthropy Network.
Salazar serves as chair of the business school's board of advisors and on the academic council.His global vision, commitment to social impact, and deep connection between university and industry have shaped the institution's innovation and development in many key impact areas. He also serves on the global board of BBVA and on the boards of several nonprofit and civic organizations.