Nopparat Aumpa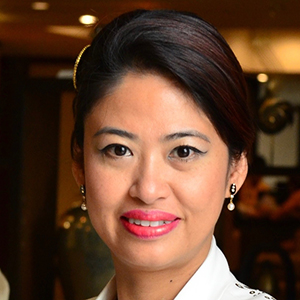 Senior Assistant
Vice President/General Manager,
Banyan Tree Bangkok
Alma Mater:
Sasin School of Management
Thailand
Area of Impact:
Consumer Goods or Services
Nopparat "Kai" Aumpa is the SAVP/ GM of Banyan Tree Bangkok. She is the first female general manager in the luxury hotel chain, and one of the few Thai female leaders in an industry traditionally dominated by men and, in this region, expatriates. In addition to being the general manager of Banyan Tree's flagship Bangkok hotel, Aumpa is also responsible for the Angsana Maison Souvannaphoum hotel in Luang Prabang, Laos; is Banyan Tree's main brand standard auditor; and has taken on a role in business development to help expand the brand.
Banyan Tree is a fast-growing chain of five-star resorts, expanding from a handful of hotels in the mid-1990s to 47 hotels and resorts in 2019. Aumpa has made significant contributions to this rapid expansion as a key member of the opening teams of 10 properties, including the Banyan Tree Ringha in China, the Royale Hayat Hospital in Kuwait, and the Banyan Tree Mayakoba in Mexico. Her success on these opening teams, in a broad range of countries and many with very traditional cultures, attests to her status as a pioneer in the hospitality industry.
Aumpa is also developing new innovations for the urban resort industry. One example is the recently launched Saffron Cruise, which combines the Banyan Tree's iconic restaurant and rooftop bar concept with Bangkok's Chao Phraya River for a luxury five-star river cruise. The Saffron Cruise was initially developed in Aumpa's project management class at Sasin School of Management.
Aumpa's leadership acumen is also seen in socially responsible initiatives at Banyan Tree. In addition to actively leading and participating in the sustainability efforts of Banyan Tree, which include various conservation and sustainability initiatives, Aumpa is particularly proud of Banyan Tree's Seedlings program that was created to nurture young people at risk of societal exclusion, providing vocational and life skills. She said she is particularly proud that many of the participants in this program have started training in the hospitality industry in Thailand.
Having worked in various capacities and roles during her hotel career, Aumpa is aware of the challenges that her associates face, especially female members of her staff. Another Banyan Tree initiative that Aumpa helped enhance is a childcare program to help her team members with child development. The innovative program has won an award from Thailand's Welfare Department and attests to Aumpa's commitment to take care of what she considers her family of associates.
Since she started at Sasin in 2016, Aumpa has been very active in the alumni community, helping with student recruitment and organizing events for the community of alumni and students. She has also contributed to Banyan Tree's Talent Management Programme as a facilitator. She says that it wasn't easy to teach and mentor people at first, but she quickly realized the importance of her role: "The first time I was asked to lead a session at the Academy, I was very nervous. But my colleague told me to be myself and tell my story. Later, I heard from a number of our new associates that my story gave them confidence—that they could achieve more too." She continues, "When people give me a chance, I never let them down. And I try to instill that idea in my team and the young people that I meet."