Minna Arve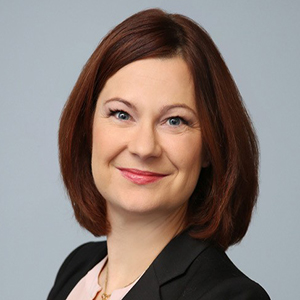 Mayor, City of Turku
Alma Mater:
University of Turku
Turku School of Economics
Finland
Area of Impact:
Public Service or Military
Minna Arve has applied her business education to drive responsible management and leadership in her versatile positions in politics, industry, and other organizations she has served. Throughout these activities, Arve has taken advantage of her multifaceted business education, not the least of which are lessons learned regarding responsibility and sustainability. She also has (and has had) many responsibilities related to sustainable planning, including capital budgeting, where studies in business economics have given her great advantage.
Minna Arve's career is exceptional. After working as a nurse, she graduated with a master's in business administration and worked in the medical industry. Additionally, she has influenced society in regional (chair of the city board) and national politics (party secretary), initiating many important development programs for healthcare, education, and infrastructure.
These earlier roles led to her position as the CEO of the Turku Chamber of Commerce, where she de eloped a new strategy for the network of almost 2,000 companies and public-sector organizations. The new strategy has been a success in enhancing many regional developments related not only to the prerequisites for successful business but also sustainability of such developments. For the last two years she has served as mayor of the City of Turku. In this position, she has intensely led the city toward a new era of sustainable development. Among other things, the aim is to make the city carbon neutral by 2029.
The City of Turku's new climate plan is considered to be at the global forefront of climate initiatives. The city aims to be carbon neutral by 2029. This objective is one of the highest in the world. However, Turku has a solid chance of achieving it. Meeting the goal requires extensive innovations, especially in the energy and transport systems, as well as in the operations of the city, companies, and the whole civil society.
Mayor Arve views climate work as extremely significant. She says that Turku is a boldly renewing city, and carbon neutrality is an important challenge for it. The city has already significantly reduced greenhouse gas emissions with its climate work. The climate objectives have received strong support from the decision-makers and residents of Turku. Concern over the climate change and the will to act are bringing people together in both Turku and the world on a larger scale. Improved conditions for cycling and walking are being strongly developed, as well as a culture of sustainable mobility. Public transport will be turned into a completely carbon-neutral service.
Arve is also dedicated to influencing climate change at her alma mater, where she serves on the International Advisory Board of Turku School of Economics and the Advisory Board of the University of Turku. Through her service, she has actively developed a research agenda and curricula to better take into account issues related to sustainability and responsibility, including the various aspects of responsible management.