Maria Sievert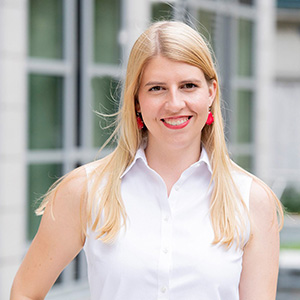 Founder, Managing Partner,
inveox
Alma Mater:
Technische Universität München
TUM School of Management
Germany
Area of Impact:
Healthcare or Wellness
Maria Sievert studied both management and technology at the Technische Universität München (TUM), where she completed a Master in Management degree. She also participated in a student exchange at the University of Arkansas in the United States, which provided her with a well-rounded education to enter the workforce in a globalized economy.
After finishing her studies at the TUM, Sievert founded a company after her participation in the university's Manage&More scholarship program. Hence, her education bridged her pursuit of innovation within the medical technology industry. Sievert developed the idea for inveox after realizing how flawed the processes within laboratories still are. These errors have a significant impact on individual diagnoses, and reducing these mistakes is one of the main impacts inveox has on society. Making histopathology labs more efficient and less error-prone results in faster, safer, and more reliable cancer diagnoses, which has the potential to alter lives.
Sievert was recently selected as one of the best innovators under 35 by Technology Review. One year after inveox was founded, Sievert was named one of the 25 Women Whose Inventions Change Our Lives by Edition F magazine. These recognitions demonstrate the potential that inveox's products can have in Germany and the rest of the world. Sievert was a finalist for the Woman Leadership in Entrepreneurship Award by the European Institute of Innovation and Technology.
Sievert has built inveox as a value company. Rather than companies driven by profit only, a value-based company can have a significant impact on both the internal morale of employees and the external effect of the company. This aspect of corporate responsibility is extremely important to Sievert.
In addition to her work at inveox, Sievert has made volunteering efforts to help at every level of society. She is a regular jury member of the Leonhard program that mentors prisoners. The idea is that mentoring will enable them to write business plans and bring their own ideas to life. Thus, Sievert is not only impacting society significantly through the work of her company but is also giving back by volunteering her time and knowledge.
As one of Sievert's missions is to help educate and inspire future business leaders, she is participating in the Startup Teens program, a Germany-wide effort to connect young entrepreneurial minds to inspiring founders. Sievert has met several young women who have shown a lot of passion and potential. Her focus is especially on future female leaders since the startup world is mostly still male dominated. The one-on-one mentoring enables Sievert to provide young adults directly with her personal experience on how to become a successful entrepreneur.
Her participation with Startup Teens is quite similar to the way she leveraged her education and the Manage&More program at TUM in order to build inveox. The program taught her important lessons that prepared her for entrepreneurship. She is giving back to the overall community by instructing young teens, particularly girls, so that they may someday realize their own entrepreneurial dreams. Sievert used her education and the opportunities she had to build her company, and now she is tutoring girls to fulfill their own ambitions.