Lulu Raghavan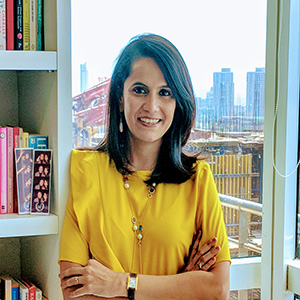 Managing Director,
Landor Mumbai
Alma Mater:
S.P. Jain Institute of Management and Research
India
Area of Impact:
Marketing or Communications
Lulu Raghavan is a leading authority on branding and design in India. She is the managing director of Landor Mumbai, a preeminent global brand strategy and design firm. Raghavan set up the Landor India office in 2008, which has consistently ranked at the top in Brand Equity's Agency Reckoner. Raghavan has worked on large branding assignments for some of India's most respected companies, including National Stock Exchange, Mahindra, Godrej, Aditya Birla, and the Taj Group, among others. Raghavan is most proud of the culture and team she has nurtured.
With industrywide leadership recognition, Raghavan was invited to judge the Cannes Lions Design Awards 2018 and serve on the Young Lions Jury 2018. Anand Mahindra, managing director and chairman of the 17 billion USD Mahindra Group, remarks of Raghavan,
"I first met Lulu when Landor was working on a corporate brand architecture assignment for the Mahindra group. Over the years, I have watched her grow Landor's presence in India by being an evangelist for the value that branding and design deliver to a business. Lulu has a strategic mind and empathy for her clients. She is a natural relationship builder and someone who can look at the big picture and bring it to life in the work. She has been able to develop and deliver a globally bench marked and locally relevant brand consulting and design offer in the Indian market. We value Lulu and Landor's contributions to some of our businesses over the years."
In 2018, Raghavan received the John W. Kuykendall Award for Community Service from her alma mater Davidson College in North Carolina, USA. She is passionate about equality and has been an active champion of women at work. She was invited to speak at Disney India for Women's Day 2018, Ladies Who Lead, and IMC Ladies Wing, to name just a few events. In early 2019, she chaired a panel discussion on women and leadership at the Economic Times Global Business Summit. Raghavan conceptualized and helped set up the multinational advertising company WPP's Stella program in India to mentor high-potential women in the group. She is also part of The Collective, a group of 15 senior women in the industry who have come together to create a forum to help reduce or eliminate any form of harassment at work.
For Raghavan, mental and physical well-being and their direct connection to productivity, creativity, and a balanced lifestyle are of paramount importance. She is a contributor and evangelist for Thrive Global, a venture launched by Arianna Huffington that aims to help people live healthier, more rewarding lives, working across common factors such as nutrition, sleep, wisdom, stress, and self-actualization. Raghavan conducted a fireside chat with Arianna Huffington on two of Thrive's focus pillars: well-being and wisdom. She also signed up all of her Landor employees with a Thrive program to reassess, reflect on, and improve their personal and professional lives.
Raghavan is a faculty member for WPP Maestro—a training and leadership program for high-potential individuals across WPP.