Kathleen Vogelsang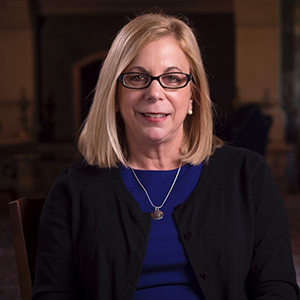 Chief Investment Officer,
Van Andel Institute
Alma Mater:
Grand Valley State University
Seidman College of Business
United States
Area of Impact:
Financial Services
Kathleen (Kathy) Vogelsang is chief investment officer of Van Andel Institute (VAI), an independent biomedical research and science education organization committed to improving health and enhancing lives. She manages a 1.7 billion USD portfolio. In 2005, with no staff, systems, or portfolio (all cash), Vogelsang built the Investment Office from the ground up and today has a staff of five, multiple portfolio management systems, and a global portfolio. No stranger to challenges, Vogelsang, at age 30 and with two young daughters, returned to college to continue her education.
That same resolve nurtured the pathway to invest strategically in 40 countries across public and private equity, fixed income, hedge funds, real estate, and commodities. Leading a team to develop an innovative, quantitative hedge fund structure allowing flexibility within the portfolio to navigate market volatility while significantly minimizing investment fees has produced exceptional results. This is a very rare strategy for endowments and foundations because of its complex nature and the in-house expertise required to execute it.
Recognized as a leader in investing in private equity in emerging markets, Vogelsang has spoken at institutional investment conferences in Washington, Boston, Toronto, and Singapore and has traveled to 44 countries sourcing investment opportunities. This recognition led to former Michigan Governor Rick Snyder appointing her to the Michigan Women's Commission with a focus both to increase the number of women serving on corporate boards in the state and to help develop a database of women qualified to serve, now administered through Crain's Detroit. She is currently working with Michigan Governor Gretchen Whitmer's office to draft a resolution encouraging public and private companies to diversify their boards. Her work led to her being named one of the 100 Most Influential Women in Michigan in 2016 by Crain's Detroit.
Vogelsang's intentional board service has revolved around topics and issues that improve the lives of citizenry: the Grand Rapids Community Foundation Board, fostering a thriving, inclusive community through grants and nonprofits; the National Board of the World Affairs Councils of America, which seeks to educate about world issues; Pine Rest Christian Mental Hospital, focused on improving access to behavioral healthcare; Gift of Life Michigan, encouraging public and professional participation in organ and tissue donations to improve and extend lives of Michigan citizens; and Meijer Gardens, which promotes discovery of life through its masterpieces of art and the many gardens.
Vogelsang's leadership success has allowed her to share experiences and model to students at her alma mater and within professional organizations. As the second woman in West Michigan to earn the Chartered Financial Analyst (CFA®) designation, Vogelsang has influenced other women to follow. She developed a program for graduating college students to study for the CFA Level 1 exam, and she introduced financial literacy to inner-city high schools through student editions of The Wall Street Journal for teachers to use in classrooms, obtained by the CFA Society, and then speaking to those classes.
For three years, Vogelsang guided a CFA Challenge team in their investment research, providing feedback on their presentation. The Grand Valley State University team won regionals two of the three years.
Vogelsang also speaks in finance classes, meets with students interested in the CFA exam and investment careers, and serves on career panels. Her passion to support other non-traditional students to become future business leaders comes in the form of a scholarship she created.