Jorge Luis Torres-Aguilar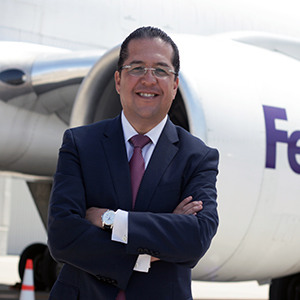 President, FedEx Express México
Alma Mater:
EGADE Business School
Tecnológico de Monterrey
Mexico
Area of Impact:
Consumer Goods or Services
Jorge Torres started his career with FedEx Express 28 years ago. For seven years he has been the company's president for México, leading a dynamic team of more than 7,000 employees who operate throughout the country in 90 operational stations, with more than 1,500 vehicles, 1,300 shipment centers, one national hub, one logistics center, and 12 daily international flights.
Before his current role, Torres held various positions, from call center agent to managing director for planning and engineering, leading the integration process of the Multipack acquisition. In June 2012, Torres was named vice president of operations for FedEx, a historic appointment in the organization as he was the first Mexican to lead a team of more than 5,000 employees and FedEx operations countrywide.
Torres demonstrates his leadership skills by keeping a close relationship with his employees. He was recognized as a finalist of the Most Trusted CEO by Great Place to Work in 2018. He is worthy of this recognition that distinguishes business leaders who empower their teams, show strategic vision, and promote teamwork to achieve success—skills that are highly valued and shared at EGADE Business School.
Torres shares his companies' values, and he believes that people are the single-most important factor in any organization. He encourages a culture centered on people, their development, and lifelong learning. His is making a positive impact in the country, encouraging more than 7,000 of FedEx's Mexican employees to achieve their goals. As a leader Torres is committed to developing FedEx teams, where every employee of the company has budget assigned to advance their education.
He declares his life model under the concept of 3 F's: Focus on personal strength, Family, and FedEx (work). His model also includes leading a way of life centered on doing what he is passionate about, doing what he loves, and generating value for others. This philosophy has positively inspired the people around him.
His inspiring actions extend to many people throughout the country. A strong advocate of sports and youth, in 2009 Torres founded and subsequently served as president of the Rugby Association of Jalisco. He is also involved in the SafeKids program that aims to protect and guarantee pedestrian security in México, and in United Way Mexico, an organization that promotes volunteering activities and the development of social projects with high impact in the country.
For his efforts and career, he has been granted recognitions that inspire, just a few of which follow. Under Torres' leadership, FedEx Express has won several Quality and Export awards in Jalisco, Guanajuato, and Nuevo Leon. In 2008, FedEx Express Guadalajara won the National Export Award, presented to Torres by Mexican President Felipe Calderon. In 2009, he received the Medal of Trade, in the executive category. In 2011, Torres was named International Commerce Executive of the Year in Jalisco México. In 2018, he was recognized by the Alto Nivel business magazine as one of the most important CEOs of the year in México. And in 2019, Torres was elected one of the 300 Most Influential Leaders in México by Líderes Mexicanos magazine.