Charles M. Lillis, PhD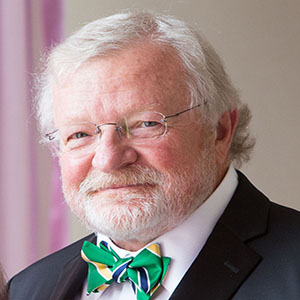 Chair, The Board of Trustees
of the University of Oregon
Alma Mater:
University of Oregon
Charles H. Lundquist College of Business
United States
Area of Impact:
Technology
Chuck Lillis has always been a visionary. He earned his PhD in marketing at the University of Oregon and, in the 1990s, as CEO and chairman of MediaOne, foresaw that cable television lines would be the future of delivering broadband internet services. By 1997, MediaOne was a Fortune 100 company, employing 16,000 people and generating 7 billion USD in revenues. That feat compelled The Wall Street Journal to call him a visionary. Eventually, Lillis negotiated the deal of a lifetime that resulted in MediaOne becoming a division of Comcast. Much of Comcast's internet infrastructure today can be traced back to Lillis's vision.
But Lillis wasn't done. In 2001, he and his wife, Gwen, made a game-changing gift to the University of Oregon to build a business school facility that integrated cutting-edge technologies and environmentally friendly features. When the Lillis Business Complex opened in 2003, it reflected the Lillis' vision that environmental stewardship yields many business benefits (an uncommon view at the time). It was the first LEED-certified business school facility in the United States and to this day features one of the world's largest installations of photovoltaic solar glass.
Lillis also has had a profound and positive impact on the University of Oregon. When the Lillis Business Complex opened in 2003, it was a statement to the world that business and environmental stewardship were not mutually exclusive. The building literally put the University of Oregon on the map as a leading institution for sustainable business education. The number of business majors on campus rose rapidly as a result, as did the productivity, quality, and caliber of students.
By helping to spearhead the current, self-governance model for the University of Oregon, Lillis has also made an incredible impact on the university and its students. The UO Board of Trustees, under Lillis' chairmanship, has provided for greater local control over student outcomes, faculty growth, and institutional priorities. By applying his business leadership to the benefit of all UO students, Lillis's policy- and decision-making is ensuring equal access for all students, as well as improving retention and graduation rates. The end result is more college-educated leaders who make significant contributions to their professions, communities, and society.
A true pioneer in business, philanthropy, and civic leadership, Chuck Lillis invests in future entrepreneurs, future innovations, and the future of the economy every day. By supporting business school faculty and research through gifts to the Cameron Center for Finance and Securities Analysis, Lillis helps the UO Lundquist College of Business attract and retain leading scholars and researchers who inspire students and transform lives. His philanthropy in turn inspires and motivates other donors to give to faculty excellence.
In addition, Lillis continues to give his time and expertise to further education in Oregon and beyond. He takes an active role in the lives of students and faculty and can frequently be found in the Lillis Business Complex working and talking with students and professors. He often serves as a guest speaker in business courses, sharing insights and real-world examples that apply the concepts students are learning. Furthermore, Lillis's vast network and respect in the business community brings many CEOs and executives to campus who also educate and inspire students.