Richard Driehaus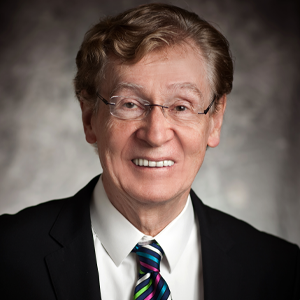 Founder and Chairman, Driehaus Capital Management
Honoree Year:
2019
Alma Mater:
DePaul University
Richard H. Driehaus College of Business
United States
Area of Impact:
Financial Services
Richard Driehaus, a pioneer of momentum investing, devotes his philanthropy to strengthening economic opportunities and education for underserved communities and improving society for all.
Richard Driehaus has endowed business centers, faculty excellence, and business study abroad programs, among other initiatives, at DePaul. His foundation and trust support arts, culture, and design programs, investigative reporting, government accountability, and organizations that provide opportunities for working poor people. As a fund founder and manager, Driehaus favors investing in stocks with "accelerating sales and earnings, desirable supporting fundamentals, upward estimate revisions, and positive earnings surprises." He was named to Barron's All-Century Team of the 25 most influential mutual fund industry leaders of the 20th century due to his success in applying this investing approach.
Driehaus began his career in 1968 in the institutional trading department of A.G. Becker after earning his bachelor's degree from DePaul. He became the firm's youngest portfolio manager and soon ranked among the top 1 percent of its portfolio managers. While studying for his MBA at DePaul, he coalesced his momentum investing strategy that he later used to found Driehaus Capital Management. Today this Chicago-based boutique investment firm has 8.7 billion USD in assets under management.
Because Driehaus values business education and believes in creating opportunity for others, he has given more than 30 million USD to DePaul's business college. His generosity supports the hiring and retention of high-quality business faculty, founded an innovative center in behavioral finance, and funded an international business center that enables students to study business abroad. Driehaus also sponsors an annual investing competition for DePaul students. He meets personally with competitors to provide his perspectives on the market as well as finance industry career advice.
Driehaus' philanthropy has had a profound impact on people and places in Chicago and beyond. Through the Richard H. Driehaus Foundation and the Richard H. Driehaus Charitable Lead Trust, he gives generously to a wide range of educational, artistic, cultural, and preservation initiatives that improve community and society. He spearheaded the restoration of the Nickerson Mansion, now home to the Richard H. Driehaus Museum, which showcases decorative arts. He has also helped preserve Chicago institutions and historic buildings and has contributed to landscape design and restoration projects in the city's Millennium, Lincoln, and Garfield parks. Driehaus' philanthropy also supports two classical architecture prizes at Notre Dame University, architectural design competitions and scholarships at two Chicago-area universities, and an annual fashion design excellence prize and gala to showcase young fashion designers. The Richard H. Driehaus Foundation supports smaller theatre and dance companies in Chicago. In the U.S. Virgin Islands, Driehaus is an enthusiastic supporter of programs preserving history, cultural heritage and historic structures, as well as economic and educational initiatives. He is involved in a plan for economic revitalization of Charlotte Amalie, the historic downtown and waterfront of St. Thomas.
Driehaus rose to success from a modest beginning as a first-generation college student living on Chicago's South Side. He strongly believes in giving individuals the chance to create their own success, a reflection of his gratitude toward those who gave him opportunities at DePaul and in his career.
In addition to his generosity to DePaul's business college, Driehaus strongly supports economic development programs that help lift people out of poverty. His foundation makes grants to Chicago-area organizations that promote economic empowerment. His philanthropy has supported a financial literacy and a savings-match banking program for low-income families in Chicago, and also has contributed to Opportunity International, which makes business microloans to people in small villages around the world.
Driehaus has received an honorary doctorate from DePaul and won numerous awards for his work to inspire the next generation of leaders in finance, entrepreneurship, architecture, art, and design. These awards include a 2013 Horatio Alger Award, which honored Driehaus for being a role model whose experiences exemplify that success can be found through "integrity, hard work, perseverance and compassion for others."