Harry M Cornell Jr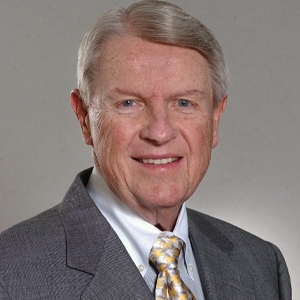 Chairman Emeritus, Leggett & Platt, Inc.
Honoree Year:
2019
Alma Mater:
University of Missouri
Robert J. Trulaske, Sr. College of Business
United States
Area of Impact:
Manufacturing or Commercial Services
A visionary who considers each achievement to be a team effort, Harry M. Cornell Jr. encouraged everyone at Leggett & Platt to strive for excellence and continual innovation. He continues to fulfill that drive through his philanthropic commitments to the community and the University of Missouri.
Harry M. Cornell Jr. built a small regional company into a Fortune 500 manufacturing giant. The grandson of a founder of Leggett & Platt, Cornell joined the company in sales in 1950 and rose through the ranks to become president and CEO in 1960. Over the next 52 years, he transformed Leggett & Platt from five plants and 7 million USD in annual sales into a 4 billion USD company with 130 plants in 18 countries.
Today, Leggett & Platt, a world leader in component manufacturing, employs a workforce of nearly 19,000 worldwide. Cornell achieved remarkable growth through innovation and acquisition. His many milestones include the initial public offering of Leggett & Platt stock in 1967 and the 1979 listing on the New York Stock Exchange. He directed the opening of national production plants with satellite distribution centers, established consistent quality standards, emphasized impeccable customer service, and provided ""just in time"" delivery before the term existed.
In 2014, he was inducted into the American Furniture Hall of Fame as an Industry Fellow, and in 1998 he was named Citizen of the Year of Carthage, Missouri, where Leggett & Platt was founded and where its headquarters is located.
Cornell conceptualized and funds the highly selective Cornell Leadership Program (CLP) at the University of Missouri. The CLP provides scholarships and a specially designed program that takes business school students beyond the traditional classroom experience. CLP students are offered several unique opportunities such as the ability to travel abroad to locations like Nicaragua, Ireland, Cuba, and Chile to learn about international businesses while giving back to local communities. They also take corporate trips, receive mentoring from alumni and upper-level business students, and participate in a leadership seminar that includes book discussions and case studies to develop their business acumen.
These opportunities, among others, allow CLP students to develop into business leaders. Graduates of the CLP differentiate themselves in their ability to ask tough, insightful questions of top leaders in business. These experiences position them well to understand the larger business landscape and contribute to a company in a meaningful way early in their careers. Graduates of the CLP are working at top Wall Street firms, excelling in professional schools, and being recognized by leading U.S. business media.
Cornell and his wife, Erin, have supported a number of philanthropic endeavors over the years and provided the region with a level of generosity and commitment to service that is both rare and inspiring. Cornell has served on multiple boards in the community and at the University of Missouri. The couple's giving to the University of Missouri totals over 11 million USD. They have also given generously to the Freeman Health System and the Joplin Campus of the Kansas City University of Medicine and Biosciences.
Harry M. Cornell Jr. is a member of Beta Gamma Sigma, the international business honor society recognizing top performing students from AACSB-accredited schools.