Bernard Newcomb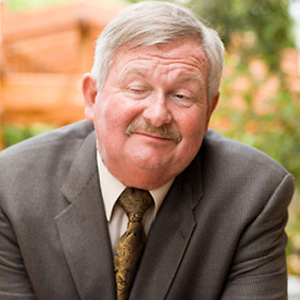 Co-Founder and Former VP of Research and Development, E-Trade Group
Honoree Year:
2019
Alma Mater:
Oregon State University
College of Business
United States
Area of Impact:
Financial Services
Bernard Newcomb's breakthrough company transformed the financial markets industry. He continues to inspire and encourage students through his engagement at Oregon State University.
Bernie Newcomb is a difference maker—a great example of hard work, perseverance, and giving back to students and future business leaders. He was the first in his family to attend college, following his graduation from public school as class valedictorian. At Oregon State University, he consistently made the Dean's List, and ultimately graduated third in his class. Newcomb went on to found a disruptive technology company that completely transformed how people bought and sold stock.
Legally blind since birth, Newcomb's post-graduation plans were challenged when accounting firms and banks wouldn't hire the top grad due to his blindness. His academic counselor at the College of Business personally lobbied for Newcomb, and got him placed in data processing at General Electric.
In 1980, Newcomb, along with partner Bill Porter, started building Trade*Plus, an innovative software platform that enabled individuals to trade stocks from their personal computers. By 1992 the San Jose Business Journal had named Trade*Plus the fastest-growing company in Silicon Valley. In 1996 the business was renamed E*Trade Group and went public. Newcomb was instrumental in developing the programming for E*Trade; his breakthrough software made it possible to remove intermediaries from stock transactions, thereby making investing in the stock market more accessible to the masses.
After retiring from E*Trade, Newcomb has focused on philanthropy. From serving as a board member of the Peninsula Community Foundation (now the Silicon Valley Community Foundation), to supporting myriad charitable organizations through the Bernard A. Newcomb Foundation, Newcomb is making a positive difference in his local community.
Newcomb's commitment to improving society has been recognized several times. He's earned the Hadley President's Award from the Hadley Institute for the Blind and Visually Impaired as well as the Helen Keller Achievement Award from the American Foundation for the Blind.
Additionally, Newcomb has impacted the Oregon State University community through extensive service, including the College of Business Dean's Council of Excellence. Newcomb has made a lasting positive impact on the lives of students through his support and encouragement. As a scholarship donor, Newcomb meets every year with the College of Business students who receive scholarships in his name. He visits nearly every year to share his inspirational story and about the importance of overcoming life's obstacles.
Most recently, Newcomb hosted a group of entrepreneurship students traveling to the San Francisco Bay Area and connected them with local Oregon State University alumni, allowing them to network with industry leaders. Newcomb is one of those ideal supporters—a devoted alumnus, donor and volunteer who always makes time to help students.
Bernard Newcomb is a member of Beta Gamma Sigma, the international business honor society recognizing top performing students from AACSB-accredited schools.