Shawn Taylor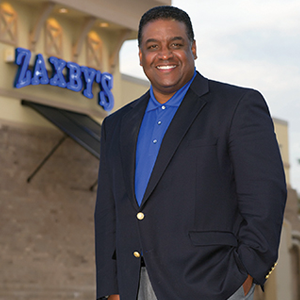 President and Operating Partner, Zaxby's Houston
Alma Mater:
Purdue University
Krannert School of Management
United States
Area of Impact:
Consumer Goods or Services
Shawn Taylor grew up in a single-parent family, within a high-crime area of Chicago, Illinois, USA. By some accounts, Taylor could have ended up in a life of crime or on the streets, but he charted his own course and now stands among some of the most elite business people in Houston—a feat he credits to tenacity, discipline, and the support of a loving mother and numerous mentors.
Through Purdue's Dr. Cornell A. Bell Business Opportunity Program, Taylor earned an accounting degree from the Krannert School of Management. After finishing in the top 10 percent of his class, Taylor began his professional career in Dallas, Texas, at the world's largest accounting firm, Arthur Andersen. During his 10 years with the firm, Taylor was instrumental in leading the Dallas office in the recruitment and retention of minority employees at a rate never achieved by any other office in the firm.
Although already successful, a turning point came in Taylor's life in 1994 when he decided to become an entrepreneur. Through his relationships with executives at PepsiCo, he set forth on a path to become a Taco Bell franchisee. After creating a business plan, he started his own company, Family EATs Limited Partnership (FELP), and acquired, owned, developed, and operated as many as 33 Taco Bell locations in the Houston, Texas, market. FELP became the largest African-American owned Taco Bell franchise, with sales approaching 30 million USD and over 500 employees.
But Taylor never forgot his roots. In 2007, after successfully selling FELP, he invested several years of his time helping youth who grew up in similar circumstances to his. He is particularly dedicated to educational causes, serving as a member of the Krannert School's Dean's Advisory Council, a member of the board of directors of Houston Community College Foundation, and a trustee with KIPP Houston Public Schools. He also has actively supported Purdue's Dr. Cornell A. Bell Business Opportunity Program, which gave him the opportunity to leave his neighborhood and earn a college degree.
Never one to shy away from a great opportunity, in 2011 Taylor joined the ownership group of the U.S. baseball team the Houston Astros, and since has served for several years on the board of the Astros Foundation, as well as chairman for the 2013 Astros Golf Classic. In early 2013, he and his business partner became a franchisee with Zaxby's Franchise, Inc., of which he is currently president as well as operating partner of Zaxby's Houston, LLC, a multi-unit restaurant franchise.
With a proven record of success, Taylor was awarded the Entrepreneur of the Year Award from the Krannert School of Management in 2012. In addition, he gave an inspirational message at Purdue's summer commencement in 2015, encouraging the graduates to maximize their opportunities regardless of their surroundings.