Robert Niblock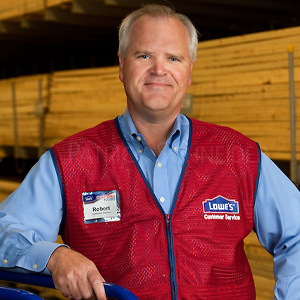 Chairman, President and CEO, Lowe's Companies, Inc.
Alma Mater:
The University of North Carolina at Charlotte
Belk College of Business
United States
Area of Impact:
Consumer Goods or Services
Robert Niblock is the chairman, president, and chief executive officer of Lowe's Companies, Inc., a Fortune 500 top 50 home improvement company serving more than 17 million customers a week in the United States, Canada, and Mexico. The company operates or services more than 2,355 home improvement and hardware stores in these same regions. Niblock holds a bachelor's degree in accounting from the Belk College of Business at UNC Charlotte.
Niblock is the top executive of Lowe's Companies, Inc. Since joining the company in 1993, he has served as director of taxation, vice president and treasurer, senior vice president, and executive vice president and chief financial officer. Before Lowe's, Niblock had a nine-year career with accounting firm Ernst & Young. Niblock serves the business community in multiple ways. He was elected to the board of directors of ConocoPhillips in 2010 and serves as chairman of its human resources and compensation committee as well as a member of its directors' affairs committee.
From January 2010 through May 2014 he served as a member of ConocoPhillips' audit and finance committee. He is a member and currently serves as secretary of the board of directors of the Retail Industry Leaders Association, after having served as the organization's chairman in 2008 and 2009 and vice chairman in 2006 and 2007. He also served on the board of directors of BEST NC (Business for Educational Success and Transformation in North Carolina) from 2013 to 2015.
Niblock has had a tremendous business impact through his leadership and generosity. He is changing the futures of thousands of UNC Charlotte business students through his commitment to professional development and business education.
Niblock was a first-generation college student, the youngest of four children and the only person in his immediate family to attend college. He worked his way to a college degree through his tenacity and dedication. He followed the same formula in his career. He credits perseverance, teamwork, overcoming adversity, being purpose-driven, keeping a long-term perspective, being willing to take calculated risks, and earning respect along the way as key factors to his career advancement.
Niblock is changing students' lives. In 2015, he shared his personal story with more than 600 students as the first presenter of the Belk College of Business CEO Speaker Series. After the talk, he also announced a 2.5 million USD gift to name and support the Robert A. Niblock Student Center for Professional Development. The support has given new opportunities to the student community, most of whom are first-generation college students themselves.
He advised students to lead a purposeful life. During his talk in the speakers series, he said, "While you are in college, it's important that you develop not just your business side but the other parts of your persona as well, such as communication skills, listening skills, interviewing skills, presentation skills, and networking skills. I know I could have benefited from learning these skills when I was a student here. I hope many students benefit in the future."
With his leadership, philanthropy, and entrepreneurial spirit, Niblock is a role model for future business leaders in the Belk College of Business.