Jesse Tyson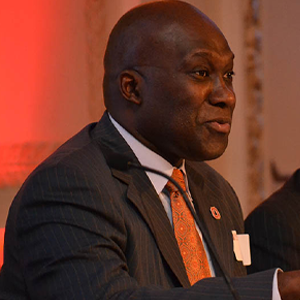 CEO, National Black MBA Association, Inc.
Alma Mater:
The Ohio State University
Max M. Fisher College of Business
United States
Area of Impact:
Mentorship or Leadership
Jesse Tyson is an international business trailblazer, an expert in global marketing and operations, and a recognized name in the multinational energy industry. His technological innovation, keen business strategy, and bold foresight propelled him to the position of global aviation director and president of Exxon Mobil's Inter-America in Belgium, capping a 35-year career with the company.
He worked across multiple industry groups developing strategic customer segmentation solutions, operations, and shareholder return requirements. He directed a 10 billion USD business with clients in over 50 countries that delivered more than 40 percent in returns and delivered 30 million USD per year in operating efficiencies.
As CEO of the National Black MBA Association (NBMBAA), Tyson develops strategic partnerships that create intellectual and economic wealth in the black community. Throughout his professional career, Tyson has stressed the importance of diversity of thought, experience, and perspective as being key components of successful business relationships and advantages for organizations' success globally.
Growing up as a sharecropper in the segregated American South, Tyson had limited access to educational opportunities. His grandparents, however, inspired him to pursue a life-changing education. While at The Ohio State University, Tyson was motivated to help others make the most of their educational opportunities. He has embraced the mantra of "paying it forward" by establishing transformational scholarship funds at the Fisher College of Business and at the university.
For more than 45 years, Tyson has worked tirelessly with nonprofit and civic organizations. His dedication to Ohio State has never wavered. He regularly engages with the school's students, and, for many of them, meeting Tyson is a life-changing experience. He personifies hard work and dedication.
In 2012, he established the Jesse J. Tyson MBA Scholarship Fund at Fisher. The scholarship was created to honor of his mentor, Frank Hale Jr., former vice provost at Ohio State. The fund supports scholarships for MBA students from underrepresented groups.
Tyson has been recognized by countless organizations for his philanthropy. In 2014, he received the college's Pace Setters Executive Award, its highest honor. He was awarded Fisher's Global Diversity Award in 2011, and in 2007 he received the college's International Service Award for outstanding performance in international business.
Other organizations have proudly highlighted Tyson's generous spirit, including the Ronald McDonald House Charities, the National Association for the Advancement of Colored People, the National Association for Equal Opportunity in Higher Education, 100 Black Men of America, the Jack & Jill Foundation, and the United Negro College Fund. Black Enterprise magazine honored Tyson by naming him "one of the most influential people of the 20th century."