'The World Is One Family'
Entrepreneur Raj Shah embraces societal impact leadership as a way to serve humanity and promote health and well-being.

Through his for-profit Redicine Medsol, Shah addresses the problem of patients who fail to take the right medicines at the right times.
As a former Secretariat Member of the nonprofit UNLEASH, Shah encourages young entrepreneurs to develop solutions to problems outlined in the Sustainable Development Goals.
For students to become impactful leaders, Shah stresses, they must focus on their goals, live according to their convictions, and exhibit "gratefulness and grit."

In 2016, social entrepreneur Raj Shah spent a summer at the Dalai Lama's Namgyal Monastery in Mcleodganj, India. Inspired by his mother, he had always made spiritual practices like yoga and pranayama part of his daily activities, but the visit to the monastery "made me realize the joy of living a life driven by compassion," he says. He also grew to deeply appreciate the Sanskrit phrase Vasudhaiva Kutumbakam, which translates to "the world is one family."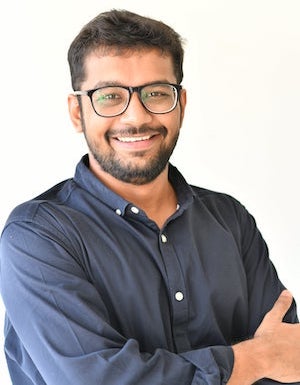 The experience "rejuvenated my desire to serve the world at large," Shah says. Soon after, he went on to build Ikigai Healing Foundation, a nonprofit remote venture that relies on Indian spirituality to promote emotional and mental well-being. Later, he joined the Secretariat of UNLEASH, a nonprofit based in Denmark that encourages young people to solve social and environmental problems outlined by the United Nations' Sustainable Development Goals (SDGs). Shah is also the co-founder and director of Redicine Medsol, a social enterprise that helps people manage their medications more effectively. Its goal is to help solve the World Health Organization's third Global Patient Safety Challenge, Medication Without Harm.
Shah traces much of his interest in social entrepreneurship to his studies at Ahmedabad University in Gujarat, India, where he earned a Bachelor of Commerce degree with a major in banking, financial services, and insurance. Beyond the curriculum, he says, he learned "discipline, happiness, strategy, design thinking, event management, negotiation, mind mapping, and systemic thinking."
Shah recently shared his thoughts with AACSB Insights on how business schools can teach students the value of societal impact—and how social entrepreneurs can change the world.
What experiences inspired your interest in societal impact leadership?
I have always been driven by a higher purpose, but some key events include the volunteer opportunities I had parallel to my undergraduate coursework at Ahmedabad University. In 2015, I attended MIT Kumbhathon in Nashik, where I participated in user testing of tech innovations. I also pursued education beyond the classroom, essentially through informal life-changing conversations with my teachers and project-based learning initiatives.
What would you say are the critical elements of societal impact leadership?
Societal impact is made of up three key components—ideas, problem-solving mindsets, and strategic execution. When leaders implement ideas strategically, they build the inner core of societal impact.
You've been involved with numerous organizations that address a wide range of social challenges, from reducing carbon emissions to providing safe and affordable healthcare. Is there a particular "wicked problem" that you are most interested in solving?
For now, the wicked problems that bother me profoundly circle around health and climate.
Millions of humans either take incorrect pills or fail to take medicine and nutritional supplements at the right times. If everyone in the world consumed their vitals in a correct and timely manner, the ripple effects would be amazing. We would reduce the carbon footprint caused by numerous hospital errands and medical tourism, reduce the burden on public health systems, and reduce governmental expenditures worldwide. People also would lead healthier and happier lives. I am trying to solve this challenge through Redicine Medsol.
If everyone consumed their vitals in a timely manner, we would reduce the carbon footprint, reduce the burden on public health systems, and reduce governmental expenditures worldwide.
When most people think of societal impact, they think of nonprofit ventures, but Redicine Medsol is for-profit. Do you think people mistrust for-profits when it comes to doing good in the world?
When the purpose is clear, wealth and money are not bad. The TATA Group is a for-profit conglomerate ultimately owned by TATA Trusts. More than 51 percent of the equity share capital of Tata Sons is held by philanthropic trusts, which support education, health, art, and culture. The group enables nation-building through generating livelihoods and providing societal impact leadership. The financial fuel to feed into these humanitarian initiatives comes from for-profit subsidiaries. Redicine Medsol is inspired by the vision of the TATA Group to build a business and a nation.
You were a member of the secretariat at UNLEASH for 20 months. Can you give more detail about what the organization does?
UNLEASH enables young people to create solutions, become social entrepreneurs, and establish networks with a mission to co-create a sustainable future. Among our programs, the flagship Global Innovation Lab is an annual event held in a different country every year—Denmark in 2017, Singapore in 2018, China in 2019, and the Republic of India in 2022.
The Global Innovation Lab is open to anyone between the ages of 18 and 35. People apply as individuals and go through a vigorous selection process. Once they are selected, they are assigned to teams, where they go through intense training based on design-thinking methodology to learn how to identify problems and build solutions. UNLEASH does not retain any equity in their solutions.
UNLEASH also runs a fully funded six-month global incubator for the SDGs called UNLEASH Plus, which is co-hosted by Chemonics International. The incubator supports young entrepreneurs worldwide who already have existing prototypes that contribute to the SDGs. Teams benefit from e-learning modules, interactive workshops, mentorship, and access to world-class experts.
Are there certain societal issues and specific SDGs that spark the most interest from UNLEASH participants?
To date, the Global Innovation Lab has drawn individuals from more than 100 nationalities working on more than 1,000 solutions equitably distributed across all 17 SDGs. Many solutions could address challenges anywhere across the globe and bridge the intersection of multiple global goals.
On the other hand, UNLEASH PLUS has supported over 300 solutions across the spectrum of SDGs. However, there is a major affinity toward solving challenges within three specific SDGs—SDG3, good health and well-being; SDG4, quality education; and SDG13, climate action.
What are some of the most promising innovations that have come out of UNLEASH events?
They cover a wide range. Jammu and Kashmir Arts Foundation leverages technology to democratize "Arts in Education" for the children living in India's northern state. Then there's Test At Home Pte. Ltd., which is developing easier, cheaper, home-based healthcare testing through devices and technology that resemble lollipops and chewing gum.
Three other examples include OneDay Health, which runs sustainable health centers in remote Ugandan communities that previously had no access to quality healthcare; Photonyca, which is building next-generation concentrated solar power with storage capabilities; and JusticePadi, which promotes access to justice and criminal justice reforms by using tech and data to build a community of legally empowered citizens. The social impact of these solutions is ongoing.
Redicine Medsol is another innovation supported by UNLEASH.
Humans pour their energy and emotions into their creations. Artists transfer their values to their paintings, poets express them in their poetry, and entrepreneurs translate them into their startups.
How would you suggest that business schools incorporate the SDGs into their programming?
When business schools follow their unique missions, align approaches with core learning objectives, and combine SDG goals with human-centered designs, they can help students unwrap their inner passions and scale their creative horizons.
One example is Ahmedabad University's interdisciplinary Foundation Programme, which aims to plant the seeds of future leadership in its students. It does this by equipping students with a deep desire to identify local challenges, think simply and clearly, and innovate for the global good. The program emphasizes the importance of embracing inclusivity, generating positive externalities, and making sure endeavors have a larger vision for societal impact.
Research has shown that humans pour their energy and emotions into their creations. Artists transfer their values to their paintings, poets express them in their poetry, and entrepreneurs translate them into their startups. Ahmedabad University follows the famous Gujarati proverb that says, "Drop by drop, there forms a mighty ocean," by offering project-based learning, encouraging students to develop their passions, and teaching them the art of generating societal impact through thought-provoking initiatives.
What would you tell young people who want to be leaders who create societal impact?
Everyone working to make the world a more livable place is a societal impact leader. You should focus on goals that help develop your personality, build your conviction, and assist you in enabling a higher-level playing field for yourself. Don't live in denial; accept reality. Do things that get your blood running and fuel you with enthusiasm. To bridge the distance between microcosm outputs and macrocosm outcomes, value every step.
Don't make the mistake of crediting yourself for all you have done. If you think the word "I" is not letting you shed your ego, watch the TV show "Cosmos" to realize how gigantic the universe is. There are countless invisible hands and a plethora of people and events who participate in your progress and success. Everyone who has ever supported your ideas, believed in you, or embraced your struggles is one of your pillars. Gratefulness and grit have no alternatives.
How can business students tap their power to change the world, in both their personal and professional lives?
Find good sources of dopamine, and work on becoming your best version every single day. Preserve your headspace and do not entertain nonsense.
Respect and value opinions, then do what feels right. Don't think too much of preconceived notions and humanly created mental boundaries. There are no limits to ideas and creativity, so you should always keep thinking with an investigative mindset. Train your brain to prioritize the essentials.
Your professional life will directly impact your personal life, so you should not allow the professional rat race to cause you to lose track of your inner core.
Realize you are your greatest asset, and the kindness you carry in your heart will create infinite ripple effects. Embrace your journey with utmost honesty and simplicity so your passions align with your wavelengths. Collaborate with the wonderful humans around you. Wish others well; their success won't limit yours.
Your professional life will directly impact your personal life, so you should not allow the professional rat race to cause you to lose track of your inner core. Inner development is paramount, and the values imbued by spirituality will be lifelong.
I want to reference the second chapter of the Holy Bhagavad Gita, which notes that, even though summer and winter come and go every year, we should never stop performing our duties. We must learn to tolerate life's highs and lows and not let ourselves be distracted either by success or failure.
Another verse talks about how the mind can be your friend or enemy, depending on how you deal with it.
The idea of being "the best version of yourself" seems very fitting when it comes to encouraging students to embrace societal impact and make a difference in the world.
The Gujarati lyrics of Dhruv Bhatt's song "Ochintu Koi Mane" provide a fabulous life lesson in our journey of evolving toward our finer versions. He describes how someone with an expansive sense of self is filled with love, saying, "'In my tattered pocket, I hide overflowing waves of joy. I may be alone and yet at all moments of the day, I feel like I am in a carnival.' On a treasure chest so small that you cannot even fit a lock on it, my treasure is perfectly intact."
I would tell students, Your mind, heart, words, and deeds, headspace, and time are your greatest treasures.