Educators
Business Accreditation Seminar (Casablanca)
Discover how your school can use the accreditation process to embody continuous improvement through engagement, innovation, and impact.
Date(s)
February 28 – March 1
Location
Casablanca, Morocco
Event Type

Seminars
Special Pricing Offer
Register for the Business Accreditation Seminar (February 28-March 1) and the Middle East and North Africa Conference (March 2-3) taking place in Casablanca, Morocco and save 150 USD. No transfers or substitutions allowed.
This seminar will take place ESCA Ecole de Management. Agenda coming soon!
Focus on each accreditation standard and the accreditation process in this engaging seminar. Examine methods to create an effective plan of action for your school and learn what is important and expected at each stage of the accreditation process through group interactions, breakout sessions, and expert facilitation.
Focusing on the 2020 AACSB Accreditation Standards, the seminar will provide you with the knowledge and resources to avoid common challenges in the accreditation process.
Learn through peer interactions and conversations with expert facilitators as you discover how your school can use the accreditation process to embody continuous improvement through engagement, innovation, and impact.
Learning Objectives
Discover the purpose and philosophy of accreditation and the AACSB guiding principles
Review the nine 2020 AACSB Standards in depth to understand how they build on each other and assure quality at the school
Learn the importance of quality and continuous improvement, supported by engagement, innovation and impact
Gain an understanding of the initial and continuous improvement review processes
Build a network of peers and have an opportunity to ask questions
Facilitators

Stephanie Bryant, AACSB International
Dr. Stephanie M. Bryant is the Executive Vice President and Chief Accreditation Officer of AACSB International. She served as Dean of the College of Business at Missouri State University for 6-1/2 years and was previously the Director of the University of South Florida School of Accountancy. She received her Ph.D. and B.S. in Accounting from Louisiana State University and is a Louisiana CPA (inactive). Dr. Bryant specializes in accounting information systems, and previously worked for KPMG Peat Marwick. Dr. Bryant has co-authored two accounting textbooks, and over 30 academic articles and has won nine teaching awards. She served as the 2005-2006 national President of the American Accounting Association Information Systems Section. She also served as the 2006-2009 International President of Beta Alpha Psi.

Nitham Hindi, Qatar University
Dr. Nitham M. Hindi joined Qatar University in 2005. Since then, he served as the head of the Department of Accounting and Information Systems, Associate Dean for Academic Affairs, and Dean of the College of Business and Economics. He is currently serving as Associate Vice President for Academic Planning and Development. He has extensive administrative experience in the USA. He holds a Bachelor degree from the University of Jordan, and Master and doctorate degrees in Accounting from the University of Alabama and Mississippi State University, respectively. He is a Certified Management Accountant. Dr. Nitham Hindi is a productive researcher. His publications appeared in many international journals. Additionally, he is a member of editorial boards of many international journals. He has supervised a number of Master and Ph.D. theses.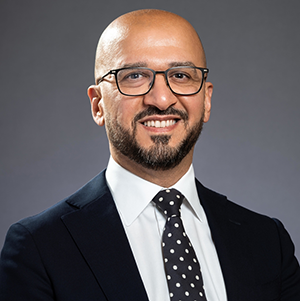 Ihsan Zakri, AACSB International
Ihsan Zakri serves as a Regional Head of Middle East and Africa at AACSB International. Ihsan works with both the Executive vice president/Chief Officer Europe, the Middle East and Africa (EMEA), and the Chief Accreditation officer to develop and implement integrated accreditation and member service and engagement initiatives in the EMEA region. Ihsan has been with AACSB since 2016 and he played an important role in engaging schools in the region within AACSB's Business Education Alliance, and in his role as accreditation liaison, he has supported the success of the 32 accredited schools, as well over 30 schools in the Middle East and Africa currently in the accreditation process. Ihsan has an international background in higher education, program and Institutional accreditation and business and program development. He gained extensive experience in accreditation and EU funded projects before joining AACSB. Ihsan has earned a Master's degree in Social Sciences with a concentration on the Middle East from Lund University, Sweden, and served as a faculty member at the university of Amsterdam before joining AACSB.
Who Should Attend
Deans, administrators, accreditation coordinators, faculty members, and key stakeholders at schools interested in or seeking AACSB Accreditation; individuals new to the AACSB Accreditation Standards and process; accreditation committee members.
"First and foremost: last week's [virtual] Business Accreditation Seminar was outstanding. I attended others over the years, and this one was quite well designed and delivered. Thanks to you all."
—Dr. Ramin Cooper Maysami, PD, CFP, California State University – Los Angeles | Virtual Business Accreditation Seminar Attendee
Contact Us
For more information, please contact [email protected].
Pricing (USD)
Member Pricing 1st and 2nd
On or after January 29
$995
Member Pricing 3rd and subsequent
On or after January 29
$895
Non-Member Pricing
On or after January 29
$1,145