What Do Your Spaces Say About You?
Why it is essential for your organization's physical space to reflect your stakeholders' values—and how to align the two.
Research shows that the design of physical spaces influences the feelings and behaviors of the people who inhabit them.

People want to associate with organizations that share their values, so it is important for a business school to choose an architectural style, interior design elements, artwork, and furnishings that align with its core values.

Before evaluating your building's design, visit businesses in similar industries to assess how—and whether—their facilities communicate the principles they advertise on their websites.

In an ideal world, an organization's values would always be reflected in its physical spaces. But in the real world, this is not always the case. In fact, only recently have business leaders begun to recognize the influence that a physical space has on its inhabitants' feelings and behaviors—although the pandemic accelerated this shift.
How should organizations go about having their values reflected in their workplaces? We explored this question firsthand as we designed and opened the Knauss Center for Business Education (KCBE), the new building for our Knauss School of Business at the University of San Diego (USD). We share our process here to illustrate how your organization can embody its own values in the interior and exterior design of its facilities.
Begin With Intention and Assessment
We found that the first step in building a new facility with our school's values in mind was to make the conscious decision to do so. Whether you are building a new facility or rebuilding an existing structure, this conscious intent must remain at the forefront of your entire decision-making process—it cannot be a sidenote. Otherwise, the intent can easily get lost in the lengthy, and often messy, iteration process.
Our next step was to systematically identify the most prominent values of our school's faculty, students, staff, administrators, and other stakeholders. We not only met with more than 500 stakeholders, but also carried out a climate survey in which we asked which values we weren't enacting enough and which ones we would like to more strongly embody. These reflections gave us a comprehensive bottom-up view of the ideals our community finds most important.
Whether you are building a new facility or rebuilding an existing structure, a conscious intent to design with your school's values in mind must remain at the forefront of your entire decision-making process.
Next, those of us who lead the business school sat down and identified our own core values and, again, which ones we wanted to convey most clearly. Fortunately, this top-down assessment meshed quite nicely with the bottom-up one, and the same core values were identified, including transparency, clarity, openness, accessibility, and collaboration.
Our discussions also highlighted just how inadequately these values were reflected in our previous spaces. For example, our business school used to be distributed across 10 locations on USD's 180-acre campus, an arrangement that was unlikely to invite accessibility and collaboration. Likewise, one of our previous buildings was darkly lit, evoking neither transparency nor clarity.
Moreover, the dean's office was located at the top of a multistory building, separate from the rest of the school's community. "Open" and "accessible" were not words you would use to describe it.
In fairness, our previous facilities were built decades ago, at a time when such creative decisions were strictly dictated by tradition. Today, however, research studies have expanded our understanding of the sociopsychological influences of space. These new findings—and the distance and perspective granted by the pandemic—have made more people view values-driven design as a possibility for their organizations.
That does not mean, however, that such design is commonplace. Case in point: When we discussed our thoughts, ideas, and goals with representatives from our chosen architecture firm, they told us that they had been trying for years to convince a business school—any business school—to use a values-driven design approach. But until our project, they had faced too much resistance.
Assess Other Spaces
We also recommend, either before or after identifying your institution's values, that you spend time in other spaces in industries similar to yours. As you soak in the atmosphere of these environments, you can assess how other organizations reflect their values in the design of their offices.
Before you view any office or facility, read about the organization's professed values on its website. Then, you will be able to assess if these principles really come through in each space you visit. It can be especially eye-opening to see how many organizations actually communicate the opposite of their professed values through the design of their office interiors.
Try and think outside the box in this process. For example, since we are a business school, our natural impulse was to study how other similar institutions arranged their spaces. But given our mission of preparing our students for the business world, we instead decided to look at how companies were designing their spaces. After all, if our school's mission is to prepare students for the business world, shouldn't we be taking our design cues from businesses?
Make Ideas a Concrete Reality (Literally)
Admittedly, we were fortunate with our experience. Not only did our stakeholders provide us with a clear consensus about the values we wanted to convey, but our architects were immediately on board with building the home that we envisioned for our business school.
Today, the moment you enter the completed KCBE, you are greeted by a bright, open, and expansive atrium where students, faculty, and alumni are encouraged to engage with each other freely. In the center, members of our community can easily access the Free Enterprise Institute, which supports innovative ideas across the university.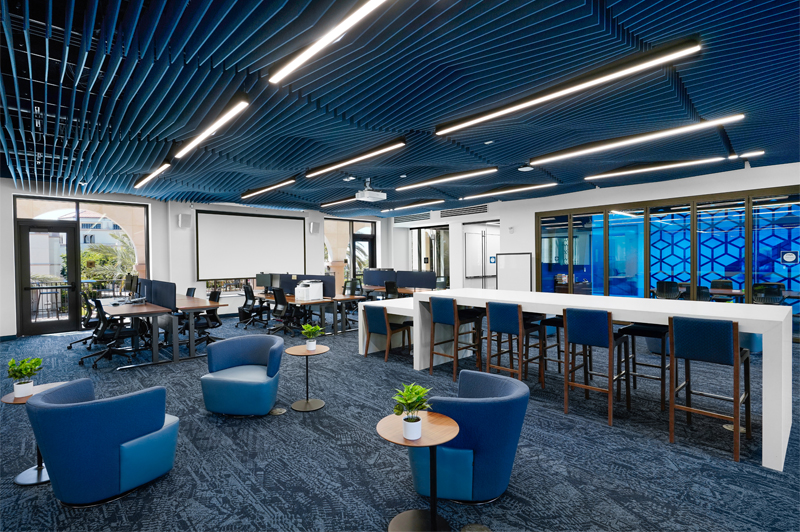 The Free Enterprise Institute at the Knauss Center for Business Education is located so that everyone entering the building is likely to interact with it and be exposed to the value of stewardship that it promotes.
The institute itself advocates for another value that we wanted the space to embody: stewardship. Part of our mission is to propagate values-driven free enterprise, meaning that business should not be just a vehicle for wealth maximization—though generating wealth is part of its purpose. Rather, business should also be a vehicle for care and stewardship of the world: economically, socially, psychologically, and ecologically.
Herein lies another important point: If you want to emphasize an abstract value that is difficult to express, you may have to embody it in nonobvious ways. For instance, since there wasn't an easy way to clearly convey stewardship in our building's architecture or interior design, we instead made the deliberate choice to locate the Free Enterprise Institute where everyone entering the building would cross paths with it. This, combined with the center's open and expansive entrance, ensures that students and visitors will sooner or later interact with the institute and the value of stewardship that it promotes.
Just steps away from the Free Enterprise Institute is the Student Success Center, the central hub for all our student support programs. The center offers mentoring, internships, and career services—basically, as the name suggests, everything students need to ensure their success.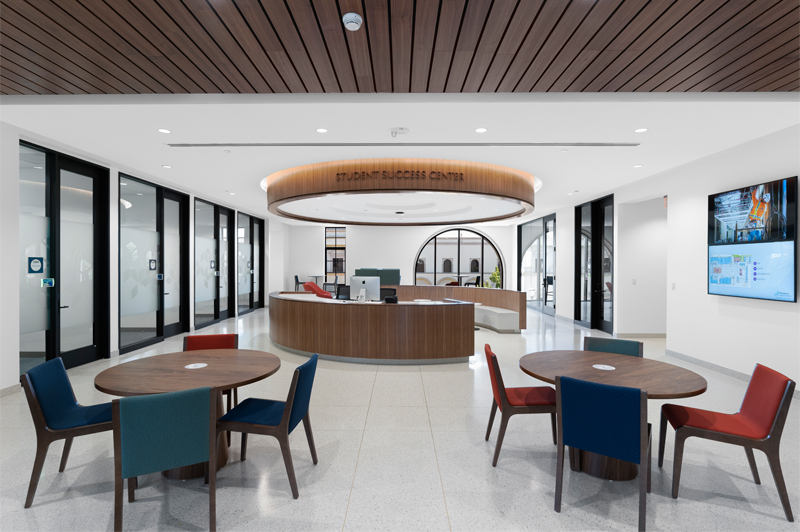 The design of the new Knauss Center for Business Education positions the Student Success Center as a central hub for student support programs.

Of course, architecture only makes up one dimension of a physical space. Interior design, furnishings, and artifacts also account for a significant part. For example, everywhere you look inside the Knauss Center, you will see transparent glass, signifying our commitment to openness and collaboration. The importance of details like this can't be overstated.
Imagine, for example, that one of your organization's espoused values is transparency, yet upon entering your workplace, what visitors see are opaque walls and closed doors. Such an arrangement would advertise the gap between your stated values and your enacted values.
Consider Easy Ways to Transform a Space
We understand that not every organization can build a completely new facility. Fortunately, you can modify existing spaces to better reflect your values without making a large investment in time or money.
For instance, let's say one of your core values is diversity, equity, and inclusion (DEI). Take a good look around at the artifacts you display. Are the works of art hanging on the walls all from a single Western tradition, belying your commitment to diversity? Would including artworks that represent a broader range of cultures better reflect your values?
If one of your core values is diversity, equity, and inclusion, are the works of art hanging on the walls all from a single Western tradition, belying your commitment to diversity?
People are also part of a physical space. You can have all the DEI initiatives and seminars you want, but if your rooms are not populated by a variety of people, again, how well does that reflect the value of diversity? You might need to look for ways to attract people with a wider range of perspectives to your community. Perhaps you can seek to recruit more diverse students and faculty or invite more diverse speakers to your classrooms and events.
One of the easiest adjustments you can make is simply to rename certain areas within your building. For instance, to drive home that we prize collaboration, we now call our breakout rooms "collaboratories" to emphasize the way we want people to use these spaces.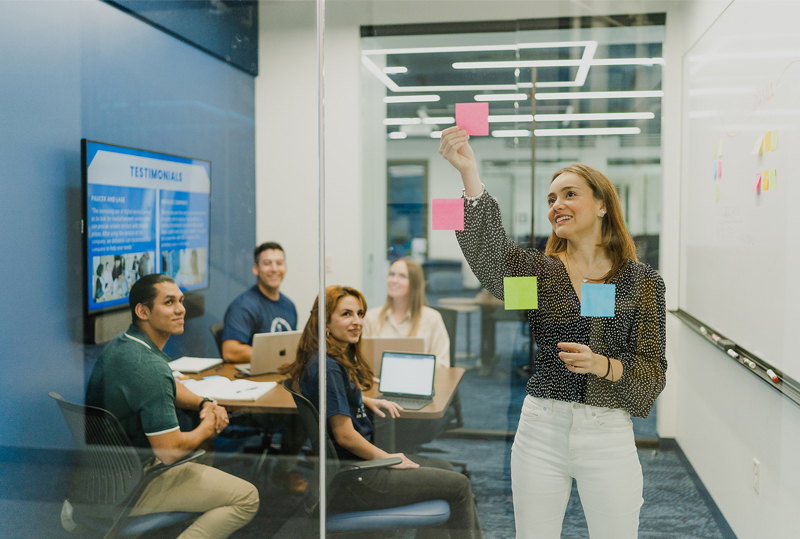 Because what spaces are called can reflect institutional values, the Knauss School calls its breakout rooms "collaboratories" to emphasize its value of collaboration.

Prepare to Overcome Resistance
One last area to consider is the pushback, both internal and external, that you might encounter to this approach. Early in our redesign process, we faced some internal resistance, which is only natural since the prospect of change can be uncomfortable. But over time, some of those who initially were most opposed to the changes became the new design's biggest proponents. The key lies in clearly articulating to stakeholders how the changes would enhance their lives and help them to better attain their goals.
Transforming your workspace to better reflect your values is certainly no easy task, but we now live in an era that demands it. Both consumers and employees increasingly want organizations that share their values, and our physical spaces are the first and most immediate conduit of our values that they encounter.
Ultimately, we can reap great benefits when there is congruence between our espoused and enacted values, and we face negative consequences when there is not. Given that reality, it behooves us all to take a good, hard look at how the design of our facilities represents our organizations. Then, we need to make any necessary changes to ensure that our spaces clearly align with our values.