A Fresh Take on Innovation
Dreen Yang, global general manager of the Future Flow division of Coca-Cola, recently shared how the company fosters a successful "fail-forward" culture.

Cola-Cola categorizes innovation endeavors into four archetypes and intentionally aligns appropriate resources, processes, and metrics to each archetype.
The company's Future Flow division is based on three pillars of innovation: a "fail forward" attitude, leadership that prioritizes and protects the team, and pathways that connect innovation work with the core business.
While preparing for the workforce, learners should not only fulfill their career aspirations, but also prepare themselves to be "day-one ready" contributors to future employers.

Do you know what specific approaches to innovation best suit the needs of your organization? Do you tailor different strategies to different challenges, or do you use a one-size-fits-all approach? Unfortunately, a failure to think carefully about what methods best suit the task at hand could mean that your initiatives fall short.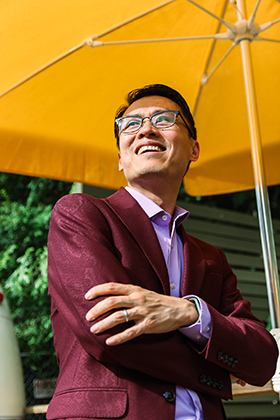 Dreen Yang of Coca-Cola
That was among the takeaways that Coca-Cola's Dreen Yang shared with AACSB's Innovation Committee at its September meeting in Atlanta. Chaired by Alexander J. Triantis, dean of the Johns Hopkins Carey Business School in Baltimore, the committee invited Yang to speak about what it takes to accelerate innovation.
As global general manager of Coca-Cola's Future Flow division, Yang has a wealth of experience to share on this topic. Future Flow is the company's intrapreneurial venture that is tasked with iterating innovation to create sustainable, profitable, and scalable business models. Much of the work that Yang leads focuses on leveraging Coca-Cola's proprietary dispenser equipment technologies to generate solutions that will help the company reduce its plastic footprint.
Yang emphasized several factors that are critical to Coca-Cola's continued success. These include maintaining distinct innovation processes and activities, intentionally blending human and artificial intelligence, supporting diversity in talent and thought, and designing an organizational culture that promotes experimentation.
The executive also made this overarching recommendation to business and academic leaders who want to leverage innovation in ways that create value for their organizations: Create cultures of experimentation where people feel free to fail.
Encouraging Deliberate Innovation
Throughout his talk, Yang drew insights from the 2017 book Dual Transformation. In the book, authors Scott Anthony, Clark Gilbert, and Mark Johnson emphasize the need for organizations to cultivate "freedom to fail" cultures and to innovate before circumstances compel them to change.
Yang noted that Coca-Cola has adopted the four innovation archetypes described in the book: core (same business, same way of delivering value), adjacent (different business, same way of delivering value), Transformation A, and Transformation B. Transformation A innovations involve making changes to the core business—solving old problems in new ways. Transformation B innovations focus on concerns that are adjacent to the core business—solving new problems in new ways.
Transformation A innovations solve old problems in new ways, while Transformation B innovations solve new problems in new ways.
Categorizing each initiative as core, adjacent, Transformation A, or Transformation B is imperative, Yang said, because each type of innovation requires differing resource allocations and performance metrics. Categorizing each project accurately allows the team to set realistic projections for completion and ensures that resources are allocated to achieve desired results.
For example, on the one hand, Coca-Cola defines improving beverage dispensers as a Transformation A innovation. This requires Yang's team to manipulate only one or two variables in more confined experiments. On the other hand, the company defines identifying new use cases for dispenser technology or targeting a new consumer base as a Transformation B innovation, which involves a more iterative approach that embraces greater levels of experimentation and failure.
Yang advised leaders to be intentional as they distinguish which approach is appropriate for the challenge at hand. Otherwise, they will risk a misalignment in resources, processes, and solutions, which likely will lead to poor results.
But whether a strategy pertains to core, adjacent, Transformation A, or Transformation B, one fact remains, Yang emphasized: Experimentation is key for accelerating progress.
Enabling Informed Innovation
Yang also highlighted how big data and artificial intelligence (AI) have helped organizations become more efficient and adept at sifting through the massive amounts of data available—something that would be burdensome or even impossible if done manually. By using fast, low-cost AI-driven processes, organizations can generate "short lists" of the most useful information. Then, they can turn to human intelligence (HI) to make greater sense of the data and discover valuable contextual and business insights.
Now and in the future, organizations will need to hire more managers who can lead in blended AI and HI environments and effectively translate business problems into effective data collection and analysis. Both skills, says Yang, will remain in great demand.
"Data scientists are a dime a dozen. There are tons of them now, but the ability to actually translate and mobilize insights in a very relevant business context is really, really critical," said Yang. "The magic happens when we combine HI and AI."
To further make his point, Yang alluded to the "edge effect," a biological term used to describe the vibrant habitat that results when two distinct ecosystems meet. Organizations can experience a similar effect in the workplace by bringing together teams that exhibit diversity in thought, experiences, and perspectives. Such interactions can create fertile ground for creative thinking and solution building.
The reverse is also true: When organizations lack diversity, they become more susceptible to groupthink, which can hinder progress. A lack of diversity has even been shown to stymie financial performance and expansion.
To support effective innovation, employers should seek to hire candidates who have been trained to think broadly and globally. For instance, Yang reflected on his time in the MBA program at The Wharton School of the University of Pennsylvania, where global immersion programs exposed him to people with wide-ranging perspectives and backgrounds. These experiences, he said, prepared him to be an active listener and taught him to recognize the role that diverse ideas, contexts, and perspectives play in business decision-making and organizational performance.
Embracing an Entrepreneurial Culture
At Coca-Cola, Yang noted, leaders recognize that they must cultivate a culture that embraces experimentation and encourages entrepreneurial thinking. Yang shared three key elements that help the company foster such a culture and that promote innovation success in the Future Flow division:
Teams with a "fail forward" attitude. This attitude is the essence of the organization. Because teams operate with this spirit in mind, they are more willing to experiment and embrace failures as part of the path to success. The company's teams know that they must always strive to think of bigger solutions that provide value to the core business. Without such an attitude, Yang noted, the company would not have been able to develop its expansive portfolio of brands, attract quality bottling partners, or operate at such a great scale.
When teams with diverse perspectives come together, they can cause the "edge effect"—a biological term describing the vibrant habitat that results when two distinct ecosystems meet.
Leaders who protect their teams. An innovative organization requires team leaders who understand that for any initiative to make gains in the future, it must take losses in the present. Therefore, leaders must protect and even encourage their teams' failures. It is also vital that team leaders understand organizational needs and communicate these initiatives to their teams. Team leaders then can prioritize projects that are best for the broader organization.
Pathways that connect innovation to the core business. To provide value to the broader organization, the ideas that the Future Flow division pursues must have the potential to generate at least 500 million USD for the company. For this to happen, all team members must operate as corporate entrepreneurs who can strategically leverage resources available to them through the corporation's network. They then use these resources to connect their activities to the organization's core innovation goals.
Emphasizing the Value of Mistakes
Sharing both his experiences as a former business student and a current employer, Yang illustrated what businesses, business schools, and students should consider when preparing to operate in unprecedented business environments and navigate through turbulent times.
Learners, he said, come to business school to obtain the competencies, experiences, and professional networks they will need to achieve their career aspirations. But during their studies, they also should be sure to focus on developing their talents in data analysis, teamwork, and creative problem-solving.
Employers such as Coca-Cola must hire candidates who are "day-one ready," Yang said. That means that they will be looking for graduates who already have entrepreneurial mindsets, are effective team players, know how to build impactful relationships, and possess a hunger and humbleness to continuously learn.
Finally, business schools must help their students stand out by giving them experiences where they are granted safety from the impact of failure. They can help students become used to learning from their mistakes—and even eager to "fail forward." Then, once they are on the job, these future leaders can apply the lessons they learned from the real-world experiences they had in business school.
In the end, all organizations must consider their core missions and purpose so they can better know the parameters of each innovation they require. They must create cultures that promote experimentation and foster creativity and curiosity.
Only then, Yang concluded, will future leaders be prepared to consider new solutions to complex problems and thrive in today's evolving work environments. As Coca-Cola has done, they have to learn to think outside of the bottle.