The Role of Business in a Sustainable Future
Elizabeth Gaines of Fortescue Metals Group believes corporations and universities must work together on climate change and other critical issues.

Elizabeth Gaines will be transitioning from CEO to "green hydrogen ambassador" for the major iron ore producer.
She calls for business schools to prepare for the future by integrating sustainability and STEM courses into their curricula.
She encourages business students to build productive careers by taking every opportunity that comes their way.

"Climate change is the most pressing challenge of our generation," says Elizabeth Gaines, Chief Executive Officer of Fortescue Metals Group in Perth, Australia. "It's also a once-in-a-lifetime opportunity for economic growth and value creation that generates a better, cleaner, and more sustainable world."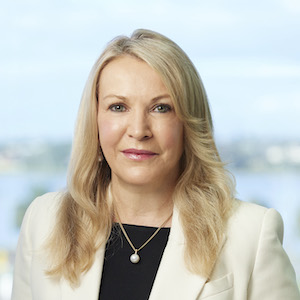 Gaines has led Fortescue, the world's fourth-largest iron ore producer, as chief executive officer and executive director since February 2018. She joined the executive team as chief financial officer in February 2017 and has served on the Fortescue board as a nonexecutive director since 2013.
Late last year, Gaines announced that she will be stepping down as CEO, but she will remain with the company as a nonexecutive director on the board—and she will commence a new role as Fortescue's global green hydrogen ambassador. The new role is fitting for someone who has always identified climate change as one of the biggest issues facing the company and who has repeatedly called for governments to speed up progress toward their goals for achieving zero carbon emissions.
Gaines makes it clear that Fortescue accepts the position of the Intergovernmental Panel on Climate Change and is doing its part to keep global temperatures from rising more than 2 degrees Celsius above pre-industrial levels. "We recognize that climate change may lead to catastrophic social and economic outcomes, the costs of which far exceed those associated with transitioning to a low-carbon world," she adds. "We are pleased to see governments and businesses accelerating their emissions reduction targets."
In 2020, Gaines received an Honorary Doctorate of Commerce from Curtin University in Perth, where she is an alumna. She was recognized as one of AACSB's 2022 Influential Leaders after the school nominated her for that honor. Recently, she shared her thoughts with AACSB Insights about the role of businesses—and business schools—in creating a more sustainable world.
You have described climate change as the biggest strategic issue facing business today. What is Fortescue Metals Group doing to battle climate change and lower carbon emissions?
We are taking strong action to address the risks and impacts of climate change and meet the targets established by the Paris Agreement. Building on our history of setting stretch targets, we have set out to achieve carbon neutrality for Scope 1 and 2 emissions by 2030 and net zero Scope 3 emissions by 2040. We are diversifying our business to become an integrated global green energy and resources company. Our green energy, technology, and development company, Fortescue Future Industries (FFI), will be a key enabler of delivering on these targets.
Together with FFI, we will demonstrate that heavy industry can operate with renewable, environmentally friendly energy. Many companies are already taking strong action against climate change, and I would strongly encourage others to do the same.
During your tenure as CEO of Fortescue, the company began placing more emphasis on renewable energy resources. How difficult do you think it will be for the company to shift from iron ore to green energy options?
Fortescue's growth and success over the past 18 years is a result of our people challenging the status quo and applying technology and innovation to deliver productivity and efficiency improvements. We have set clear short-term priorities as we move to decarbonize our operations, focusing on addressing our largest sources of emissions—stationary power and our mining fleet.
We also are making significant investments in renewable energy. In December 2021, we commissioned the Chichester Solar Gas Hybrid Project, which will displace around 100 million liters of diesel from our operations annually. We have invested in an Australian-first demonstration of zero emissions mobility at a mining operation through the upcoming deployment of a fleet of hydrogen fuel cell passenger coaches to replace our diesel fleet at our Christmas Creek operations. This project includes the construction of Australia's largest hydrogen refueling project to generate green hydrogen on-site.
Enhancing technology is key to addressing climate change. The technology to implement this shift hasn't always been readily available or financially viable.
Additionally, we are investing significantly in technology to remove our reliance on diesel fuels, including in shipping, haul trucks, drills rigs, locomotives, and green iron.
What obstacles have prevented Fortescue—and other major companies—from shifting more quickly to green energy options?
Enhancing technology is key to addressing climate change. The technology to implement this shift hasn't always been readily available, financially viable, or suitable for the conditions of our mines.
Where the technology required to decarbonize our mining fleet is not readily available, we are making significant investments in research and development and partnering with other organizations to develop the technology needed to advance in these areas.
When you leave your current position as CEO of Fortescue, you will become the company's global green hydrogen brand ambassador. What will that role entail?
Key to this new role will be working to help the world understand the benefits of green hydrogen, green ammonia, and green energy and all of its products, which combined are the only practical, implementable solutions to global warming that can be delivered on a commercial, sustainable basis.
As other companies also begin transitioning to more sustainable operations, what can business schools do to help them overcome the challenges?
Ongoing changes in societal expectations and a generational shift in our investors, key stakeholders, and employees mean that today we are seeing increased interest across the full range of environmental, social, and governance (ESG) considerations. As a result, it is vital that business schools prepare students for the future workforce by incorporating sustainability into their curricula.
I encourage business schools to draw on the experience and knowledge of highly experienced sustainability leaders to provide a sustainability-focused education framework for students. It is also vital that universities offer students development opportunities. This will ensure employers have access to a wide pool of talent as companies continue to embrace sustainability across all areas of the business.
Fortescue already has experience collaborating with academia, because it recently developed a new partnership with Curtin University's WA School of Mines. As part of this collaboration, the school appointed a Fortescue manager as a professor of practice in mining automation and data analysis. What else does the partnership encompass?
Fortescue has been able to help shape the undergraduate curriculum, exposing students to the mining careers of the future. In turn, this has provided students with a better understanding of iron ore mining operations and how the sector has embraced innovation and technology—including green energy, machine learning, robotics, and artificial intelligence.
In what other ways do you think universities should be working with major corporations?
As technology continues to rapidly advance and become an intrinsic part of the growing economy, universities should look to partner with innovative organizations to maximize technology advances and the benefits to their students.
I also encourage universities to adopt an education framework that advances the STEM curriculum. We are already seeing significant growth opportunities presented by the renewable green energy industry, and upskilling future workers through embracing STEM studies will be key to building a strong pipeline of workers.
It is particularly important that we encourage girls to study STEM subjects at school so that we can ensure diverse workplaces. Diverse workplaces are not just the right thing to do, but the smart thing to do.
It is particularly important that we encourage girls to study STEM subjects at school and to choose tertiary studies in fields such as engineering and science, so that we can ensure diverse workplaces. Diverse workplaces are not just the right thing to do, but the smart thing to do.
Many business schools are placing a growing emphasis on societal impact, which includes showing students how to turn business into a force for good. What advice would you give to business school administrators who want to turn out future leaders who have that goal in mind?
I encourage universities to partner with organizations that align with their values, that foster the philosophy of building stronger communities, and that demonstrate how businesses can be a force for good.
For instance, Fortescue is committed to ensuring the communities in which we operate benefit from our growth and development. As we continue to expand our business, we are committed to empowering thriving communities and delivering positive social and economic benefits.
Many young business graduates are sure to be daunted by the idea of tackling climate change and other sweeping global problems. What advice would you give them as they are starting their careers?
What I've learned is that life and careers are all about opportunity. Take every opportunity that comes your way—or as I like to say, "Say yes more often than you say no." Think about the organizations that you choose to work for and make sure that their values align with your own.
But above all else, have an open mind, enjoy your work, and build successful careers. At the same time, find ways to have your success benefit others, both within and outside your organizations. None of us can predict where our path will lead, but that's what keeps life interesting.
The views expressed by contributors to AACSB Insights do not represent an official position of AACSB, unless clearly stated.