The University of Louisville and a major corporation collaborate closely to provide specialized education to the franchising industry.

A certificate program and a boot camp deliver targeted education to franchisees, prospective franchisees, and employees working in the franchise sector.
The Yum! Center for Global Franchise Excellence aims to attract more women and people of color into the franchising industry.
"Taco Bell Business School" provides a customized program for one corporate partner.

The need for collaboration is evident in a world that has been scarred by the pandemic and that reverberates with calls for social justice. Corporations face immense pressure to address these challenges, while also adapting to the changing expectations of both customers and employees. Those of us working in higher education institutions (HEIs) have an opportunity to collaborate with our organizational friends to help them evolve and solve.
At the University of Louisville (UofL) in Kentucky, we partner with companies in the franchising industry through a series of initiatives. The work has been driven by Kathleen Gosser, an assistant professor in the College of Business. After spending 35 years in franchising, she shifted to academia in 2019 and began to focus on developing educational options for her former field.
"People recognize that franchising is a wonderful model to build and sustain generational wealth," says Gosser. "Franchising provides that community of support you do not get as an individual entrepreneur."
Franchising Foundations
One of Gosser's first tasks at the UofL was to co-create the Franchise Certificate Program, one of several stackable programs that allow MBA students to dive more deeply into industries essential to Kentucky.
The Franchise Certificate Program consists of micro courses that address millennials' needs for flexibility and focus. Each of the six online courses lasts five weeks and is worth 1.5 credit hours. The Graduate Franchise Certificate fulfills the electives for MBA students and teaches them about the franchise business model, including legalities, financing, growth and development, and human resources.
In 2020, to broaden the appeal of the Franchise Certificate Program, Gosser launched six-week online boot camps designed for franchisees, prospective franchisees, and employees working in the franchise sector. Boot camp participants do not earn graduate credit hours, but they do receive certificates. As an additional incentive for participants, Gosser arranged for those who complete the boot camps or MBA classes to earn Certified Franchise Executive credits from the International Franchise Association.
The franchising focus expanded still more when the College of Business added undergraduate courses on franchising as part of the business management minor. But a bigger and more impactful initiative lay just ahead.
A Corporate Partnership
In 2020, Gosser met with representatives of the Louisville-based Yum! Brands, the parent company of Taco Bell, Pizza Hut, and KFC. She learned that Yum! wanted to offer its employees business education that was specific to its needs. But the corporation also wanted to tackle a systemic issue that has long plagued the franchising industry: lack of diversity. Yum! was looking for ways to bring more women and people of color (POC) into franchising.
Yum! Brands wanted to tackle a systemic issue that has long plagued the franchising industry: lack of diversity.
To address both challenges, UofL partnered with the corporation to launch the multimillion dollar Yum! Center for Global Franchise Excellence (YCGFE). The center's vision is to empower communities by building and sustaining generational wealth, with an emphasis on opening up new opportunities for POC and women. The goal is to make sure that these audiences are more likely to succeed because they understand the business model before they invest in a franchise.
While the new center is designed to help both franchisors and franchisees succeed, it also offers several benefits to the university. First, it aligns with UofL's goal to be an antiracist institution. Second, says Gosser, it offers a way to "build enrollments by driving people to programs that offer something unique that is very job-specific and useful in the workplace."
Most important, the center introduces students to the concept of franchising, she says. "We are igniting a fire within these students and growing their interest in this career option."
Partnering With Another HEI
Under the umbrella of the YCGFE, the university also has been part of an inter-institutional alliance designed to bring more women and POC into business. The alliance includes Gosser at UofL; Wanda Williams, head of global franchising at Yum! Brands; and Yuvay Ferguson, assistant dean of impact and engagement at Howard University in Washington, D.C. In the spring of 2021, the trio launched the Yum! Franchise Accelerator Fellowship.
Through the fellowship, ten women or POC who are MBA students at UofL or Howard receive funding to attend UofL's six online franchising courses. The fellowship recipients are paired with executive mentors from Yum! Brands. The students also participate in a pitch competition at the conclusion of the program. Two winners receive seed money and have the opportunity to become future Yum! Brands franchise owners.
"Companies in various industries have wanted to find ways to be impactful in an effort to address diversity, but this is an innovative concept that will allow online graduate students who work full-time to participate in experiential learning," says Ferguson. She adds that the fellowship is a way for Howard University "to make amazing educational experiences accessible to more groups of students."
Customizing Education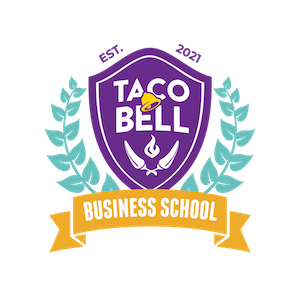 More collaboration lies ahead this spring as UofL pilots the Taco Bell Business School, a customized version of its online boot camps. UofL will provide the educational curriculum and instruction, while integrating materials that are important to Taco Bell. Taco Bell will fund scholarships that cover tuition for employees who want to attend. The company also will make sure the students receive a welcome package, certificates, and internal support.
Such an arrangement reduces the need and expense a company might face if it hosted its own corporate university. It also helps employees see opportunities they might not have previously considered, says Mark King, Taco Bell's CEO. He adds, "We want to show our ambitious restaurant leaders how their careers could flourish at Taco Bell. This program will teach them the skills they need to climb the ladder—whether that's moving up to the next level or even owning their own franchise one day."
Gosser believes customized education can be a tremendous boon for any player in the franchising industry. For instance, some franchisors don't have large training programs; others can't educate business owners on topics such as human resources because of joint employer laws.
"Our boot camps can be their solution," says Gosser. "Through partnering, we can help companies educate their teams, franchisees, or prospective franchisees, and in turn, the payments they make to the boot camp will fund scholarships for POC and women. It's a beautiful circle."
Six Key Steps
Creating a collaborative initiative such as the YCGFE is not a simple venture, Gosser says, but she believes other institutions can be successful at similar ventures if they follow specific steps:
Build on trust. Gosser says that it's important for the HEI to be a "known entity" to its prospective partner. Before the center launched, she had worked at Yum! for 35 years, and the co-creator of the curriculum had spent 14 years working there as well. "Solid relationships built on trust are key," she says. "This is a huge endeavor, and any corporation making a financial commitment must believe the people in charge can execute on the vision."
Manage the ongoing relationship. "Although I am an academic with teaching responsibilities, I talk to the Yum! team bimonthly," Gosser notes.
"Businesses and educational institutions have a responsibility to come together to break down barriers and create opportunities for those who wouldn't otherwise have them," says Kathleen Gosser.
Emphasize program design. Gosser works with UofL's instructional design group to build out the franchise curriculum into e-learning modules. These e-learning modules, housed in Blackboard, were created using Articulate 360 authoring tools that provide interactive content that adapts to any screen size, including mobile devices. This enables learning to occur "on the go."
Conduct related research. "Our center is focused not just on education, but also on research," says Gosser. "We have an affiliation with a researcher who has a joint appointment with the College of Business." In addition to assessing the impact of the program for continual optimization, franchise teaching cases are being harvested from practitioners, and franchise marketing and recruitment studies are underway.
Ensure staff support. "We would not be successful operationally if we did not have our executive education team, who helps with boot camp management," says Gosser. Another essential staff member is the program coordinator, who works on new initiatives such as an intercollegiate network of faculty who teach franchising at other universities. "But candidly, we never have enough arms and legs," she adds.
Show results. UofL assesses the impact of the program on boot camp participants, MBA students, and undergrads, using pre-post design metrics, focus groups, and longitudinal research tracking. "We need to know if our educational program is driving interest in franchising, whether participants are being promoted, and if more women and POC are entering the franchise sector," says Gosser.
If all these factors are in place, Gosser says, a center can play a key role in benefiting the corporation, the university, and society. "I believe that businesses and educational institutions have a responsibility to come together to break down barriers and create opportunities for those who wouldn't otherwise have them," she says. "Corporate partnerships can help people learn new skills, fuel their entrepreneurial spirit, and ultimately build a better future."