Connecting Academia and Industry
ASU finds that certificate programs co-created by schools and corporations result in job-ready candidates.

Arizona State has partnered with Cognizant to create a certificate program in digital business analysis.
After working with executives over a 10-week period, most students receive job offers from the company.
Reskilling and train-to-hire programs offer schools and corporations a chance to address talent shortages in IT and other fields.

Imagine four students are in a room. Two have backgrounds in sales and marketing, one has a degree in finance, and the fourth has a bachelor's degree in international business as well as an accounting MBA. What could they have in common?
The answer: Their jobs. These four graduates of Arizona State University (ASU) in Tempe are all working as business analysts for Cognizant, a multinational information technology services and consulting company. They were in the first cohort of students to attend the Cognizant Digital Business Analyst Certificate Program, which the firm developed in partnership with ASU—and they're among the 90 percent of the attendees who received job offers from the company upon completion of the program.
"Cognizant had a specific need for talent in the business analyst role, so when they came to us, we had several conversations to discover what the learning objectives were," says Raghu Santanam. He is the senior associate dean of education, corporate partnerships, and lifelong learning at ASU's W.P. Carey School of Business. "What are the outcomes expected from a program like this? We figured out that it should be a train-to-hire program."
Such a program, he explained, has many benefits: It gives the company access to a wider talent pool and allows the organization to recruit the kind of people that best fit its culture. As participants work with company experts, they gain technical skills that will minimize the learning curve and facilitate the onboarding process if they are hired by the company later, as most of them are.
Collaborative Efforts
The customized program was co-created by ASU faculty and industry experts from Cognizant. Santanam says, "We went through several hours of design iterations to build the curriculum structure." The academic institution then focused on logistics questions, he says. "When do we get our first cohort? Where do we get them from? What is the training structure?"
Ultimately, the collaborators created a 10-week program that launched in 2019. The weekly sessions lasted two hours each and covered the fundamentals of business analysis, project management, and business modeling tools and techniques. Content was tailored to the specific skills required of Cognizant's workforce. The first cohort was made up of 39 students, all participating on a full scholarship basis. All costs, including travel and accommodations for in-person workshops, were covered by the program.
A train-to-hire program gives a company a wider talent pool and allows participants to gain technical skills that will minimize the learning curve if they are hired by the company later.
The class was taught by faculty directors from the W.P. Carey department of information systems and about a dozen members of Cognizant's staff, who participated actively in the weekly sessions. The corporation also identified a point person to help facilitate communications and other details.
In addition to meeting online, participants in the first cohort attended two-day in-person workshops in the middle and at the end of the program. At the culminating experience on the Tempe campus, students worked with faculty and Cognizant mentors as they put together real-life cases that they had to present before earning their certificates of completion. They also were interviewed for positions at Cognizant by about a dozen leaders from different vertical practices at the organization, and most participants left with job offers.
After running the first cohort, the corporate and academic partners met for a debriefing session and decided to make some minor curriculum adjustments based on student feedback and Cognizant's hiring priorities. At that time, the in-person meeting that was held in the middle of the program was moved to the beginning. "It makes a big difference for the students to meet and have a support group," Santanam says.
The partners also grappled with the question of relocation: All the 2019 participants had been from the Tempe area, but job opportunities were based at client sites across the United States. Cognizant decided that, for the second cohort, it would hire "for location." That is, program administrators would recruit participants who were already in the tri-state area of New York, New Jersey, and Connecticut, or who had expressed a desire to relocate to that region. Because students would be living on the East Coast, both the orientation and culminating experiences were held in New York City.
Corporate Commitment
Adaptations like these have enabled ASU and Cognizant to create a strong collaboration that has resulted in a solidly integrated program. Part of the program's success is due to Cognizant's level of participation, Santanam believes. Because Cognizant executives attend online and in-person events, they get to observe students even before the interview and selection process. At the same time, the presence of these company leaders gives participants an opportunity to get to know the culture of the organization.
Santanam has been impressed by both the executives' level of commitment to the program and by the type of feedback they have offered on student presentations. He believes that the deep involvement of Cognizant executives demonstrates to students that when an academic institution and a corporation work together, the partnership can "increase the quality of experiential learning for the students and bring it to a new level."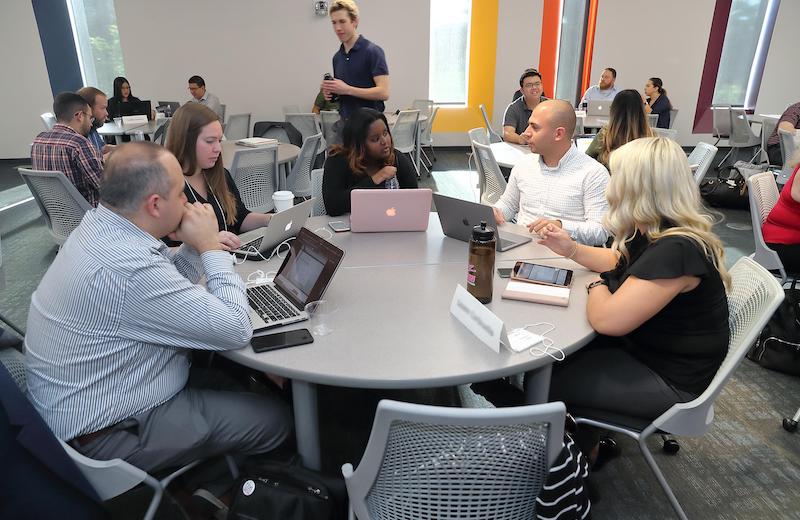 During in-person workshops, students work with faculty and Cognizant mentors to put together real-life cases and interview for positions at the company.
For their part, Cognizant leaders view the partnership with ASU as one of many initiatives they have undertaken to support the skilling of America's workforce for digital economy careers. For instance, Cognizant is also involved in AZNext, a public-private partnership and workforce development program designed by ASU. The partnership, which is funded by the U.S. Department of Labor, brings together employers and workforce development networks to meet the need for skilled workers in IT, cybersecurity, and advanced manufacturing jobs. Santanam, who serves as AZNext's executive director, notes that Cognizant executives serve on the steering committee and recruit AZNext program participants for multiple roles throughout their organization.
A Winning Combination
Reskilling and upskilling programs like these will be critical for U.S. corporations facing labor and talent shortages in IT and nearly every other business sector, Santanam says. Certificate train-to-hire programs are invaluable in matching candidates with the needs of corporate recruiters. In fact, he notes, if companies don't proactively address the upcoming talent shortage, they could "lose trillions of dollars in economic output."
The Cognizant Digital Business Analyst Certificate Program inspired a similar entry-level business analyst certificate program offered through AZNext. Participants who complete this program receive a certification from the International Institute of Business Analysis, a nonprofit professional association and credentialing institution. The first cohort has just graduated, and Santanam expects to offer two or three more programs this year.
Only through collaborations between academia and industry will administrators learn what businesses need.
"These are also free to eligible participants, and we help place them with our partner companies, including Cognizant," he says. "It's not the customized program, but it's a program that is offering an industry-recognized credential and has active participation of industry experts in program delivery."
Other courses being created and implemented through AZNext include a cybersecurity certificate program and a 15-week salesforce program that has already caught the attention of Deloitte recruiters. AZNext is also offering Universal Learner courses, such as the Google IT Support Certificate and the Applied Business Data Analytics Certificate, as well as a variety of apprenticeship programs.
Only through such collaborations between academia and industry will administrators learn what businesses need, says Santanam. "For a business school, that's our priority, to make sure that we know what our corporate stakeholders want," he says. "The combination of an industry credential, a corporate client, and the academic rigor is, I think, a winning one for all our stakeholders and our students."