Businesses

Educators
Business Schools Driving Societal Impact Webinar Series
Listen, learn, engage, and commit to driving systemic change through business education.
Event Type

Webinar
In partnership with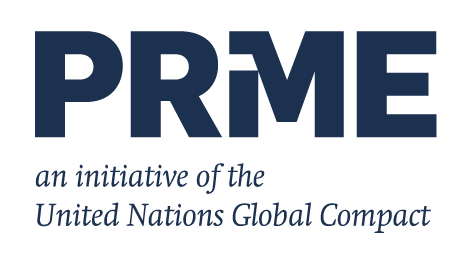 Learners, customers, and shareholders are demanding that organizations move beyond profit models and take action to have a positive impact on society. Demand for this shift to purpose-driven leadership will have a direct impact on how business schools deliver education–and how they prepare leaders to think about solving society's biggest challenges.
The Principles for Responsible Management Education (PRME), a United Nations-supported initiative and AACSB are partnering to present a series of webinars supporting business schools as they explore their roles in creating positive societal impact and commit to making that change.
We invite you to join a community of leaders committed to learning about upcoming shifts, engaging with top thinkers in the societal impact space, and committing to change and action.
Registration is free, and gives you access to all of the following events. The live webinars will begin at 11:00 a.m. ET. See below for a description and list of panelists for each webinar.
Upcoming Webinars
Driving Positive Societal Change: Best Practices in Business Education
Live webinar | May 11 and 12
May 11, 2022, live session: 11:00 a.m.–12:00 p.m. EDT / 17:00–18:00 CET
May 12, 2022, rebroadcast: 9:00 a.m.–10:00 a.m. SGT / 11:00 a.m.–12:00 p.m. AEDT
Explore the systemic changes happening in select business schools.
How are these schools transforming management education?
What changes are they making?
How are they changing the system to get results?
Highlight changes in curriculum, faculty development
Highlight campus strategies to meet students' needs related to social justice, DEIB, climate, etc.
Highlight changes to corporate recruitment strategies
Moderator:
Tim Mescon, EVP EMEA, AACSB International
Panelists:
Veneta Andonova, Dean, Universidad de los Andes School of Management
Soumitra Dutta, Dean Elect, Saïd Business School, University of Oxford
Ann Harrison, Dean, Haas School of Business, University of California Berkeley

Morris Mthombeni, Dean, Gordon Institute of Business Science (GIBS), University of Pretoria
Click here to view moderator and panelist bios.
Previous Webinars
Driving Positive Societal Change: Insights From Global Business Leaders
Recording available on-demand
Click here to access the webinar recording in the AACSB Exchange.
Explore the next generation of skills needed by societal impact leaders as business shifts to sustainable business models.
Listen to emerging business and leadership needs from top corporate executives
Surface leadership challenges business is facing to meet the needs of shareholders, consumers, employees, community, and society
Define the responsibilities and accountabilities of leaders at all levels to drive societal impact initiatives
Discuss best practices in shifting leadership focus
Moderator:
Jikyeong Kang, President and Dean, Asian Institute of Management
Panelists:
Austin Okere, Entrepreneur in Residence & CEO, Ausso Academy
Shona Quinn
, Director of Social Consciousness, Eileen Fisher
Shiv Shivakumar, Group Strategy Head at the Aditya Birla Group
Click here to view moderator and panelist bios.
Driving Positive Societal Change: Understanding the Evolving Needs of Learners
Recording available on-demand
Click here to access the webinar recording in the AACSB Exchange.
Learners are prioritizing the environment, sustainability, and social justice and are shifting their attention to organizations aligned with their values. Explore their changing needs and their impacts on school, program, and employer selection.
Understand how student needs are shifting and how they relate to curriculum and faculty
Define what learners are looking for in their careers
Find out how preference shifts impact both the school and business marketing messages to learners and prospective employees
Explore alternative avenues learners are using to gain knowledge
Moderator:
Mette Morsing, Head, PRME, UN Global Compact
Panelists:
Bill Drayton,

Founder and CEO of Ashoka: Innovators for the Public
Robyn S. Fehrman, President and CEO, Enactus
Sofía Martínez Grijalva, Student, PGS Regional Leader – Latin America, Centro de Enseñanza Técnica y Superior
Roy Mathew, Partner, National Higher Education, Deloitte
Li Yang (Marco), Student, PGS Regional Leader – Southeast Asia, Peking University
Click here to view moderator and panelist bios.