Business Accreditation
Earning AACSB accreditation signifies a business school's commitment to strategic management, learner success, thought leadership, and societal impact.
AACSB Business Accreditation Standards
2023 Annual Update
In the spirit of continuous improvement, AACSB enhances the accreditation standards and interpretive guidance annually. Updates are based on feedback from peer review teams, accreditation committees, deans, accounting program administrators, and other representatives from the AACSB business education community.
On June 30, 2023, AACSB released its annual update to the 2020 Guiding Principles and Standards for Business Accreditation and Interpretive Guidance. These updates are intended to provide greater clarification and do not represent material changes. As such, these standards are effective immediately. As such, these standards are effective immediately. View a summary of key updates to the to the business accreditation standards and interpretive guidance.
Development of the 2020 Business Accreditation Standards
The guiding principles and standards are principles-based and outcomes-focused and affirm AACSB's commitment to having the world's highest standard of quality in business education.
AACSB has continued to revise its business accreditation standards to improve relevancy, maintain currency, and increase value. An appointed Business Accreditation Task Force, with widespread input from member schools, developed the current business standards, which were adopted by the AACSB Accreditation Council in July 2020.
The standards also place greater emphasis on diversity and inclusion, which are core values of AACSB. These principles are embedded throughout the standards and enable business schools demonstrate impact in this area in a variety of ways, according to their contexts.
The 2020 standards fulfill the following key objectives:
Reinforce long-held AACSB commitments to mission focus and peer review
Emphasize a principles-based and outcomes-focused approach, as well as relevance for business schools now and in the future
Recognize the changing landscape of student demographics and reflect the activities we envision business schools of the future will undertake to ensure continuous improvement and high quality in business education
Value the diversity of thought leadership in the context of a school's mission
Characterize the guiding principles that represent key values to AACSB
The nine standards are organized into three categories: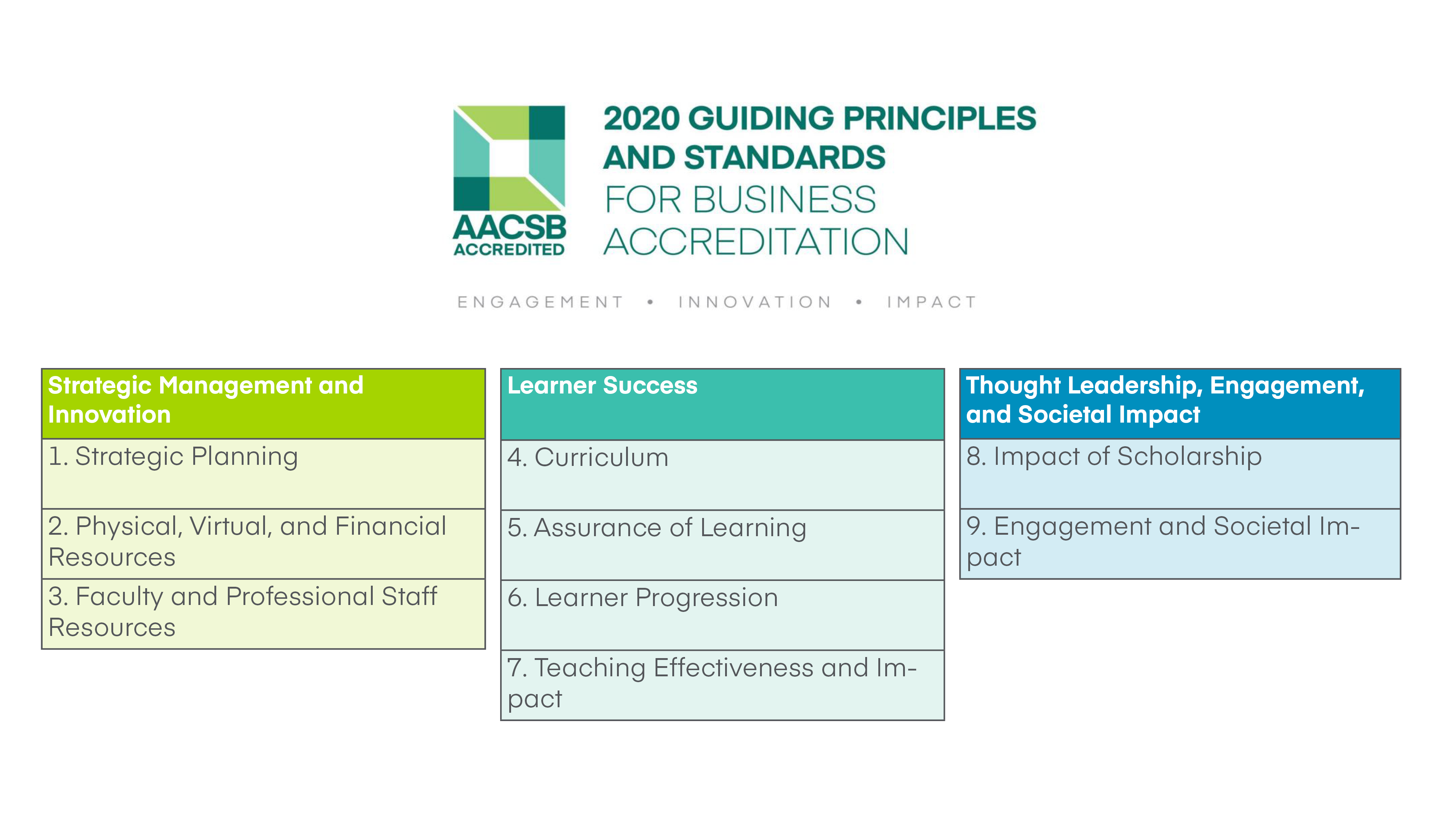 View a comparison of the 2013 and 2020 business accreditation standards.