Pravin Dalal School of Entrepreneurship and Family Business Management (SBM's Initiative), SVKM's NMIMS University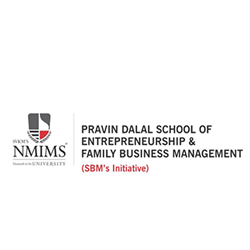 Stakeholders' Perspective in Building a Program
Through community engagement, NMIMS supports family-run businesses in India with tailored curriculum, alumni networking, and domain experts.
Call to Action:
The SME (small- and medium-sized enterprises) sector in post-independence India has been of critical importance in its economy. This sector has always been at the forefront of significant contribution to Indian manufacturing growth livelihood provisioning, and at the root of dispersed regional development and growth. Most management programs are conceived and delivered for the needs of large organizations. However, the SMEs did not have the benefit of curricula designed with their specific needs and requirements in mind.
Most of the SME businesses are currently run by second- or third-generation family entrepreneurs coming from large undivided families. Mostly, such Indian family-run businesses (FRBs) were neither systematically managed nor professionally helmed. In this scenario a program dedicated to this sector assumed importance.
In 1999, the Pravin Dalal School of Entrepreneurship & Family Business Management was established as a distinct center for entrepreneurship and family business in our parent institution, SBM-NMIMS University. The initial response toward the program was overwhelming, as it catered to the SME sector, which works in a distinctly different business environment than the MNCs and big corporations. The contextual understanding of these businesses and their challenges helped us design a curriculum that appropriately addressed the knowledge required by next-generation entrepreneurs to take over their respective businesses.
Closely associated with businesses and their families, the program has created its niche space in the overall education sector, which has been largely dominated by traditional business schools.
Innovation Description:
The school adopted an innovative methodology that involved building and strengthening academic initiatives, faculty orientation, parental involvement, alumni network participation, and optimum use of inter-school capabilities.
Faculty Orientation: Faculty members were encouraged to attend industry meetings, parents' initiative sessions, academic conferences, international industry visits and to undertake specific industry assignments for developing their domain expertise of SMEs and FRBs.
Parent Initiatives: A biannual, one-day interactive session involved parents, their wards, faculty members, and industry experts to create a platform for engagement on business challenges and discussions on effective pedagogy to address those challenges, converting them into focused modules. This initiative brought important stakeholder perspectives in crafting industry-specific modules.
Alumni Networks: Distinguished alumni were involved with the board of studies, peer group learning projects (PGLP), cross-industry internship collaborations for existing students, and regular site visits within and across the alumni organizations.
Inter-School Capabilities: Capitalizing on the existing ecosystem of NMIMS University, the school identified key areas and respective domain experts available within the university. Effort was made to integrate these domain experts in shaping industry-specific modules.
For us, the journey that started from standard management curriculum-based lectures has now evolved into specific courses with a singular focus on and orientation toward FRBs and new venture creation. We have not only helped FRBs in the areas of transformation, diversification, business expansion forecasting, process creation, adaptation and introduction of disruptive technology, but also in taking the businesses cross-border and into other business geographies.
Innovation Impact:
What started as a center with one program and six students, the school today has three specialized offerings to more than 300 students on campus. The school has a strong alumni base of more than 4,000 alumni, spread across national and international boundaries. It attracts next-generation entrepreneurs from family businesses ranging from 300 million to 35 billion Indian rupees, which is about 4 million to 460 million USD.
Forty-six percent of our alumni have started their own ventures, including their current FRB area or in altogether new domains. We are proud to say that we are an AACSB-accredited institution with an entrepreneurship-focused program in India. This positive organic publicity has circulated among the current and potential students, 74 percent of our recently admitted applicants came from word-of-mouth referrals by alumni or current students.
Currently we have international linkages with more than nine universities worldwide to impart the best entrepreneurial education for students. The school has created a vibrant platform for alumni and current student engagement to foster the intra-alignment of their businesses. The platform provides opportunity for students to identify businesses related to their domain or interest and help create potential synergistic business relationships.
International industrial immersions are a key highlight of the program, which helps students gain exposure to international best practices in business. As a result of these international immersion efforts, our prior students have been able to make meaningful business associations, with many of these global companies either becoming a supplier/ distributor or sourcing their products to India.
Reference Links: