Ithaca College, School of Business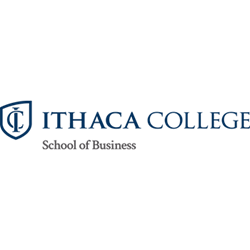 Cortaca 2019: Student Inside Sales Leadership Team
A high-profile sporting event provided the opportunity to create a student learning lab featuring ticket sales, operations, and collaboration with campus partners including stadium services and athletic departments. The resulting student-led inside sales team generated record-breaking attendance at the event.
Call to Action:
As the sports industry continues to evolve and respond to technological advances and changing consumer demands, now more than ever students require experiences and skills centered on sales management. On November 7, 2018, in partnership with the National Football Foundation (NFF), Ithaca College and SUNY Cortland announced that the annual rivalry game, "Cortaca Jug," would be played at MetLife Stadium, home to the New York Giants and Jets football teams.
Moving this game to a National Football League (NFL) stadium provided a unique opportunity to create a student learning lab in ticket sales and operations, collaborating with campus partners, stadium services, and both athletic departments. The creation of a student-led inside sales team to organize, promote, and facilitate campus ticket sales for the 2019 Cortaca Jug game was a natural extension of Ithaca College's commitment to experiential learning.
Handing over all aspects of ticket operations—student sales staff hiring, sales training, box office staff scheduling, ticket promotions, adoption of sales management software, and direct customer service—provided students with a tremendous opportunity to develop and refine vital skills required for success beyond the campus gates.
As is true in many aspects of business, it is results that matter. For those who watched the students hustle, sweat, and work throughout the summer and fall semesters, it was no surprise that their efforts resulted in the highest-attended Division III Football game ever, with over 45,000 tickets sold (traditionally, games draw an average of 10,000 fans).
Innovation Description:
The school's objective was to create a fully student-led inside sales team to organize and facilitate campus ticket sales for the 2019 Cortaca Jug rivalry football game at MetLife Stadium. The student inside sales team and roles were designed to mirror ticketing and sales departments in professional sport organizations.
The timeline for ticket sales activities took place November 2018 to November 2019, as follows:
November 2018: An announcement is made that 2019 Cortaca Jug game will be held at MetLife Stadium—a partnership between the National Football Foundation (NFF), Ithaca College, and SUNY Cortland.
February 2019: Discussions begin with Ithaca College Athletics, Student Affairs, and Annemarie Farrell, chair of the Department of Sport Management, concerning experiential learning opportunities related to game.
March 2019: Marco Fontana, a junior in the sports management concentration, is named director of inside sales for Cortaca Jug 2019.
April/May 2019: Marco Fontana meets with various campus and community leaders regarding the timeline and student team.
August 2019: Student leadership oversees hiring and training of 15 students to work as sales representatives for Cortaca Jug; box office sales schedule and ticketing promotions/advertising strategy is developed by student staff.
September 2019: Students execute sales and promotions strategies to reach record ticket sales; student leadership oversees transportation sign-up at box office; decisions about expanding sales hours and in-stadium sections are made by inside sales team in consultation with event managers.
November 2019: An announcement is made that ticket sales have exceeded Division III Football record, with 45,161 in attendance.
Innovation Impact:
The successful implementation of a student inside sales team for Cortaca 2019 serves as a powerful model of experiential learning, connecting curriculum, careers, and the larger community. Two aspects of this innovation played an integral role in creating a successful student experience.
First, by mirroring the structure of inside sales departments found throughout professional sports, students develop skills, learn lessons, and a create a team culture that directly transfers to future careers in the sports industry. Moreover, students were given autonomy to make decisions, hire staff, develop strategies, and oversee the process, from brainstorming to completing financial transactions at the box office.
The trust that the administration placed in students illustrates a strong commitment to true experiential learning and confidence that students are ready to take on large-scale challenges. The success of the Cortaca student sales team has already inspired college leadership to consider other areas where they might implement similar experiences.
Reference Links: