Zak Ammar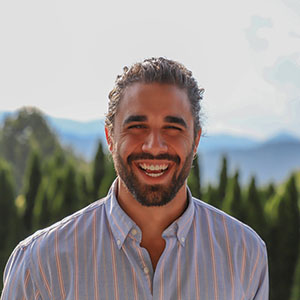 Founder and CEO, Vixster
Alma Mater:
Appalachian State University
Walker College of Business
United States
Area of Impact:
CSR or Sustainability
Through his business, Vixster, Zak Ammar provides a critical eco-friendly service to people living in the High Country of North Carolina, positively impacting their lives and the environment.
Vixster is a waste and recycling collection service that serves subscribers in 15 counties in three neighboring states. With its digital, GPS platform, users create accounts to find drivers in their vicinity, request on-demand pickups, and pay online. "Vixster addresses the rural waste management challenge by linking waste producers with community members willing to remove it for a fee," said Ammar.
Vixter is also different in how it manages recycling and reduces landfill space. Ammar explained that "more than 60% of landfill is recyclable material." He believes that when people have access to recycling and waste removal services, they are more likely to recycle products correctly, thereby diverting recyclable content from the landfill.
Most waste removal services charge extra fees to pick up recycling, but not Vixster. To serve the people in the community, support the environment, and promote sustainability, Vixster charges no additional feed to clients who want to include recycling in their waste removal service. In addition, a percentage of Vixster's revenue goes toward sustainability causes in the community.
While attending graduate school at Appalachian State University in Boone, North Carolina, Ammar found that rural residents struggled with the inconvenience of transporting their garbage to appropriate drop-off centers. Thus, Vixster was born. Applying the knowledge and skills he acquired in his MBA program and its entrepreneurship competition, Ammar is making innovative changes to the waste removal industry.
As a young entrepreneur, Ammar knows the importance of the "sharing economy," a socioeconomic system based on the sharing of resources and peer-to-peer services. Ammar's innovative business model has been sustainable; his company continues to add subscribers, provide work for haulers, and reduce landfill buildup.
Ammar has shared his entrepreneurial experiences and knowledge with students in local primary and secondary school classrooms. At Blowing Rock School in North Carolina, Ammar created and co-teaches an introductory entrepreneurship course to eighth grade students. His students spend a full school year developing business and marketing plans and a budget. Ammar assists them and provides guidance on best practices in their planned businesses. He offers solutions to problems and encourages students to think outside the box. Similar to his own entrepreneurship competition in graduate school, Ammar concludes the school year with a scaled-down version of the contest. Panelists judge the students' work and decide which students will receive real funding to launch their businesses.
Ammar also serves as a mentor in the Western Youth Network and is an adjunct professor in the Management Department at the Walker College of Business.