Safaath Ahmed Zahir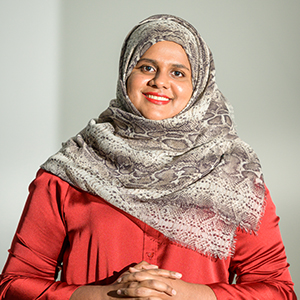 Founder and President,
Women and Democracy Maldives
Alma Mater:
School of Business
Monash University Malaysia, Monash University
Malaysia
Area of Impact:
Diversity and Inclusion
Safaath Ahmed Zahir is a leading women's rights activist who is pioneering efforts to promote women's economic empowerment in the Maldives. She helped create Women on Boards, a nonprofit that promotes gender diversity in the workplace. In 2016 she established Women and Democracy, a 100-percent youth-led NGO working toward women's economic and political participation and good democratic governance.
Meeting an important need, Women and Democracy launched a rapid response program to help identify and protect vulnerable women and girls from violence. With the Queen's Commonwealth Trust, the organization established a support service helpline for women and girls who experience domestic and sexual abuse. Handling about 50 cases each month, Women and Democracy provides survivors with counseling and refers the most serious cases to emergency shelters. The NGO has also improved access to menstrual supplies to vulnerable women workers and volunteers, and to girls in isolation and quarantine facilities during the COVID-19 pandemic.
In recognition of her work, Zahir received the Queen's Young Leaders Award at Buckingham Palace in 2016, and in 2017 was named one of Forbes' 30 Under 30 in Asia.
After completing her studies at Monash University, Zahir returned to the Maldives and put her education to work to establish NGOs and build an infrastructure and community to empower women. Using her business education at Monash and experience in Women on Boards, Zahir has led Women and Democracy to become a leading force for women in her country.
Among the NGO's first major projects was the Gender Equality Manifesto. The Women on Boards staff analyzed current gender issues, policy imperatives, and legislative difficulties and compiled a report that led to the creation of the Gender Equality Manifesto to address these issues. The organization lobbies parties, presidential candidates, and institutions to commit to the pledges in the Manifesto. Other projects include the first Science & Gender Forum, a series of conversations on the important aspects of a democracy, and the commissioning of an artwork for International Women's Day.
Through Women on Boards, Zahir has contributed to capacity development workshops, scholarship programs, and advocacy campaigns for women. As leader of Women and Democracy she has developed annual training sessions to empower women in the business sector. The sessions focus on establishing a business, developing a business proposal, understanding financial statements and reports, and accessing finance for small- and medium-sized enterprises. Through these programs, Zahir and her NGO reach over 200 women each year, inspiring and encouraging young women to start their own businesses and empowering all women to grow their existing enterprises.
In addition to inspiring future business leaders, Zahir encourages and develops future political leaders. Focusing on local council elections in the Maldives, Women and Democracy has conducted a two-day political empowerment training program for women in all 20 geographic a tolls of the Maldives, with over 271 women taking part in the program.