Michael Mader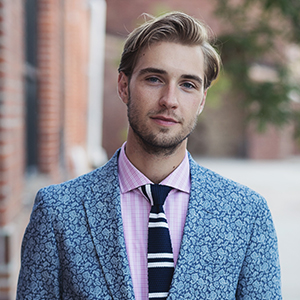 Owner, Hippy Feet
Alma Mater:
University of Wisconsin-River Falls
College of Business and Economics
United States
Area of Impact:
Social Enterprise
Michael Mader's vision of helping homeless youth inspired the creation of Hippy Feet in 2016. The company initially donated one pair of socks for every pair sold, but quickly recognized and started addressing another urgent need—job training and transitional employment for young people experiencing homelessness.
Hippy Feet employs homeless youth, ages 16 to 24, in their packaging, screen printing, and embroidery operations. Mader hosts employment sessions at Hippy Feet's Minneapolis office and partners with local nonprofits to connect the young people Hippy Feet employs with emergency financial services, bus passes and gas cards for transportation, interview clothing, work boots, and other related items or services that ensure there are as few barriers to income as possible.
So far, Hippy Feet has provided income and work experience for more than 130 young people, surpassing 4,000 hours of employment, in Minneapolis, Duluth, and Chicago and has prepared them to transition out of homelessness and unemployment. In 2020, Hippy Feet increased its revenue by 157 percent over 2019 and on the national level, the company is committed to making all socks and apparel in the U.S., using environmentally friendly materials and practices.
In recognition of its achievements, Hippy Feet received a 2025 Plan Leadership Award from the city of Minneapolis in 2017.
Mader honed the concept of Hippy Feet as part of an innovation competition while in business school at the University of Wisconsin-River Falls. He leveraged his business education to create his novel pop-up employment concept—bringing jobs directly into homeless shelters, thereby eliminating geography and transportation as barriers to work. The income from working with Hippy Feet allows the homeless youth to stabilize their lives by paying cell phone bills and entering transitional housing.
In order to rebuild the community, Mader puts equity at the forefront of everything he does to help elevate and amplify the voices of those who live vastly different lives. Mader works to bring the community together to tackle homelessness and advocates to fix a broken system.
During the difficult summer of 2020 in Minneapolis, when heightened racial tensions disproportionately affected people of color and those from marginalized communities, Mader and Hippy Feet doubled their efforts to serve and involve the homeless in the city. He urged fellow entrepreneurs, "For businesses who are capable, create jobs suitable for those affected by homelessness."
Mader's work empowers a generation of young people who have been affected by homelessness and provides them with training and a support system that may be missing from their lives. These employees find that getting a job—just a small opportunity—gives them hope and confidence and starts to pull them out of the cycle of homelessness toward self-sufficiency. They learn to lead, have an impact, and continue the company's legacy by recruiting other similarly driven youth in the community. In return, their success inspires hope and gratitude in the whole staff of the social enterprise.
This year, Hippy Feet is broadening its enterprise to offer more consistent employment and income, part-time internships for young people, and professional growth and networking opportunities.
The company's positive engagement with the homeless community has changed and saved lives. The staff serve as role models and encourage the development of community leadership skills. One young employee summed it up well: "It feels pretty good."