Tanri Abeng, MBA, PhD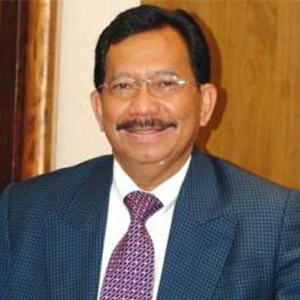 Former Minister of
State-Owned Enterprises,
Republic of Indonesia
Alma Mater:
University at Buffalo, State University of New York
School of Management
United States
Area of Impact:
Mentorship or Leadership
Tanri Abeng's remarkable career is earmarked by a laser-focused commitment to leadership. A self-made man once dubbed "the Lee Iacocca of Indonesia," Abeng was the son of poor farmers and sold bananas and stenciled copies of school notes to help fund his education. Orphaned at 10, he remained determined to make his mark on the world.
Selected as an exchange student with the intercultural learning organization AFS, Abeng came to the United States to attend high school in the Buffalo, New York, area. After studying at Hasanuddin University in Indonesia, he earned a scholarship to pursue his MBA degree at the University at Buffalo School of Management.
Once in the corporate world, Abeng quickly climbed the ladder as a management trainee and was noticed by industry leadership for his intuitiveness and ability to learn quickly. In 1979, he was named CEO of the Indonesian operation of Dutch manufacturer Heineken. The beer giant hired him to turn around their operation despite Abeng's self-admittance that he didn't speak Dutch or drink beer. Abeng diversified the company into non-alcoholic drinks, changed the name to Multi Bintang Indonesia, and took the company public in 1982.
In 1991, Abeng became CEO of Bakrie and Brothers, radically restructuring the company and transforming it into a stronger, sophisticated, and profitable enterprise. He later served as chairman of PT Telkom Indonesia, the nation's largest listed company, and then as chairman of Pertamina, one of the world's largest gas and oil companies.
Known by many as the architect of Indonesia's modern economy, Abeng has the remarkable distinction of serving for more than two decades under five Indonesian presidents in the roles of advisor, minister, and reformer. In 1991, he was appointed to represent Golkar, the governmental political party in the Indonesian People's Conservative Assembly. He advised President Suharto on economic policy during his appointment to the National Economic Resilience Council and was appointed Indonesia's first minister for state-owned enterprises. In that role, he consolidated and turned around the entire state-owned enterprise sector, which included more than 115 enterprises and industries. Abeng's expertise and leadership ultimately created a blueprint for the development of the country's state-owned enterprises.
Perhaps Abeng's single greatest legacy is helping to educate and inspire future leaders. In 2012, after four decades of success in the private and public sectors, Abeng's deep commitment to leadership, education, and his country inspired him to establish Tanri Abeng University, a private higher education institution in Jakarta. His goal was to provide a platform to transfer his knowledge, skills, and experiences to Indonesia's next generations. He personally funded its construction, and the university offers programs in business administration, accounting, and several other areas of study that equip graduates to face global challenges. Character, skill, and talent development are at the center of the school's high academic standards.
Abeng also recently developed the Top Talent 200 Program aimed at finding and developing Indonesia's next generation of leaders. "There is an urgent need for the systematic development of our leaders—those who can develop effective institutions and, in turn, institutionalize leadership development," he says. "The bottom line: Leaders produce other leaders."