Mariyam Shakeela, PhD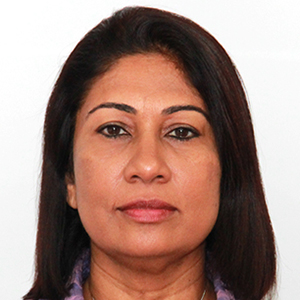 CEO, SIMDI Group
Alma Mater:
Curtin University
Curtin Business School
Australia
Area of Impact:
Consumer Goods or Services
Mariyam Shakeela is an exemplary alumna who demonstrates core behaviors and actions that positively impact the world, changing it for the better. Through her global work in industry and the nonprofit sector and non-government organizations, she has made measurable impact in the world.
With more than 30 years of experience nationally and internationally, serving in private and public sectors as an owner, shareholder, and leader, Shakeela's journey represents diverse fields including teaching, business and entrepreneurship, hospitality, real estate, medical ventures, and cabinet minister in the Maldivian Government. Her cabinet portfolios have included environment and energy; gender, family, and human rights; national social security; climate change; water and sanitation; foreign affairs; and health. Her last cabinet portfolio was that of minister of health, during which she also served as the chairperson of the World Health Organization (WHO) Executive Board.
As owner and CEO of one of the oldest companies in Maldives, Shakeela led the SIMDI Group of trading companies to become one of the most diversified and reputable business institutions in the nation. She was also one of the key people to conceptualize, design, and manage a flagship property that later caught the attention of the international luxury hotel market and became the first One&Only hotel as One&Only Kanuhura, lifting the image of Maldives tourism to the next level. While continuing to lead many businesses and non-government organizations, Shakeela is also the honorary consul for the Kingdom of Belgium in Maldives.
Shakeela has a strong sense of purpose and is driven, focused, and committed to making a positive global impact in a number of communities and countries. In addition to being a successful businesswoman and entrepreneur, Shakeela's leadership spans beyond the private sector, using over 30 years of experience and knowledge to work in a range of organizations including but not limited to chairperson of WHO Executive Board, vice chair for the Regional Committee of the Asia Pacific International Scouts and Guides Fellowship, member of United Nations Women in New Delhi, International Executive Council Member of SAARC Chamber Women Entrepreneurs Council (SCWEC), and president of the Addu Women's Association, which is dedicated to the empowerment of women and youth in the Maldives.
Shakeela is committed to empowering women and youth and shares her entrepreneurial experience globally, including in Australia, Sri Lanka, Maldives, India, and South Asia. She has won countless awards for her work, including the Curtin University Alumni Achievement Award 2019 for Global Impact, Madhya Pradesh Association of Women Entrepreneurs 2019, the 2019 ATHENA Certificate of Excellence from ATHENA International in partnership with South Asian Women Development Forum (SAWDF) for supporting leadership development opportunities and initiatives towards the economic empowerment of women, Global Women of Excellence Award; Business Role Model of the Year 2018, Top 50 Professional & Career Women Awards in Sri Lanka & Maldives; Women in Management Maldives 2018, Gold Award for Business Role Model of the Year, Maldives; Women on Boards Distinction and Award for Best Woman CEO in the Private Sector 2015, Maldives.
Shakeela, in her role as president of the Addu Women's Association in the Maldives, is empowering women and youth through training and development opportunities and providing a platform for women to participate in business, society, and community with confidence. In her mission to educate, inspire future leaders, and provide women with the necessary skills for business success, she provides exemplary leadership to women across South Asia.