Manuel Medina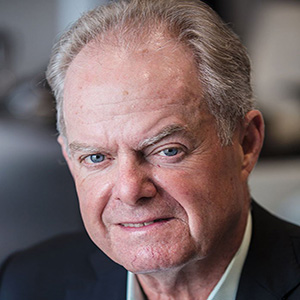 CEO, Cyxtera Technologies
and Medina Family Foundation
Alma Mater:
Florida Atlantic University
College of Business
United States
Area of Impact:
Technology
As with so many successful business leaders, Manny Medina was an immigrant to the United States. He earned his bachelor's degree in accounting from Florida Atlantic University's College of Business in 1974, while working several jobs to help pay for school. Upon graduation, he accepted an audit position with PwC (then Price Waterhouse), where he had the chance to meet and learn from several high-level business executives. There, Medina's interest in entrepreneurship blossomed. He was intrigued and inspired, watching and learning as he saw executives negotiate deals, take risks, and build businesses.
Throughout many ventures that followed – real estate, construction, international business, information technology – Medina's solid educational foundation in accounting proved to be useful and reliable for him as a business leader, entrepreneur, investor, and community leader. Medina is called by many "South Florida's Tech Mogul" for his transformational leadership and pivotal role in helping to spark the tech ecosystem in South Florida. Medina founded IT infrastructure company Terremark Worldwide in Miami in the 1980s; it expanded remarkably and was acquired by Verizon in 2011 for 1.4 billion USD. This success helped pave the way for many other tech entrepreneurs in the region. His latest company, Cyxtera Technologies, specializes in data integrity, cybersecurity, and secure data analytics capabilities. Cyxtera Technologies directly provides jobs for over 1,100 people and supports many thousands in other companies in South Florida and elsewhere.
Medina has focused on what he can do to help build his Florida community and create sustainable economic opportunities through business and charitable activity. Medina founded the nonprofit Technology Foundation of the Americas to help build a technology-focused entrepreneurial ecosystem in South Florida. The foundation's first project was eMerge Americas, an annual global technology initiative that brings together entrepreneurs, investors, businesses, governments, and universities to discuss technologies transforming industries, and helps establish South Florida as the technology hub of the Americas.
Now with more than 16,000 attendees, 40 countries, and 4,000 companies represented, and experts from industry, government, and academia, eMerge Americas has helped realize Medina's vision by supporting initiatives for innovation across multiple industry sectors, promoting women in technology, building better communities through public-private partnerships, and highlighting universities as engines of opportunity.
Medina has a very high regard for education and the opportunity his business degree provided him. He also understands some of the modern difficulties facing lower-income youth, particularly immigrants and first-generation college students. Medina's commitment to providing for local organizations that foster education and a nurturing environment is unwavering. In addition to the success of eMerge Americas in inspiring rising leaders, and Medina's frequent talks to students and graduation addresses, the Medina Family Foundation provided 1 million USD multiyear commitment to the SEED School of Miami, a charter boarding school for at-risk kids. The school reaches beyond the traditional school day, supporting and sheltering students while teaching them to thrive in a rigorous academic environment.
Since 2012, the Medina Family Foundation has been committed to supporting non-profits in South Florida. The foundation focuses on three main causes: (1) providing support and opportunity for at-risk youth, (2) protecting the ocean and the natural environment, and (3) identifying ways to support young Cubans and other immigrants in their struggle for fundamental human rights. In addition to the SEED School of Miami, this foundation actively supports multiple organizations including Roots of Hope, Camillus House, Guitars Over Guns, United Way, and many others.