Larry Gies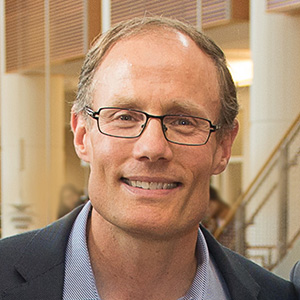 Founder and CEO,
Madison Industries
Alma Mater:
University of Illinois at Urbana-Champaign
Gies College of Business
United States
Area of Impact:
Manufacturing or Commercial Services
Innovation is part of Madison Industries' DNA. Founder and CEO Larry Gies has nurtured that culture, one that he says "is authentic to us as a company and that will be sustainable for generations." Madison is one of the largest and most successful privately held companies in the world, and is run by a 1988 accountancy graduate of the University of Illinois. Madison Industries builds entrepreneurially driven, market-leading companies that are dedicated to making the world safer, healthier, and more productive through innovations in medicine, filtration, process improvement, and energy.
Under Gies' leadership, the company is focused on building a legacy that will improve the public's collective health and well-being. And he's been purposeful in its development. Madison Industries doesn't acquire businesses; it partners with them, helping them grow with the local management team at the helm. Gies believes the local entrepreneur is closest to the customer and the product and is therefore best positioned to make decisions. This philosophy creates an incredible ecosystem of companies that furthers the Madison mission of providing an entrepreneurial safe haven in an environment of trust. That ecosystem of companies has grown to include 178 facilities in 31 countries, 10,000 engaged employees, and 500 owner-managers.
Gies believes that neither cost nor access should be a barrier to a superior education. Gies invests in students from third grade through college with scholarships. He also serves on the board of the Accelerate Institute, which seeks solutions to the achievement gap in U.S. education. His commitment rises from an experience volunteering one day with the Boys & Girls Club on Chicago's West Side where he saw a nine-year-old boy become a victim of violence. It was the catalyst for him to support the founding and growth of the Chicago Jesuit Academy (CJA), which in 2015 was renamed the Gies Campus of Chicago Jesuit Academy in recognition of Gies and his wife's decade of offering generous financial and hands-on support to the 200 children who attend school there.
In 2017, Larry and Beth Gies made history with a transformational 150 million USD gift to the University of Illinois at Urbana-Champaign. It was the largest single gift in the history of the University of Illinois, and one of the largest ever given to a business school. Larry Gies' goal—to make undergraduate business education more accessible and meaningful—has turned into action. Gies College of Business attracts a different kind of business student, one who wants to discover their own purpose, find their path, and develop the tools to make the world a better place.
The Gies' gift has given the college the ability to invest in faculty who are conducting leading-edge research in both traditional and trending fields of business. They are designing innovative curriculum and prioritizing action learning that will shape how future business leaders solve complex problems.
The funding has accelerated the success of the school and its graduates. The Gies College of Business has a 99 percent undergraduate job placement rate, and 94 percent of students participate in experiential learning, a vital part of their education that prepares them for success.