Tillmann Henssler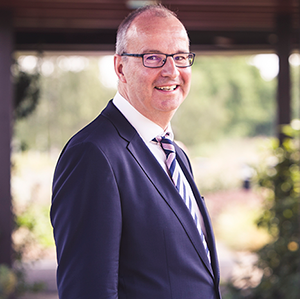 Sourcing Manager, Procurement, Pfizer
Honoree Year:
2019
Alma Mater:
The Open University
The Open University Business School
United Kingdom
Area of Impact:
Diversity and Inclusion
Tillmann Henssler's high global profile within his company, the Open University's student and alumni community, and beyond, has significantly raised awareness of people with disabilities and the unconscious bias toward them.
Tillmann Henssler is committed to raising awareness and helping to reduce unconscious bias toward persons with disabilities. He is a sourcing manager for Pfizer Pharmaceutical Company, a world-leading biopharmaceutical company, where he has held the honorary office of disability counsel for the last 16 years. There, he has successfully promoted change in the workplace to benefit persons with disabilities.
At Pfizer, Henssler is an engaged member of the Global Disability Leadership Team and co-lead for the Disability Chapter of the Diversity & Inclusion Council Europe. Additionally, he is supporting an initiative to look at the United Nations Convention on the Rights of Persons with Disabilities (UNCPRD) and evaluating how it can be implemented at the workplace. Global recognition led to Pfizer's executive leadership team inviting Henssler to the Pfizer Diversity & Inclusion Summit at the New York headquarters on October 3, 2018 for "Driving inclusion through Head, Heart and Guts Leadership".
Henssler has received recognition from both Pfizer and the Open University's student and alumni community. Pfizer awarded him the Global Disability Leader award, which recognizes both his engagement with the disability community and his ongoing contribution to the Open University Business School (OUBS). Henssler's exceptional contribution and commitment to inclusivity within his organization and society was recognized by his peer community of 26,000 Open University MBAs, who voted him Alumnus of the Year in 2018.
His proactivity in engaging openly in this critical area inspired the OUBS Alumni Relations team to develop a career mentoring program for students and alumni that targets issues relating to inclusivity and diversity in all its forms. Henssler volunteers his time and expertise generously in developing this initiative that will benefit the Open University's student and alumni community, and those organizations they serve, for many years. He is an exceptional individual who has already made a significant difference in organizational practice, and will continue to do so through supporting and leading others in this area.