Raja Azura Raja Mahayuddin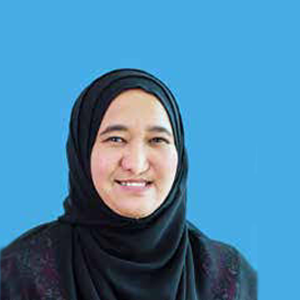 CEO, Yayasan Peneraju Pendidikan Bumiputera
Honoree Year:
2019
Alma Mater:
Universiti Utara Malaysia
College of Business
Malaysia
Area of Impact:
Community or Social Impact
An inspirational and accomplished leader in the field of human capital and audit, Raja Azura Raja Mahayuddin now focuses her efforts on building talent and supporting the Bumiputera (Malays and indigenous groups) that makes up over 69% (20 million) of the population in Malaysia.
Raja Azura Raja Mahayuddin is the chief executive of Yayasan Peneraju Pendidikan Bumiputera (Yayasan Peneraju), an initiative of the Bumiputera Economic Transformation Programme launched under the Economic Planning Unit in the Prime Minister's Department. Azura was appointed by the prime minister's office to lead Yayasan Peneraju when it was established, given her astonishing track record. Her naturally friendly leadership style has garnered her many "followers," in formal and non-formal settings.
Under her leadership, Yayasan Peneraju has worked since 2012 to fulfill the government's mandate to develop 40,000 Bumiputera talents by 2020. Yayasan Peneraju's aim is to strengthen the abilities and aptitude of the Bumiputera, thereby enchancing their employability and competitiveness in high-income, high-growth sectors globally. To date, more than 25,000 Bumiputera have benefitted from Yayasan Peneraju programs. By the end of 2019, it is estimated that the number will grow to 33,000.
Since Azura took office in 2012 she has successfully initiated intervention programs through three education pathways: Peneraju Tunas (academic education)—enhancing the academic performance of secondary school and tertiary education students with average to excellent results from challenging backgrounds; Peneraju Skil (vocational training)—further developing the skill sets of the vocationally inclined youths and existing workforce to achieve higher-income jobs; and Peneraju Profesional (professional certification)—increasing the number of specialists and professionals in high demand professions such as accounting, financial analysts, financial risk managers etc.
Azura brings with her over 20 years of experience in the field of human capital and audit. She has previously served Malaysia Airlines as chief internal auditor and executive vice president; Human Capital, Khazanah Nasional Berhad as senior vice president; Strategic Human Capital Management and Arthur Andersen & Co. as assistant manager of the services division.
In an environment where the number of women leaders is lacking, she stands out as an inspiration to other women who aspire to lead in the corporate sector. In 2014, she was a recipient of the inaugural Malaysia Women of Excellence Award for Quasi Government category.
Azura was awarded the Excellent Alumni Award—Public Sector in 2004 by Universiti Utara Malaysia and was conferred the Global HR Excellence Award 2011–12 by World HRD Congress for her contributions at the corporate level. She also actively contributes in the internal audit profession, has served on the board of governors of the Institute of Internal Auditors Malaysia for three years, and was previously chair of the International Association of Airline Auditors. She is a trained accountant, Certified Internal Auditor (CIA), obtained the Certification of Control Self Assessment (CCSA) and serves as a member of the board of directors of Malaysia Professional Accountancy Centre (MyPAC).