Mamta Saikia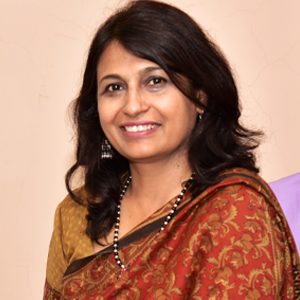 COO, Bharti Foundation
Honoree Year:
2019
Alma Mater:
Institute of Management Technology, Ghaziabad
India
Area of Impact:
Education or Academe
Mamta Saikia has positively impacted India and beyond through her effective fundraising techniques, allowing the NGOs she works with to better serve their constituents. She is now leading operations of an ambitious rural school program for Bharti Foundation.
Mamta Saikia is an expert in grassroots fundraising who has helped organizations move from ad hoc funding to sustained fundraising and institutionalized processes. Saikia's role in domestic and diaspora fundraising redefined the way non-governmental organizations (NGOs) across India look at self-reliance. As one of the leading fundraisers in the world, she has served as a board member of Resource Alliance (U.K.), and chair of the board for their South Asian arm. She also published a book, released in Germany, on the topic of fundraising.
Of particular note are Saikia's efforts with Child Rights & You (CRY) and the Bharti Foundation. Saikia started her career in management consultancy, but her desire to do something meaningful led her to explore NGOs. The difference in salary levels and the fact that MBAs did not have a clear career path in the NGO sector made the decision difficult, but she decided to follow her heart.
When Saikia joined CRY, it was a mid-level NGO with its cards division as main source of funding. Marketing knowledge, customer orientation, and financial skills enabled Saikia's success as a fundraiser at CRY and she created products that would lend themselves to donations. Studying international best practices, she created experimental initiatives with innovative ideas to unravel the Indian donor psyche. For instance, while reading donors' letters, she found that non-resident Indians (NRIs) displayed a huge desire to give back to the country.
Each experiment refined the fundraising techniques to an extent that response rates, average gift size, and retention rates met international benchmarks. Starting from individual givers, to corporate partnerships, to international fundraising from NRIs, she redefined the scope and format of raising funds in India in the early 1990s, making CRY an internationally recognized leader in fundraising.
Saikia then joined the Bharti Foundation in 2004, when it was in its initial stages. In May 2006, the board decided to establish a chain of Greenfield rural Satya Bharti Schools, providing free, quality education to underprivileged children. Saikia operationally led this project to deliver the first 178 schools within two years, undertaking land acquisition, training and curriculum design, and staff recruitments as well as setting up an efficient material supply mechanism. This school model is celebrated across the country for its quality, process orientation, and impact at low cost. Many good practices from Satya Bharti Schools are now being implemented at state-owned schools, reaching over 2,000 government schools and 200,000 students.
Leading the education program in villages required operational acumen, an ability to visualize challenges, and project and people management skills. These skills enabled Saikia to set up 254 schools, including land acquisition, construction, and program design; deliver over 200 school kit items to 254 villages in six states; lead mass recruitments, trainings, and school openings; and manage enrollments in villages mostly lacking electricity, proper roads, and infrastructure. All schools provide a similar brand experience to visitors and are grooming students to be confident, responsible, and sensitive citizens, proving that a process- and performance-driven approach delivers consistent results.